Each community on the trail has a number of activities that are great for families, including some with an arts focus. Load up the kids and have some fun exploring arts, culture and more!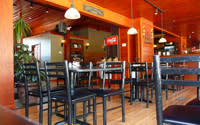 Zwanzigz Pizza
Zwanzigz Pizza is a family-owned pizza restaurant and microbrewery. A local favorite! Located in Columbus.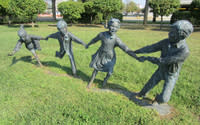 Crack the Whip
Jo Saylors sculpted this four-foot tall bronze of four kids playing a children's game with meticulous detail, right down to the wrinkles in their clothes and the off-balance feel at the point in time depicted. Located in Columbus.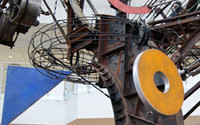 Chaos 1
This fantastical kinetic sculpture by Swiss sculptor Jean Tinguely is a delight to behold. Kids like to make wishes and toss coins into the "moat" that surrounds the piece. While you're there, check out the indoor playground at The Commons, part of the city park system and free to the public. Located in Columbus.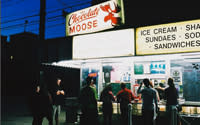 The Chocolate Moose
Since 1933, the Chocolate Moose has served homemade ice cream, shakes, sundaes, other frozen treats, and delicious food. It's a Bloomington tradition to visit this outdoor food stand. Don't miss Food Truck Fridays, every Friday April-October, with live music and tons of local food trucks.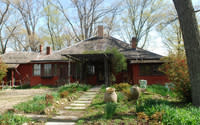 T.C. Steele State Historic Site
Discover this hidden gem and the love story that envelopes its beautiful history! Attracted by its natural beauty, famed Hoosier Group impressionist artist Theodore C. Steele (1847-1926) was the first major artist to settle in Brown County. Tours of Steele's painting-filled studio and home are available throughout the year. Explore the gardens, grounds, and hiking trails during your visit as well. Located in Nashville.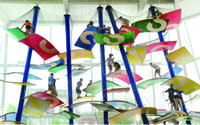 Commons Playground
The Commons Playground is a must-see-to-believe play experience for toddlers through age 12. This free, indoor playground is features the 40' Luckey Climber climbing structure. Located in Columbus.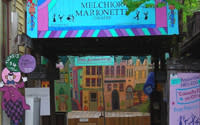 Melchoir Marionette Theatre
The Melchoir Marionette Theatre is a small outdoor marionette theatre, performing 20 minute shows with handcrafted marionettes. Great for all ages. Located in Nashville.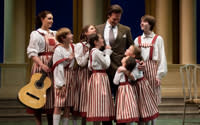 Cardinal Stage Company
Cardinal Stage Company is Bloomington's professional theatre company. They start with the classics, then add musicals, new works and shows especially for young audiences. Located in Bloomington.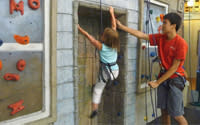 Kidscommons
Kidscommons Children's Museum offers families with toddlers to early teens a vibrant, safe setting where they can explore together our three floors of hands-on, interactive exhibits. Don't miss a fantastic photo op at the world's largest toilet (as seen on the Tonight Show), a slide that lets kids flush themselves down the pipes! Located in Columbus.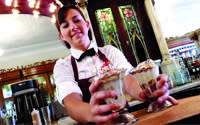 Zaharakos
At this 110-year-old, fully restored marble palace, the sundaes are hand-dipped and cherry-topped. The restaurant also features a full menu. Located in Columbus.