Girls just want to have fun...and shop, and eat and bond through some amazing experiences. You can do all that and more on the ArtsRoad 46 trail. Here are a few ideas to get your started.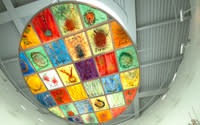 Sun Garden Panels in Suspended Circle
Glass artist Dale Chihuly created, painted and boldly signed each of the 32 panels of translucent white plexiglass positioned inside a round skylight. Located in Columbus.
Yellow Neon Chandelier & Persians
Created by internationally known glass artist Dale Chihuly, this artwork features 900 pieces of hand blown glass in four shades of yellow. The piece is nine feet tall and six feet across at its widest point. It has 50 feet of neon and weighs 1200 pounds. Located in Columbus
Brown County Playhouse
The Brown County Playhouse is a performing arts venue offering a diverse set of entertainment, including concerts, live theatre, community events, film festivals and more. Located in Nashville.
Exit 76 Antiques
Located just 6.5 miles north of Columbus, Indiana, and just off of I-65 at the 76 exit, the Exit 76 Antique Mall is the largest antique outlet mall within hundreds of miles. Located next to Edinburgh Premium Outlets in Columbus.
Farmhouse Cafe & Tea Room at the Flower & Herb Barn
Fall in love with the charm of this restored farmhouse that serves up garden fresh salads, sandwiches and other dinner items. This unique dining experience is one to remember. After your meal, walk around the Flower and Herb barn and check out all of the unique items you can get for your patio and garden. Located in Nashville.
Brown County Winery
Brown County Winery produces high quality local wines and offers them at a reasonable price. Not afraid to use cranberries, blackberries, raspberries or any other type of fruit to create their next new product, these best selling wines are sure to be enjoyable and satisfying. Located in Nashville.
FARM bloomington
Offering the best of Indiana's bountiful produce, Chef Daniel Orr infuses his creations with tastes from around the world. Using "local ingredients with global flavors is the FARM mantra. Located on Kirkwood Avenue in Bloomington.
By Hand Gallery
A fine crafts cooperative showcasing the work of local, regional and national artists, with a wide variety of handmade works of art, including jewelry, pottery, knitting, weaving, wood, glass, photography, paintings and more. Located on the south side of the square in Bloomington.
Edinburgh Premium Outlets
Indiana's largest outlet mall! Make a day of it shopping for the finest designer labels and leading brands at savings of 25% to 65% every day at 85 outlet shops conveniently located on Interstate 65, and only minutes from the architectural "mecca" of Columbus.