Besides all the great sports and outdoor recreation in the area (and there is a lot!), there are exciting spots on the ArtsRoad 46 Trail that guys will go for. Here are a few suggestions to add into your next adventure.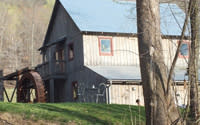 Cox Creek Mill
"Home of the Iron Gate," see the two-story mill with a metal wheel of 14 feet in diameter and 64 buckets weighing over 3,000 lbs. The Mill is also home to the studio of Brad Cox, a metal artist, whose handcrafted works are made out of anything from chainsaw chains to old glass bottles to hubcaps to nuts and bolts. Located in Nashville.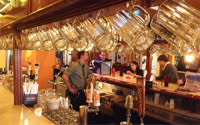 Power House Brewing Company
Columbus' oldest bar, The C.B., as natives refer to it, is full of local charm. Craft brews from award-winning Power House Brewing Co. are on tap. Try the tenderloin sandwich for a true Indiana dining experience. Located in Columbus.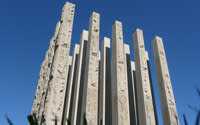 Bartholomew County Memorial for Veterans
These 25 limestone pillars, each 40 feet high, are engraved with the names of those who gave their lives, along with excerpts from selected correspondence. Though large, the piece offers a meditative and intimate experience from the letters to and from the soldiers. It was designed by Thompson and Rose Architects. Located in Columbus.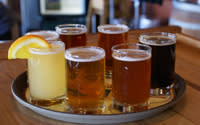 Upland Brewing Company
Upland Brewing Company is the largest micro-brewery in Indiana and offers a wide selection of beers, plus great food at their brew pub location. Public tours of their larger production facility are available on Saturdays. Located in Bloomington.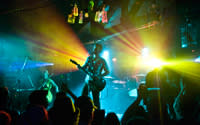 Bluebird Nightclub
The Bluebird Nightclub is a Bloomington icon, bringing live music to the area for over 40 years. The Bluebird is an intimate venue that features live music with world class artists almost every night, as well as great drink specials. Located in Bloomington.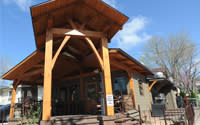 Big Woods Village
Big Woods Village, located on Molly Lane, is home to Big Woods Brewery, Big Woods Pizza, Hard Truth Distillery, and the Big Busted Bar. A local favorite for great food, great brews, and live music almost every night. Big Woods Village hosts a Beer School every Saturday to learn about and taste their micro-brews. Located in Nashville.
Blue's Canoes
Blue's Canoe Livery is located just north of Columbus and nearby Edinburgh Premium Outlets. It is an outdoor recreation center that provides canoe, kayak, and raft trips on the Driftwood River, as well as camping and smallmouth bass fishing. Located in Columbus.