We love to show off our sights.
Nothing tells Bloomington's story better than the city itself. Feel free to use these shots for editorial purposes. Browse our media library, add images to your cart, then fill out a request, and we'll get back to you shortly.
If you can't find what you're looking for, let us know. We know lots of great photographers who might have what you need. Fill out a media request form or contact us directly for more photos or b-roll to pair with your story.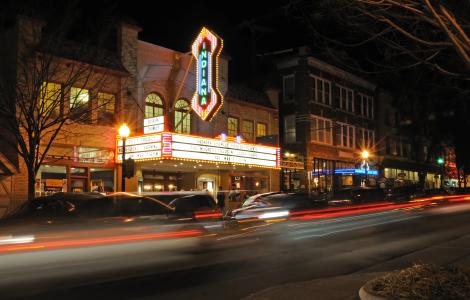 Buskirk-Chumley Theatre
The Buskirk-Chumley Theater was originally built in 1922 as a silent movie house. Beautifully restored and outfitted with state-of-the-art technical equipment, the theater has become the primary venue for the Lotus World Music Festival, Indiana University's African American Arts Institute, Cardinal Stage Company, and Jazz from Bloomington. National acts such as Andrew Bird, Regina Spektor, Arlo Guthrie, Sufjan Stevens, Umphrey's McGee, Joanna Newsom and John Mellencamp have graced the stage.