Message from Mayor Hamilton
Our Bicentennial is a milestone worth celebrating. An exciting 2018 in Bloomington and Monroe
County will include meaningful, moving and educational events for residents of all ages. It's
more than just a 200th birthday. We commemorate and honor the generations of people -- their
hard work, generous spirit, and difficult choices -- that made this place what it is today. That
helped make us who we are today. Our predecessors gave us a beautiful and valuable physical
environment: bricks and mortar, parks and trees, pipes and reservoirs, streets and sidewalks,
and streetscapes and vistas. They bequeathed to us as well the spirit and heart of our
community -- our culture, our diversity, our creativity, and inclusiveness.
Our jewel of a city sparkles with an energy and shine that reflects 200 years of grit and
ingenuity, creating this "Blooming Town" out of a wilderness, surviving civil war, social fractures,
economic depressions, and a thousand forks in the road that cumulatively add up to today. As
we celebrate, let's resolve to take the best of the past 200 years and use those lessons and
inspiration to drive our choices and actions today. With this Bicentennial let's rededicate
ourselves to those values of fairness, charity, kindness, ingenuity, innovation, education and
good old-fashioned hard work that brought us here. As we pass the torch to the following
generations, let's do our part to pass along a healthy, humane and thriving community, so the
next milestones will inspire celebrations as well. Happy Bicentennial, Bloomington and Monroe
County!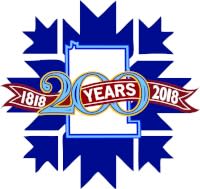 Fun Fridays at City Hall
401 N. Morton
11: 30 am – 2 pm
Celebrate the summer with the City Of Bloomington as we host a different food truck every Friday along with outdoor games like Cornhole, Big Jenga, Big Connect Four, and various board games. 

Food Truck Schedule:
June 8: 812 BBQ - BBQ
June 15: Great White Smoke - BBQ
June 22: NO TRUCK (setting up for Taste of Bloomington)
June 29: JD's Taste of Chicago - Chicago hotdogs, fries, 
polish sausage, sandwiches, wing
July 6: InBloom Juicery Juice smoothies, sides, drinks, poke 
             and fruit bowls
July 13: 812 BBQ 
July 20: JD's Taste of Chicago
July 27: Great White Smoke
Aug 3: 812 BBQ
Aug 10: JD's Taste of Chicago
Aug 17: Pili's Party Taco - Taco's
Aug 24: JD's Taste of Chicago
Bloomington - Monroe County Indiana Bicentennial Projects
The Bloomington & Monroe County Bicentennial is a once in a lifetime opportunity. We invite you to join the celebration of our history, people, and culture. The Bloomington & Monroe County Bicentennial Planning Committees have developed a formal endorsement program for local projects in order give area residents, agencies, and organizations an opportunity to be involved in the Bicentennial Celebration.
Click here for more information and criteria to submit your program or event as an Endorsed Bicentennial Project.