Tuesday, September 25, 2012
10 Ways to Fall in Love With B-town All Over Again
Categories: Family Fun, General
We're beginning to see little spashes of color on some of the trees around Bloomington, and you know that that means... one of our favorite seasons is now underway in B-town!
Doesn't everyone just love fall? The weather cools off, but it's not too cold yet, the colors are so vibrant, there are caramel apple and pumpkin flavors to enjoy just about everywhere, and Bloomington is gorgeous! Here are a few of our favorite things in Bloomington you should add to your fall to-do list - tell us about your fall favorites in the comments below.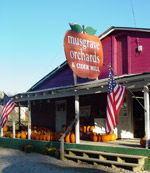 Orchards & Country Stores
THE best place to find the flavors of fall, orchards and country stores are where you'll find yummy things like apple cider, fudge and apple butter! You'll also often find a plethora of other items including pumpkins, fall home decor, handmade soaps, gourds and more. 
Townie Tip - Our favorite country stores are Dillman Farm for apple butter and fudge, Melton's for persimmon pulp and fun outdoor decor items, and Musgrave for their award winning apple cider. Please call ahead before you visit, as this year's drought has heavily impacted apple and cider production. 

Pumpkin Ice Cream and well, everything else!
The mornings are crisp and cool, yet the afternoons often get warm and sunny - that means it's a perfect time to indulge in one of fall's tasty pumpkin pleasures. Hit up Soma or the Pourhouse Cafefor a pumpkin flavored latte, then head to the Chocolate Moose or Hartzell's when things heat up in the afternoon. 
Townie Tip - I tried the Pumpkin Pie Latte at the Purhouse Cafe the other day - YUM! Please be aware that flavor availability can change quickly at locally owned ice cream shops, so if they're out of pumpkin be open to some of the other custom made flavors.
I recommend Moose Dream at the Chocolate Moose and Cinnamon at Hartzell's.  

Farmers' Market
We're so lucky here in Bloomington that our Farmers' Market has such a long season! Having the option through the fall means you can sample the goodness of an Indiana fall through pumpkins, fresh jams and jellies, persimmons, fresh honey and more! 
Townie Tip - Check the Farmers' Market website for dates and times of special apple and soup tasting events. Go early and enjoy breakfast from Feast, Sweet Claire (try the chocolate sweet roll) or the Chocolate Moose (waffles and ice cream anyone?). 
Bicycling


Yes, Bloomington is a bicycle-crazy town in the spring during the IU Little 500, but the serious cyclists come out in the fall to ride the back roads and enjoy the city's many bicycle lanes and trails. Whether you're a beginner taking an afternoon ride on the B-Line Trail or you're an old hand at the annual Hilly Hundred Bicycle Tour, B-town is a great place to bicycle in the fall! 
Townie Tip - Hit up the ride-through window for lunch to go at FARMbloomington - it's located in Oddfellows alley, just off Kirkwood Avenue, or if you're riding out by Lake Monroe, stop in at the Trailhead Market and Noshery and get the special bicyclist discount!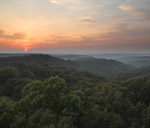 Take a Hike
Really, we mean it. Hiking is one of the best ways to see the splendor of fall up close and personal. Visit one the the many area parks, preserves or forests to reconnect with nature and enjoy the beautiful fall weather. Take plenty of water and a few snacks with you, because once you get started, you won't want to stop!
Townie Tip - Our favorite hiking spots include the Hickory Ridge Firetower area in the Hoosier National Forest (of course) - the views really can't be beat! Here are a few of our lesser known favorites to check out as well: Leonard Springs Nature Park, 
Morgan-Monroe State Forest, Yellowwood State Forest and Little Africa Nature Preserve
at Lake Lemon.   

Rent a Boat
No, we're not confused about the seasons. Renting a boat on Lake Monroe is one of the very best ways to go leaf viewing! Nothing is prettier (or makes for better photos) than the unbroken shoreline covered in trees full of color with the water in front and the beautiful blue sky above. 
Townie Tip - Bring a jacket (it can be cool and windy out on the water) and your binoculars. Be on the lookout for birds and other wildlife - several bird species stop off at Lake Monroe for a rest along their annual migration routes. 

IU Football
The list just wouldn't be complete without mentioning the IU Hoosiers Football experience. We know the team has had its ups and downs, but nothing beats a day at the stadium with the family. The kids'll love Knothole Park and Hoosier fans are tops when it comes to tailgates!
Townie Tip - There's no need to pack your car full of coolers and food - just step into the IU Alumni Association's Hoosier Village Tailgate where you can either enjoy a buffet or sample fare from local B-town eateries like Short Stop BBQ, Opie Taylor's, PIzza X, the Chocolate Moose, Kilroy's and The Big Cheez! 

Wineries & Brew Pubs
Yes, you can visit them in any season, but there's just something about sitting outside at one of our local wineries or enjoying a pint of seasonal beer at the source that screams fall to us. Expect wine tasting, beer samplers, special menu items and cellar tours! 
Townie Tip - Want to take time to enjoy the local flavors, but still need to pick up a pumpkin? No worries, you can pick up a locally grown pumpkin at Oliver Winery! Both Oliver and Butler Winery are beautiful backdrops for your fall photos as well.  

Dress Up and Go to a Show 
Yes, there are wonderful shows on the schedule for IU Opera, Ballet and Theatre (find them on our calendar), but that's not what we mean... Nothing truly says fall like taking in a scary silent film accompanied by legendary IU alum Dennis James on the organ at the IU Auditorium or joining in a rousing viewing of the Rocky Horror Picture Show at the Buskirk-Chumley Theatre! 
Townie Tip - Arrive in costume to truly enjoy the show - there may even be a costume contest to reward your efforts!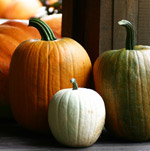 The Great Pumpkin Launch
What could be better than watching pumpkins get launched into the air and splatter to the ground? Not much, right? Well, Hilltop Nature Center, Bloomington Parks and Recreation and Wonderlab are coming together to continue to Bloomington tradition of the Great Pumpkin Launch! On the Saturday after Halloween, pumpkins will fly - and you're invited to join in the fun!
Townie Tip - Think you can build a better pumpkin launcher? Download the requirements and give it a try! Launching devices must be registered by Oct. 26. Check the Parks and Rec website for even more Halloween and fall themed event like
the Festival of Ghost Stories!