Wednesday, October 23, 2013
2013 Canopy of Lights Celebration
Categories: Family Fun, Live Music, Festivals
In keeping with old-fashioned practice, the winter holidays come to life in downtown Bloomington on the Friday after Thanksgiving. All it takes is the sparkling tradition of the Canopy of Lights. Thousands gather in community spirit to witness the simple, yet beloved lighting ceremony. Many have joined the celebration and made it a family tradition to ring in the season.
While the weather may be frightfully cold, don't let that keep you away. There is plenty of hot chocolate, kettlecorn and holiday music from the Bloomington Brass Band to keep you warm. But if it gets to be too much, downtown has more to offer.
WonderLab Museum of Science Health and Technology is open extended hours with special activities. Monroe County History Center hosts a free open house to downtown visitors. 
While waiting for the ceremony to begin, shop at local downtown stores offering sales and special activities. CFCProperties decks out the halls of Fountain Square Mall for the season and carolers are on hand inside the mall for those not yet wanting to brave the frigid temps. Even our historic courthouse is decorated for the occasion!
Don't be late for Santa's arrival - Polka Dot the Clown takes the stage leading the crowd in holiday favorites Jingle Bells and Here Comes Santa Claus right before his arrival. For many, it's the first sighting of the man in the big red suit. When Santa takes center stage, the cheers are contagious and the countdown begins.
In unison, the crowd shouts, "5...4...3...2...1..." and it happens. Downtown Bloomington transforms into a magical winter wonderland. Regardless of your age, when the switch flips, it is one of the best feelings of the year. The 2013 Canopy of Lights Ceremony will be Friday, November 29th, at 7 pm on the north side of the square. The Canopy will remain lit through New Year's Day. Over 250,000 individual bulbs, or 25 miles of lights, are strung from the Courthouse to the buildings around the square and in the trees, creating the sparkling canopy. This annual holiday celebration is a partnership with CFC Properties, Monroe County, Cassady Electric and Downtown Bloomington, Inc.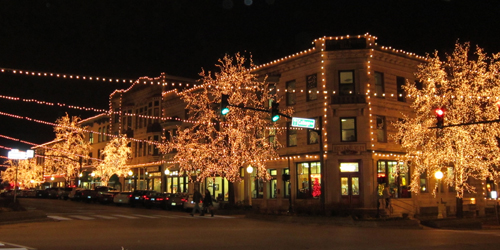 Special thanks to our guest blogger, April Wasson. April works for Downtown Bloomington Inc, is a mother of three, and enjoys spending quality time outdoors.
Updated Schedule for Friday, Nov. 29 (added 11/20/2013)
9:30 am - 6:30 pm, WonderLab - hands on activities, games and food.
5:30 pm, Courthouse Lawn - peace statue dedication.
5 - 9 pm, Monroe County History Center - open house.
6 pm, Monroe County Courthouse - open, featuring 40-foot tree.
6 - 7 pm, Bloomington Brass Band - live music on Kirkwood.
6 - 7 pm, Bloomington Chamber Singers - Fountain Square Mall.
6 - 8 pm, Music Makers - caroling/singing.
7 pm, Lighting Ceremony -  featuring Santa, Polka Dot, the Bloomington Brass Band, local dignitaries and a special appearance from Willy Wonka and his Oompa Loompas, courtesy of the Cardinal Stage Company. Photos with Santa will immediately follow in Fountain Square Mall.