Monday, December 21, 2015
5 Local Coffee Drinks To Try This Winter
Categories: Wine & Culinary
When the weather gets chilly in Bloomington, we migrate from our beloved restaurant patios to cozy coffee shops and cafés. In a lot of places this might be a depressing change of scenery, but every December I get excited to spend time bundled up and drinking coffee in some of my favorite spots.
This year, I tried five delicious locally made drinks that are perfect for winter. It was tough work, but someone had to do it (you're welcome).
Peppermint Mocha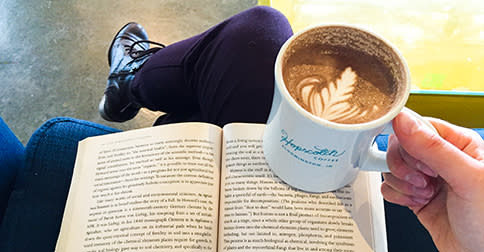 You might have tried a version of this drink at a national coffee chain, but Hopscotch Coffee's Peppermint Mocha is the clear winner. It's the perfect festive drink to enjoy while reading a book or after a day of holiday shopping downtown. It is chocolatey, but not so rich that you can only handle a few sips. The peppermint is crisp but subtle, not overwhelming and syrupy like in the mochas I've tried before. If you're not a fan of caffeine, while I disagree with you on a fundamental level, Hopscotch has your back. Instead of a Mocha, you can order a Peppermint Hot Chocolate, either for you or the little ones.
The Spirit of Christmas
Blu Boy Chocolate Café & Cakery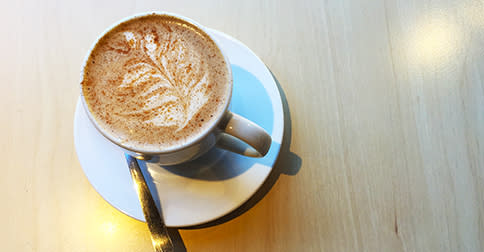 While Blu Boy has several (very tempting) holiday drinks, I couldn't pass up this one after I saw the name. The Spirit of Christmas is a creamy but surprisingly light mocha, with delicious spice and nutty flavors from the cinnamon and hazelnut. Almost as good as the drink itself is the atmosphere of the cozy little café.  You can always get your drink to go, but if you're lucky enough to snag one of the few tables, you can sip your drink while surrounded by the amazing smell of house-made chocolate and truffles.
Salted Caramel Mocha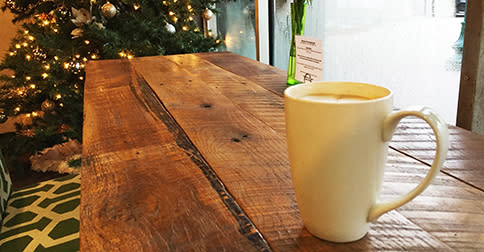 I stood at the counter for a lot longer than I should have trying to decide which holiday drink to get because they all sound phenomenal...they have a Peppermint Mocha, Gingerbread Latte, Salted Caramel Mocha, and Eggnog Latte in addition to their regular menu. If you like caramel at all, you will love the Salted Caramel Mocha. It is sweet, rich, and would be a great portable dessert to keep you warm while walking around the chilly square under the Canopy of Lights.
Cozy Cabin Latte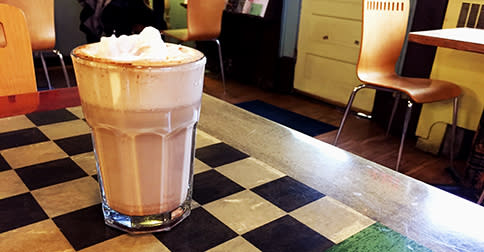 This one is for my fellow cinnamon-lovers. And how could you go wrong with that name? The Cozy Cabin Latte is made with espresso, hazelnut, "lumberjack" syrup, cinnamon, and steamed milk (plus a healthy dollop of whipped cream). The "lumberjack" syrup adds a note of maple, which is a unique but very welcome change from your average latte...flannel shirt and cabin (unfortunately) not included.
Café L'orange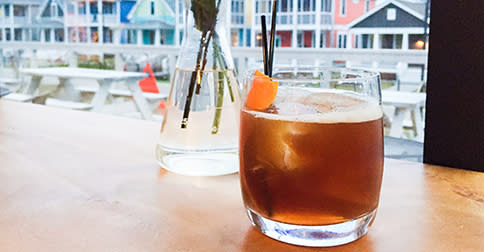 This one isn't from a coffee shop, but it absolutely belongs on the list. This cocktail is made with vodka, Songbird Craft Coffee Liqueur, and finished with orange oil. It sounds strange, but trust me...the mix of coffee and orange is the flavor combination you never knew you needed. It's energizing and refreshing with just the right amount of sweetness. Sipping the Café L'orange in the warm bar overlooking the B-Line is the perfect way to kick back when the weather outside is frightful.