7.5 questions to celebrate 75 years of the IU Art Museum
Categories: Indiana University, Arts & Culture, Family Fun
The Indiana University Art Museum is celebrating its 75th anniversary this year with a huge free party on April 12 from 5-9pm involving live music, gallery tours, cupcakes, ice cream, swing dancing, poetry, storytelling, a photo booth, 1940s cocktails (for purchase), and more. Click for details about their 75th Anniversary Big Birthday Bash.
We wanted to celebrate by asking them 7.5 questions (75 seemed like too many) that we've been wondering about one of Bloomington's important cultural institutions. Abe Morris, Manager of Public Relations & Marketing for the museum, was kind enough to indulge us.
1. When did the current building open? Where was it before this location?
The current building opened in 1982 and was designed by the world famous architect I.M. Pei, who also designed the Pyramid at The Louvre and the Rock and Roll Hall of Fame in Cleveland, among others. Before then, the IU Art Museum's collection resided in the School of Fine Arts gallery (now the Grunwald Gallery from) 1962-1982, and before that Mitchell Hall from 1941-1962, which used to exist on the north edge of the campus woods in the central part of the IU campus, where you can now find Lindley Hall.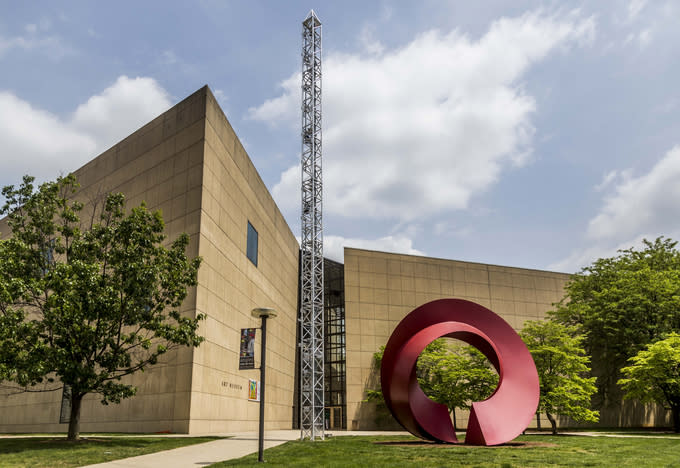 2. What is the oldest piece in the collections?
The oldest pieces on display are two Jars that come from a village called Hacilar in the ancient region called Anatolia (which is modern day Turkey) that date from 5300-5000 BC. You can find these jars right inside the entrance of our second floor Gallery of the Art of Asia and the Ancient Western World.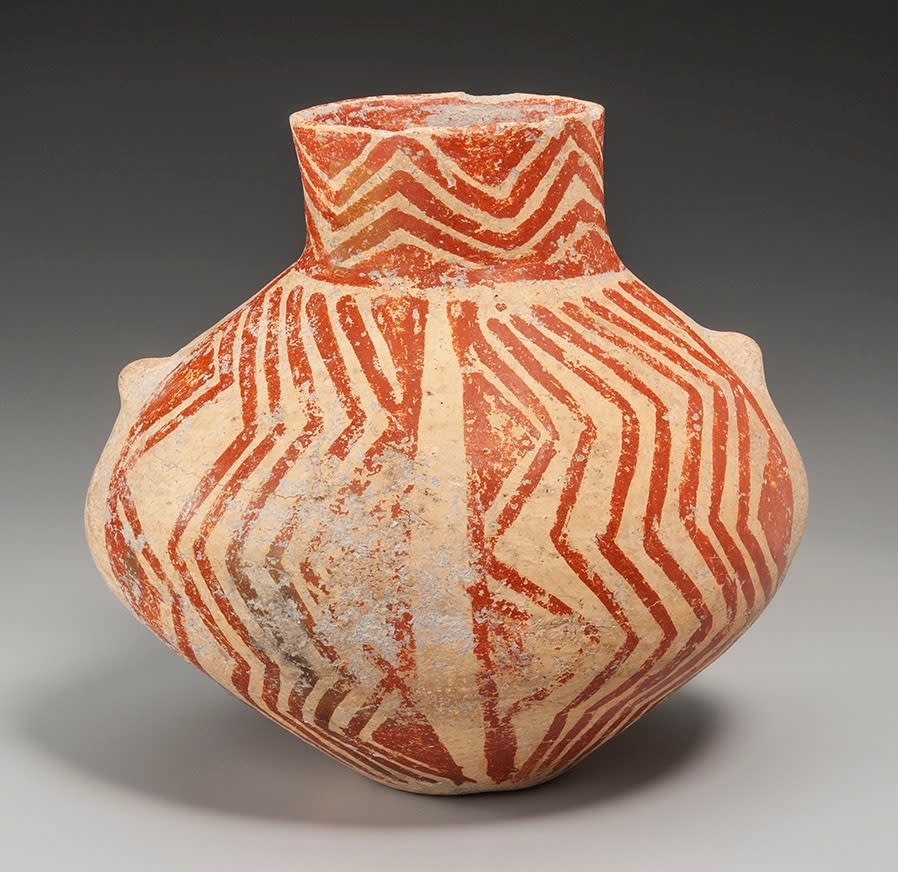 3. What is the most popular piece? ... 3 1/2. The most underrated?
Everybody has a different favorite in our collection. We actually just launched a series on our blog called "Your Favorite Things" where students, and other museum visitors can write about their favorite piece in the museum (contact Abe Morris at the museum at: abamorri@iu.edu if you are interested in contributing). But some of our most popular pieces are probably Pablo Picasso's painting The Studio, or Stuart Davis' large masterpiece Swing Landscape, both of which reside very close to each other in the contemporary wing of our first floor Gallery of the Art of the Western World.
As far as underrated works, there are lots of small but significant objects throughout the museum that are easily overlooked but very interesting if you stop and look, take a tour and learn about them from a docent, or look into the objects and do some research. One good example is a Mayan Pendant in the Form of a Sun God (see picture). This object only stands two inches tall, so it's easy to overlook, but it is striking in its beauty. It is interesting in that it is made out of jadeite, which means that it was likely worn by a priest or royalty. Also, jadeite is a very hard stone that is difficult to carve, and given that the Maya did not use metal tools to carve this, the detail of the carving is especially remarkable.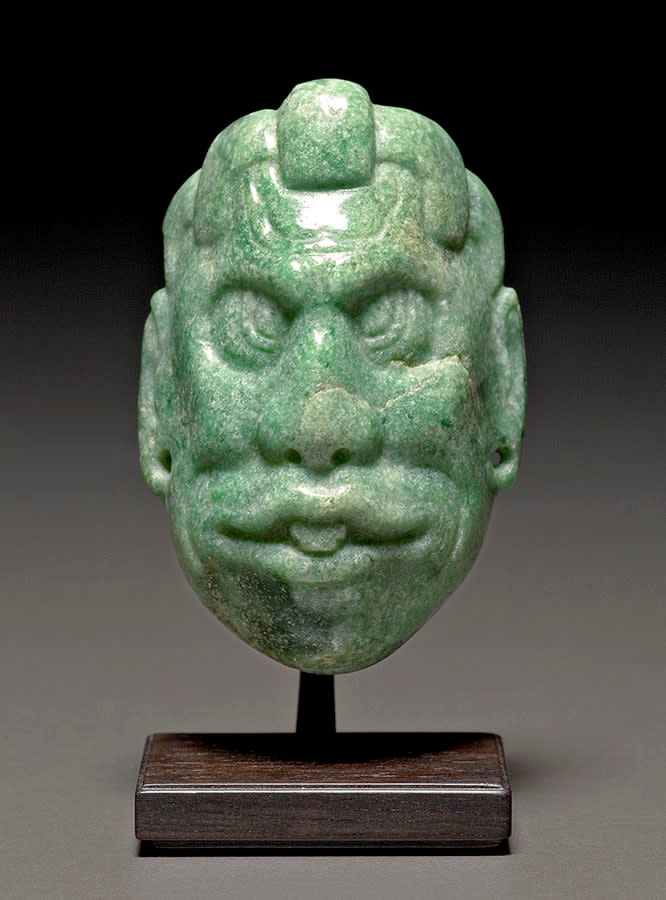 4. Has anything ever been stolen from the museum?
Nope.
5. What's one cool upcoming exhibit or event?
April 12, 5-9 pm we will be holding our Big Birthday Bash, which is our official party for our 75th anniversary this year. It will be a museum-wide party with swing dancing in the atrium, a photo booth, free cake and ice cream, activities in each of the galleries, art-making activities, and all kinds of fun. It's open to fans of all ages.
This fall we are also bringing an exhibition of the contemporary artist Vik Muniz which is very exciting. Vik's work is very playful, taking images from pop culture and the world of art that you will recognize and recreating them in fun and surprising ways.
6. How many people visit the museum each year?
More than 70,000 people visit the IU Art Museum every year.
7. Do the sculptures come alive at night? (Please say yes, and that they have a dance party.)
Only when Ben Stiller comes to visit! However, the sculpture Light Totem, located just outside the main entrance of the museum dances in light every night!