Tuesday, January 12, 2016
A newbie's guide to the PRIDE Film Festival
Categories: Arts & Culture
June is LGBTQ pride month around the world, but in Bloomington, the original pride month was January with the inaugural PRIDE Film Festival in 2004. Now in its 13th year, the festival is stronger than ever. Attendees new and old come for the hand-picked new LGBTQ films from around the world, as well as discussions with friends, celebrating the queer community, and of course delicious local beer and wine.
But if you've never been to PRIDE, you might not know what to expect or whether you'll love it. So a PRIDE newbie (Danielle) asked a PRIDE veteran (me, Abby) some questions to help her prepare for her first experience at one of Bloomington's oldest film festivals and a staple of this city's culture.
Q: Can I come to the festival if I'm not LGBTQ?
Absolutely! Just like all movies about people who are different from you, we as humans all experience stories that run along commen themes with topics we can all relate to. I know plenty of allies who walk away from the festival with a better understanding of their LGBTQ friends, or even a better understanding of their own lives.
Q: Is the event family-friendly?
All ages are welcome at PRIDE and IDs are not needed to buy tickets (just for alcohol purchases). But like all film festivals, some films deal with heavy content. There is a teen screening on the afternoon of Saturday, January 30, and it's free for youth and students. They're showing several short films and the feature documentary The Year We Thought About Love, which follows a queer teen theater troupe in Boston. It's phenomenal.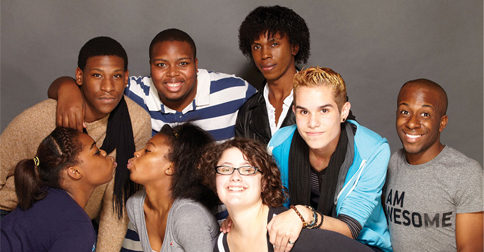 The Year We Thought About Love
Q: Will I enjoy it even if I'm not a film buff?
Without a doubt, this festival is for the average movie-goer as much as it is for a seasoned film buff. Movies run the spectrum from romantic comedies to dramas and much more, and are geared toward wide audiences. If you like movies, you'll like PRIDE. Plus, the quality of independent queer film keeps getting better every year. Many movies that you love on Netflix were likely screened at PRIDE over the years.
Q:  Are there any other activities at the festival besides screenings?
The film screenings are the main part of the festival, but within them you'll see short and feature films, live performances at some screenings, and discussions with filmmakers at others. There is also a donor VIP reception after the Thursday screening, a 21+ dance party on Saturday night, and fringe events that are listed on PRIDE's website.
Q: I like to eat and drink when I watch movies.
That wasn't a question, but don't worry, there are plenty of snacks (fresh popcorn, sweets, sodas, and more) at the concessions stand at the theater, plus they sell Upland beer and Oliver wine. And Blu Boy Cafe usually stays open late for PRIDE fans, so you can get a vast array of delicious housemade sweet treats and hot drinks. Their cookies are divine.
Q: Do I need to buy a full-price ticket if I only want to go one night?
You can buy a festival pass, which gives you access to every screening at the festival, or you can buy an individual ticket for each screening. Tickets can be purchased online or at the BCT box office next to the theater. By the way, you can enter our contest to win two tickets to opening night and a $25 gift card to Lennie's. The contest ends January 14.
Links: