Advice to Incoming Freshmen
Categories: Indiana University, The IU Student Perspective
Here are some words of wisdom from our intern, Lauren, as she welcomes IU's incoming freshman class to Orientation this summer.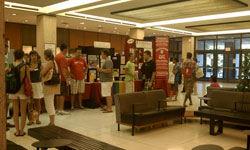 Freshman Orientation is well under way and as I talk to all the incoming freshmen I can't help but reminisce about my past four years here in Bloomington. It's been an interesting journey, definitely with its fair share of ups and downs, but overall it's been a great experience. I've been able to do and experience things here no other university or town could offer, everything from a whitewater rafting class to spending a semester in Hawai'i; Broadway musicals to world class opera. 
Bloomington itself is such a unique town, it's hard not to fall in love with this place. With state parks and incredible hiking available in any direction and annual festivals such as Lotus and Taste, there's always something to do. And the restaurants! With everything from Tibetan to Thai, Mongolian to Japanese and everything in between, it's sometimes difficult to choose just one!
My advice to incoming freshmen would be "work hard, play hard." There will be moments you want to give up, but believe me, it will get better! Experience new things and step outside of your comfort zone. Talk to new people, join a club or start your own! Learn to kayak or rock climb. There's something here for everyone. It's hard to believe it's been four years since I was going through the same orientation programs these new students are now and I wish them the best as they start their journey!