Tuesday, February 28, 2012
An Exciting RV Adventure in Bloomington, Indiana
Categories: Outdoors, Family Fun
It's never too early to start planning for warm weather RV camping adventures. A place you'll want to add to your itinerary is Bloomington, Indiana, where outdoor attractions, historic sites and an exciting college town atmosphere mean you'll have plenty of places to play.
One of the best ways to get to know Bloomington is to pull into one of the area's excellent RV parks and then embrace nature. Bloomington RV campgrounds are in such beautiful settings as Lake Monroe, where tall, rocky bluffs ring Indiana's largest lake. Favorite ways RVers enjoy Lake Monroe include boating, fishing from the piers, hiking the woodland trails or swimming at one of the reservoir's two beaches.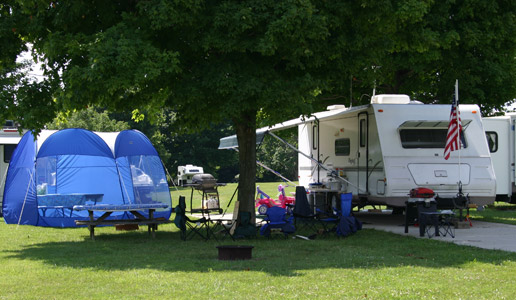 Lake Monroe sits on the northern boundary of Hoosier National Forest, a two-hundred-thousand acre green space complete with hillside lookouts, scenic trails and an impressive collection of waterways. Nearly every kind of outdoor recreation can be enjoyed while you're here. Here's a tip for vacation photographers -- wildlife in this forest is abundant, so pack your favorite camera as you pack your motorhome.
Want to take your vacation adventures underground? Bluespring Caverns, just a short drive from Bloomington, offers RVers a trip along a mysterious subterranean river. Older kids will especially enjoy the underground snack bar and the amazing cave-dwelling creatures.
And what attracts RVers to Bloomington itself? Indiana University's Hoosiers lure loyal fans to baseball, basketball and football games, not to mention a whole host of other sporting events year-round. Imagine enjoying an RV vacation in a beautiful setting with the added bonus of first-rate collegiate sports nearby.
That's just the beginning of what you can do while in Bloomington. The BEAD (Bloomington Entertainment and Arts District) is a sixty block collection of restaurants, galleries and shopping venues sure to please everyone in your RV camping crew. Don't miss this pulsing heart in the city's center during your stay in Bloomington.
And you can't truly appreciate Bloomington without knowing a little about its history. The city features no less than thirteen walking tours that highlight vintage neighborhoods and structures. Start here to collect more information on the Showers Brothers Furniture Factory Tour, details on the Vinegar Hill Limestone District and other memorable treasures from Bloomington's fascinating past.
There you have them -- seven tips for an exciting Bloomington, Indiana RV camping vacation. Whether you're planning a long weekend of RV camping or hope to settle in for an extended stay, you won't run out of ways to play in and around Bloomington. Get ready to experience the beauty of nature, the energy of a great university and the wealth of visual history that keeps RV campers coming to Bloomington, Indiana.
About the Author
Joe Laing is the Marketing Director for El Monte RV Rentals. You can see more great RV vacation ideas in their Monty's Musings RV Travel Blog and be sure to check out their RV Camping Pictures.