Wednesday, October 29, 2014
An IU Senior's Mandatory Bloomington Adventure List
Categories: Outdoors, Indiana University, Arts & Culture, The IU Student Perspective, Live Music, Festivals
This is a special guest post from our fabulous intern, Steffi Wong. Here at Visit Bloomington, we only get to enjoy her presence through the end of the 2014 fall semester, and then she'll be finishing her senior year at IU and will be off to new adventures. We asked her to write a post about all the Bloomington things she'll miss the most. Naturally, the list is pretty long!
-----------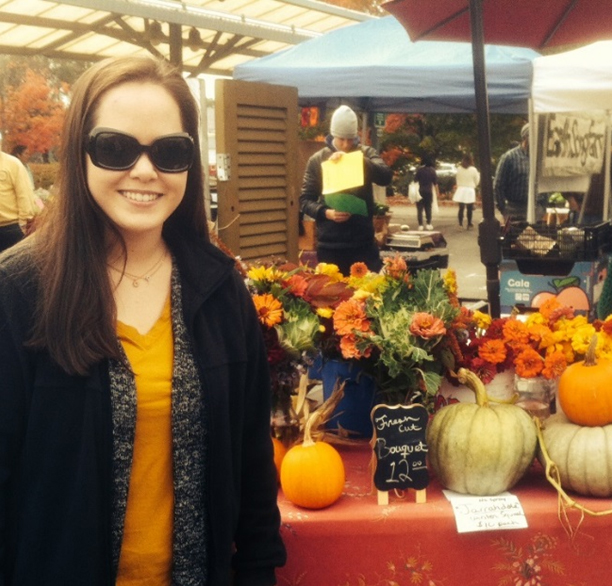 It's my senior year at IU and I am a native Bloomingtonian. Since I've lived here my whole life I have gotten to go do tons of unique things Bloomington has to offer and see several special places and events. If I end up moving away from Btown after I graduate, there are definitely certain things I will miss about this town as well as wanting to cross off my bucket list if I haven't done it already. If one day I leave, I would want to make sure I:
Watch a free movie at the IMU (well, technically I do this all the time, but I love to go since they always show movies that have just left theaters, but haven't been released on DVD yet)
At night, lie on the ground and watch the light totem change in front of the IU Art Museum
Grab a coffee from Soma, then afterwards get tacos, chips and salsa from Laughing Planet
Buy breadsticks with cheese sauce from Pizza X
Go to a wine tasting at the original Oliver Winery and sit by the lake
Buy a short stack of chocolate chip pancakes from the Village Deli
Take a picture with the Herman B Wells statue, Hoagy Carmichael, and Ernie Pyle too
Buy grasshopper ice cream from Chocolate Moose and cookie monster ice cream from Jiffy Treet
Attend the Little 500 men's or women's race
Eat the Sunday brunch in the Tudor Room at the Indiana Memorial Union
Go to Kilroy's Breakfast Club during Homecoming weekend
Go to Malibu Grill for dinner (which happens to be one of my favorite restaurants in town)
Sit in the IU Art Museum after class and go through the different exhibits. Afterwards, stroll through the Angles Café
Look down Kirkwood Ave from the Sample Gates at night
Get kettle corn popcorn from the Saturday Farmers' Market
Climb the fire tower at Hoosier National Forest
Watch a performance at the Buskirk-Chumley Theater, then go to BLU Boy Café and buy macarons
Walk around downtown during Lotus Festival and see a concert
Stroll the Tibetan Mongolian Buddhist Cultural Center
Tailgate before a home football game
Go to an IU Auditorium show and an IU Cinema movie
Buy center stage tickets to The Nutcracker
Look at stars at the Kirkwood Observatory
Walk around downtown during the Canopy of Lights, which kicks off the holiday season
Go to Flat Rock at Lake Monroe and skip rocks
So if the day ever comes when I leave this beautiful and diverse town, I will definitely have some ideas on what I have to do before leaving.