Wednesday, January 8, 2020
An Ode to Bloomington's Breakfast
Categories: General, Wine & Culinary
Eating a good breakfast is one of life's simplest pleasures...
With hundreds of restaurants, Bloomington has some real winners for a feel-good start to any day.
Strolling down Bloomington's streets, the smell of coffee drifts from small storefronts as people eat pastries of all flavor palates imaginable. Local bakeries partner with farmers to bring flavors from near and far to life in the form of donuts, cupcakes, and more.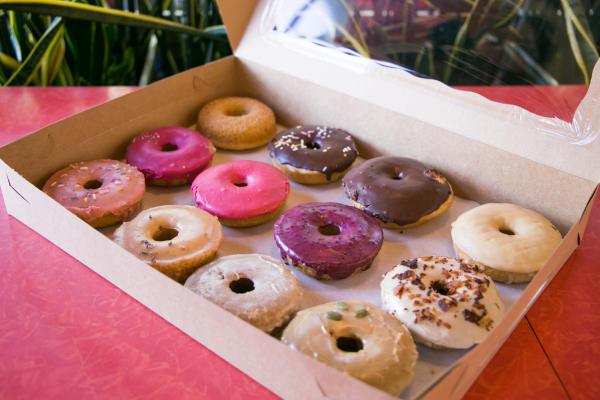 Rainbow Bakery, Bloomington's first vegan bakery, serves up everything from hand pies to donuts. Jane Kupersmith, co-owner of Rainbow Bakery and Hopscotch Coffee, knows that Rainbow fills a need in the community.
"Food is a core part of how we exist," Kupersmith said. "Sometimes, when you have food restrictions, it feels like you can't be a part of what everyone else is enjoying. Rainbow Bakery becomes a safe space for people who have those restrictions, where they can build community and enjoy this friendly café culture while knowing what they're eating."
Kupersmith, who has a restricted diet, appreciates the level of care the baking team at Rainbow puts into their goods. Whether a customer orders a giant cinnamon roll or a veganized sausage, egg, and cheese biscuit, there's something for everyone.
"Commercial baking is challenging but awe-inspiring," Kupersmith said. "Our baking team does an amazing job—they're equal parts precision and art."
Another early-morning pastry shop may be new to Bloomington's breakfast rotation, but Kassie Jensen and Amanda Armstrong's years of baking experience back their dedication to providing the community with good food that can be tasted with every bite.
Two Sticks Bakery's conscious choice to use high-quality, organic ingredients shines in offerings like danishes, coffee cake, scones, turnovers, and other gems, baked fresh daily in the early morning hours by Jensen and Armstrong.
The attention to detail in the baked goods from Two Sticks is why their treats are the highlight of so many days, said Jensen, Two Sticks co-owner and baker.
"I wouldn't sell anything here that I wouldn't give to my own grandmother," said Jensen. "The quality of the ingredients we use here is unmatched. It's what makes Two Sticks so special—you know what you're eating is made of the best stuff around."
Jensen and Armstrong recommend getting to the bakery early for the best breakfast bites—it's not uncommon for the bakery to sell out before noon.
Not only home to wonderful bakeries, but sit-down breakfasts full of hearty Hoosier staples are also abundant in Bloomington.
Biscuits and gravy is pretty much a food group in Indiana—filling sausage gravy lovingly ladled over soft biscuits is a delight that has sustained Bloomingtonians through game days and brunches alike, time and time again.
It won't be hard to find some good B&G around town. The dish is a comfort-food favorite for Hoosiers as well as visitors, adorning the menus of greasy spoons and elevated brunch spots alike.
The biscuits and gravy at Uptown Café have been tried and loved by over 40 years of customers.
"We have a really broad and elegant brunch menu now," said Michael Cassady, owner of Uptown. "But this place was built off biscuits and gravy and home fries—Hoosier favorites."
A breakfast standby in Bloomington is always pancakes. From plain to extravagant, they're a popular offering around Bloomington and one Kirkwood Avenue restaurant has perfected the dish.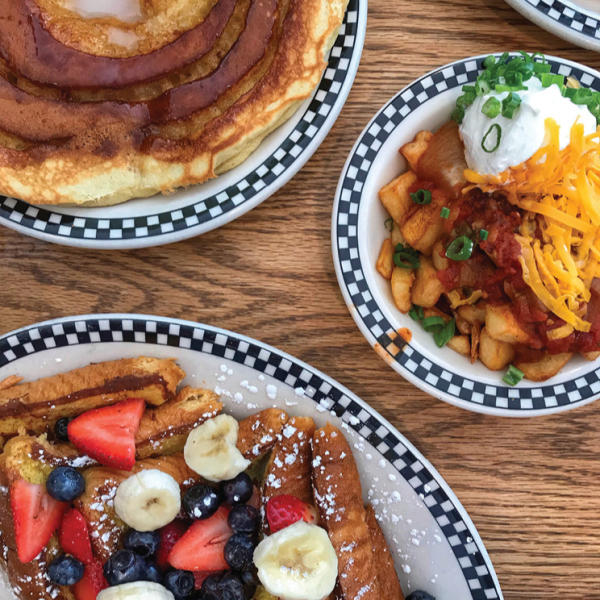 Pancakes at the Village Deli are nothing to mess around with—fresh-made buttermilk batter fried to a golden crisp outside and fluffy, sweet inside spill over the edges of plates during the breakfast rush. Creative options, like cinnamon-style and lemon-poppy seed style pancakes, liven up this classic.
"Our cinnamon roll pancake is definitely a signature," said Bob Costello, owner of Village Deli, Soma, and Laughing Planet. "That's something that people come back to Bloomington and immediately crave."
Paxton's Potatoes, a Village Deli classic, is another noteworthy dish according to Costello. The fried potatoes topped with homemade Hoosier sausage gravy and cheddar cheese have been recognized as Indiana's best breakfast by Food Network.
But the excellent breakfast isn't the only thing that keeps customers coming back.
"Diners provide a community space," said Costello. "They appeal to everyone and exclude no one. The atmosphere is amazing—you can sit inside and be a part of the busyness or watch Kirkwood go by from the tables outside.
Breakfast may seem like just another meal, but in Bloomington, there's an entire culture forged around the breakfast table. When you eat breakfast in Bloomington, you sit down with a community built on bringing people together using good food.
"Sometimes owning a business is hard," said Jane Kupersmith. "But Bloomington is such a special place—the people here are ridiculously supportive of each other. This community has important safe spaces for people to gather and interact—it's more than just food."