B-town Beer Rocks!
Categories: Wine & Culinary
Bloomington, Indiana is rocking the beer world. Local faves Bloomington Brewing Co. and Upland Brewing Company took big honors at the 2013 Indiana State Fair Brewers' Cup. The annual Brewers' Cup is Indiana's most prestigious beer competition; beers are tasted and scored by certified beer judges on a point system and may be awarded medals for quality and adherence to style.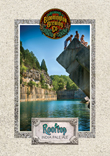 Only one gold, silver and bronze medal are awarded per style category, but the point score must pass a threshold, so some styles may not have medal winners on any given year. Nearly 200 beers were judged across two dozen style categories this year. For more information on the Indiana State Brewers Cup visit www.brewerscup.org.
Bloomington Brewing Company took the Gold medal in the IPA category for their popular Rooftop IPA and Upland Brewing Cmpany took the Gold medal in the English Pale Ale category with their Helios Pale Ale, which also won Best of Show, a very high honor and the third consecutive year that Upland has walked away with Best of Show honors. 


Visit their web sites for detailed information on each award winning local brewery: With nearly 70 breweries in the state, Indiana beer is hitting the map and Bloomington's Upland Brewing and the Bloomington Brewing Company are often considered among the best in the state. Both Breweries offer tours (and incredible food at both Lennie's and the Upland Tap Room). 
  www.bloomingtonbrew.com  &  www.uplandbeer.com
Special thanks to our guest blogger, Jeff Mease. Jeff is a very busy guy as Founder and CEO of One World Enterprises, the parent company of some of Bloomington's favorite brands - Pizza X, Lennie's, One World Catering, Bloomington Brewing Company and Loesch Farm. We're honored to have him take time out of that busy schedule to write for us about the recent Indiana State Brewers Cup. Congratulations to both BBC and Upland on the honors they received at this year's competition!