B-town's Three Most Challenging Golf Moments
Categories: Outdoors
Special thanks to Bloomington local Mark Cady for this run down of the toughest golf holes in town. Mark is the business manager for the Bloomington Brewing Company and when he's not hard at work, you just might find him on one of the golf courses listed below!  
When Assembly Hall closes its doors and the flowers, leaves, dandelions and any other sort of weed found in my garden in need of pulling start popping up, I know it's time to dust off the old irons and head out to the golf course. The smell of new cut fairways, the feel of crisp dewed greens and the audible groan I make as a drive rolls into the dense, deciduous forest are just a few of my favorite rites of golf season. From Cascades to The Pointe, there are many difficult and fun challenges I face, but here is a rundown of a few that I lose sleep, and more than a few sleeves of Titleists, on.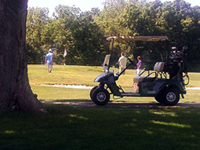 Cascades Quarry #9: 
So, you are having a good front 9 at the Cascades Golf Course. Had a nice drive on the par 4 8th and feeling good about your round. Maybe you are also feeling good about the Dog and Gatorade your playing partner owes you for the 20 ft. birdie you made on the par 3 5th. That's until you step up to the Quarry course 9th. This par 3 travels 240 yards from the back tees over not so friendly low areas without real bailout area and a green guarded by bunkers on both sides. If you finish with a par, you are more than happy entering the turn.
Indiana University #12: 
This hole on the Indiana University Golf Course starts off innocently enough, until you hit your tee shot. A deceptively long 441 yard par 4, the fairway tilts right to left making it difficult to keep your drive in the fairway. You need it to be, because you look uphill at a green you really can't see. My advice - add at least a club to get where you need to be. 
Eagle Pointe #10: 
The signature hole of the Quarry Course at Eagle Pointe Golf Resort, this 150 yard par 3 is beautiful to the eye yet imposing to your golf game. The green seems easy enough to reach. That is if you don't mind the waterfall traveling in front of the green, or the pond to the left. Take a good whack at an 8 iron and you should stay dry but the green is slightly more uphill than one may think.
Many more holes, bunkers, rocky points and trees await me this summer in Bloomington and I can't wait for them!  If I'm not in the mood for a long day at the links, I really enjoy stopping at Taylor's Par 3 to spruce up my short iron game. Many of the holes are a pitching wedge or less, and the greens are tricky enough to keep you sharp. Whatever my mood, I know each time I pack my bag into the trunk I know I am in for not only a challenge, but a fun day. That is, at least, until I get to the first tee...
Don't forget to sign up here to win free golf passes (and food) from Eagle Pointe Golf Resort and Visit Bloomington! The contest ends on June 17, 2013.