Best Burgers in B-Town
Categories: General, Wine & Culinary
Disclaimer: Due to the ongoing COVID-19 pandemic, we realize some visitors may not currently feel comfortable dining inside restaurants.  In the meantime, please support your favorite local restaurants with carryout or delivery instead!  Be prepared to wear face coverings, practice physical distancing, and call ahead as hours of operation may be different than posted.  Above all, thank you for supporting Bloomington's restaurants and shops! 
 

Bloomington is no stranger to a wide range of American and Midwest classic dishes. In any corner of town, you can find multiple places serving pizza, barbeque, and of course, burgers. Whether you are looking for a super simple burger or one with all the fixings, we've got you covered. Choose a burger for dine-in, carryout, or delivery from any spot in this guide and you will not be disappointed. 
 
Big Woods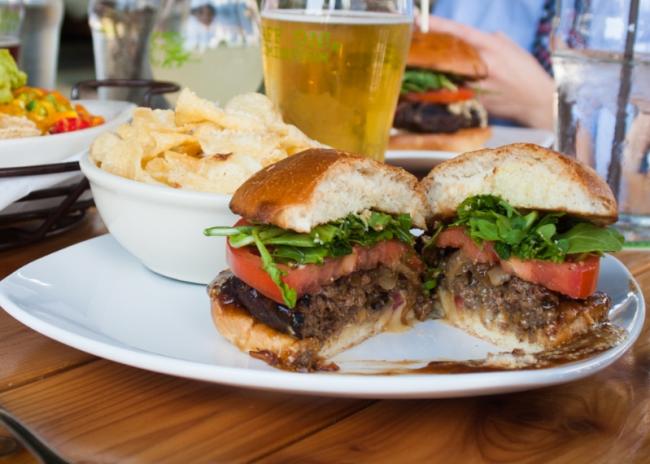 Big Woods is a staple across central Indiana. The cozy restaurant is well-known for a few things: regionally-made spirits, a great atmosphere, and of course, delicious food. Their menu has just about every comfort food imaginable, but we're here to talk about the burgers. You can never go wrong with a Big Woods burger, they're stacked, juicy, and guaranteed to leave you stuffed and happy. 
Tip: Upgrade your side to truffle parm fries...thank us later. 
 
Bub's Burgers & Ice Cream
Bub's is a classic not just in Bloomington, but all of Indiana. Their most famous burger is the "Big Ugly." The one-pound burger is such a challenge that if you finish it, you will get your picture on the wall! Looking for an even bigger challenge? Try out the "Big Ugly" one-pound Elk burger. 
Tip: Don't forget the ice cream part of Bub's Burgers and Ice Cream. Ordering a hand-dipped milkshake is a must. 
 
BuffaLouie's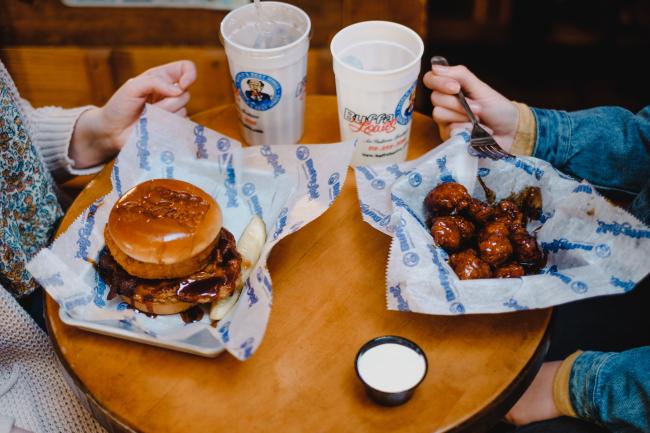 The atmosphere at BuffaLouie's screams "Hoosier Hospitality." The downtown staple is famous for their wings, but the burgers are just as good. The burger toppings range from the classics like lettuce and tomato to any of their wing sauces. The possibilities are truly endless when choosing a burger from BuffaLouie's. 
Tip: Substitute any burger for chicken, black bean patty, or Impossible burger. 
 
Farm Bloomington
The Lugar Burger steals the show at Farm. At the base of this burger is Farm's award-winning, local bison with a delicious chili espresso rub. The Lugar Burger is only served for dinner, but their lunch menu features a Burger D'Orr which changes daily. 
Tip: You can't leave Farm without getting a bowl of FarmFamous Garlic Fries. One bite and you will be hooked!
 
Fat Dan's Chicago-Style Deli
Fat Dan's is a Chicago-style deli that actually got its start in Indianapolis. The restaurant is decked out in Chicago and IU graffiti and paraphernalia. The theme doesn't stop there. The menu is filled with Chicago dishes. Their "Fat Burgers" are named after streets in Chicago and include toppings that are usually found at your local deli. If you are looking for creative burgers, this is definitely the place. 
 
Hinkle's Hamburgers
Looking for a delicious yet simple burger? Hinkle's is the place. This small hamburger joint is a favorite secret among locals. Your burger options are simply a hamburger or cheeseburger with the option of making it a double and a few toppings. We're not joking, it's that simple, but don't let that fool you. The quality is top of the line. 
 
Nick's English Hut
It is a rite of passage for all IU students to spend at least one Friday night at Nick's. Students, alumni, and fans from around the world make it a point to stop at Nick's for a meal on game day. This downtown essential also uses local Fischer Farms meat. A burger is a perfect meal when cheering on the Hoosiers. It would be irresponsible of us to not recommend the Biz Fries. The bucket of beautifully-seasoned french fries pairs great with their burgers. 
Tip: If you are of age, play a game of Sink the Biz! 
 
The Tap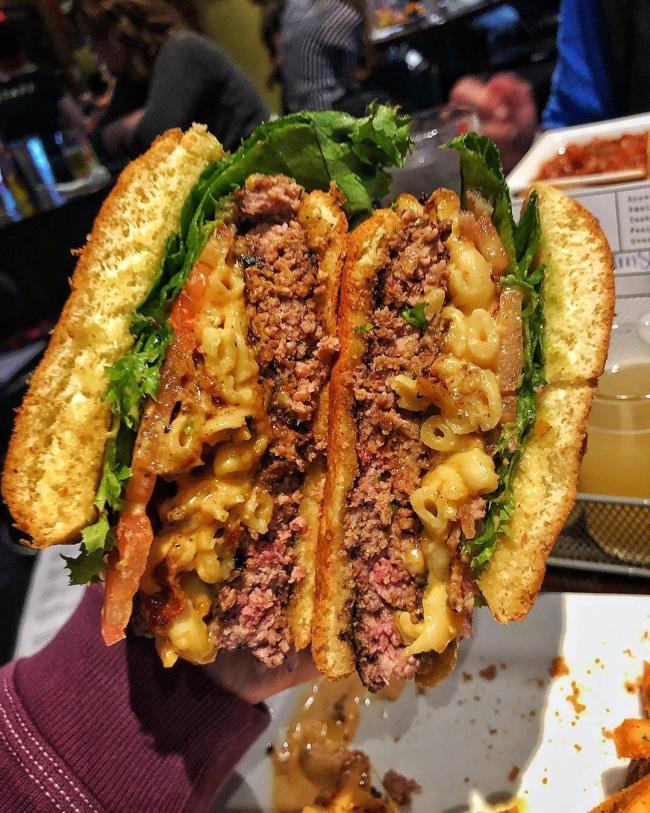 The Tap is a popular spot among locals and visitors. The atmosphere makes it a great place to spend time on a game day. It's on the courthouse square so it is within walking distance of dozens of shops, museums, and other attractions, but back to the burgers. A favorite is The Tap's "Beer Cheese Burger" which is a burger topped with bacon, the classic toppings, and their house-made beer cheese. Looking to go even more over the top? Make it a "Mac 'N Beer Cheese Burger which is topped with you guessed it - mac and cheese! The Tap also has a burger of the month that features seasonal ingredients. 
Tip: The Tap is one of Bloomington's local breweries. While you're chowing down on a delicious burger, try one of their beers (or a flight if you can't decide). 
 
Trojan Horse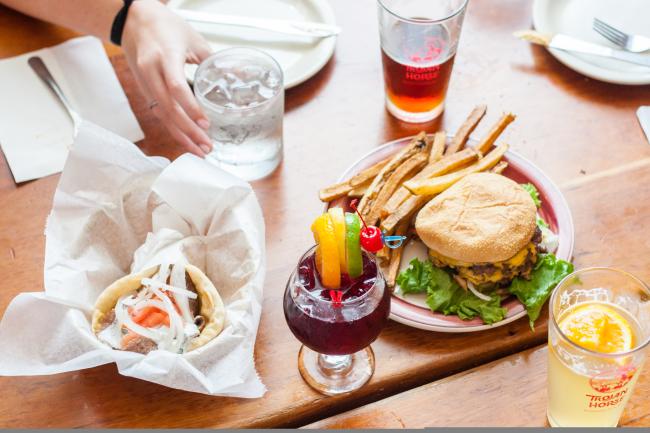 Trojan Horse is most well known for its gyros, but the burgers are also a solid choice. The Greek American restaurant is simple when it comes to the burger options. You can, however, get a bit adventurous with the toppings. Trojan Horse also offers a vegan burger that is a mix of veggies and spices you won't be able to find anywhere else. 
 
Uptown Cafe
The New Yorker is a fan-favorite from Uptown Cafe. The half-pound burger is simple in fixings and still top of the line. You would really believe you are in the big city enjoying a burger from a 5-star restaurant. The cajun-creole restaurant also offers an Impossible Burger which is 100% plant-based, which based on the taste is hard to believe. 
 
Upland Brewing Co.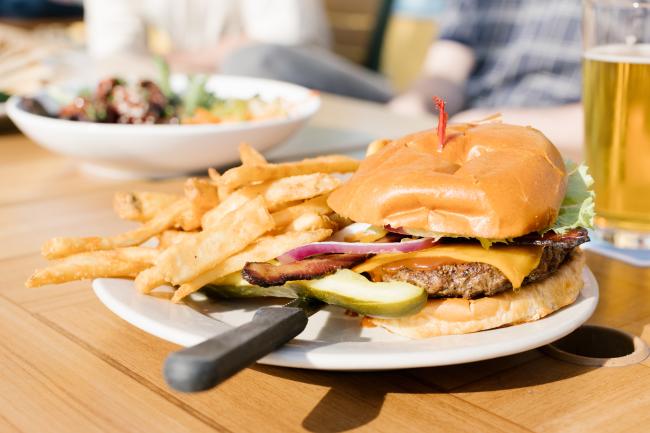 Upland is most well known as one of Bloomington's local breweries. The brewpub's menu is fun and diverse. While there aren't many burger options, the few they do offer range from classic to adventurous. To make their tasty burgers available to anyone, you can substitute the burger for chicken or a veggie patty. You can also upgrade from beef to buffalo! It goes without saying, to get the full experience pair your burger with a beer that is made literally steps away from your table. 
Tip: Upland has awesome outdoor seating. 
 
Yogi's Bar & Grill
If IU and Instagram had a baby, it would be Yogi's. The sports bar and grill is bright and clearly all about Indiana University. We're talking neon signs, cream and crimson, and even Little 500 bikes. The burgers at Yogi's are just as good as the atmosphere. They have some pretty interesting combinations. One of their most popular is the "Fried Dorito Smash Burger" that is grilled with cool ranch Dorito mozzarella cheese (Insta-worthy of course). Another Yogi's favorite is the "Smash Burger." It's just two smash grilled patties topped with garden veggies, but what makes it extra special is their spicy yo sauce. Can't describe it - just know it's a must-try. 
Tip: Two words: Buffalo Chips.