Thursday, September 13, 2018
Top Picks for Camping & Cabins in Bloomington
Categories: Outdoors
As the tips of the trees begin to turn a golden yellow and the crisp autumn air begins to settle in, it's the perfect time of year to get outside and have an adventure. Whether you rent a bike and cruise the B-Line or climb the Hickory Ridge Fire Tower, there are plenty of things to do in the outdoors this fall.  If you're feeling even more adventurous, extend your outdoor experience and check out our favorite campsites and cabins in Bloomington. Don't forget the s'more supplies.
*This list is not comprehensive just a few of our favorites. If you have a favorite spot that we missed, let us know in the comments.
Charles Deam Wilderness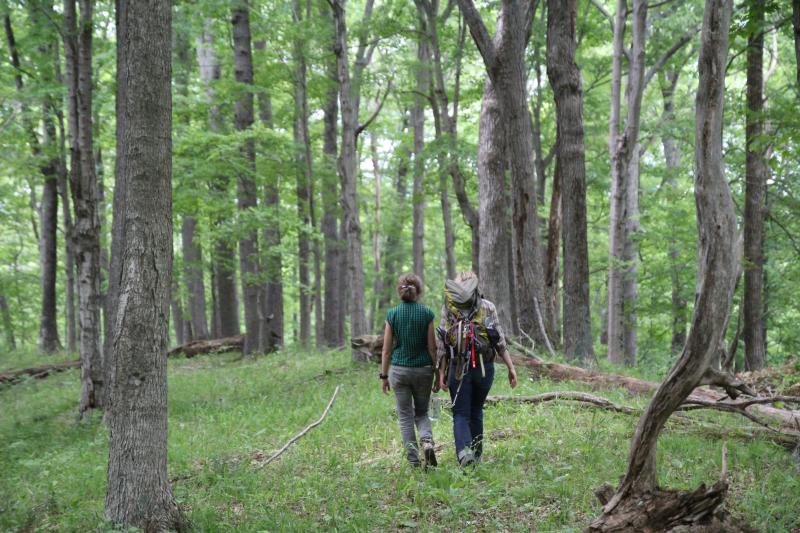 This is the place to find solitude. Primitive camping is permitted here and there are a few places where you can car camp easily. If you want to go camping during the height of leaf season just make sure you head out early because the sites do fill up. There are 37.3 miles of trails for hiking and horseback riding and don't forget to climb the fire tower for the most incredible view of the Hoosier National Forest.
 
Yurts at the Tibetan Mongolian Buddhist Cultural Center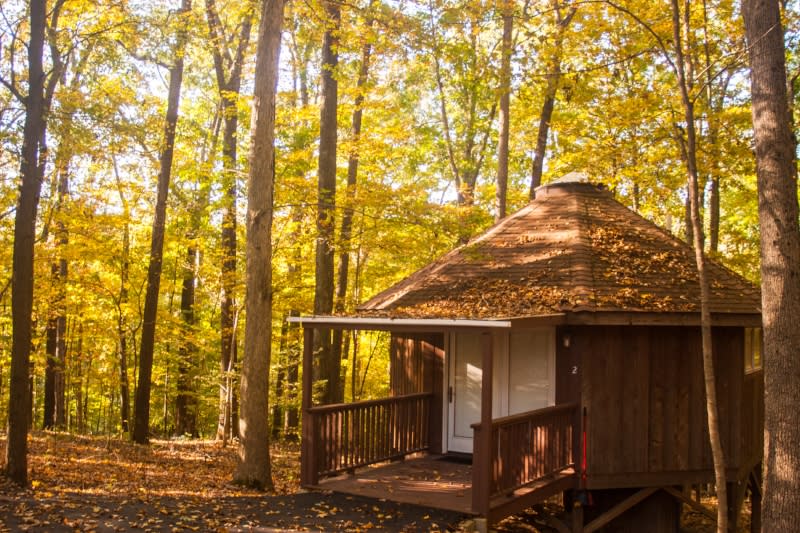 If you want to be out in the great outdoors but don't have camping gear or just don't like sleeping on the ground, the yurts at the TMBCC are an excellent and budget-friendly option. Nestled on 108 acres, the cultural center is open to all regardless of religious affiliation and are just a short drive to nearby hiking trails of the Hoosier National Forest and cycling trails around town. The yurts are only 5.2 miles from downtown Bloomington making it easy to come into town and enjoy our unique restaurants and other nightlife. Learn more.
 
Red Rabbit Inn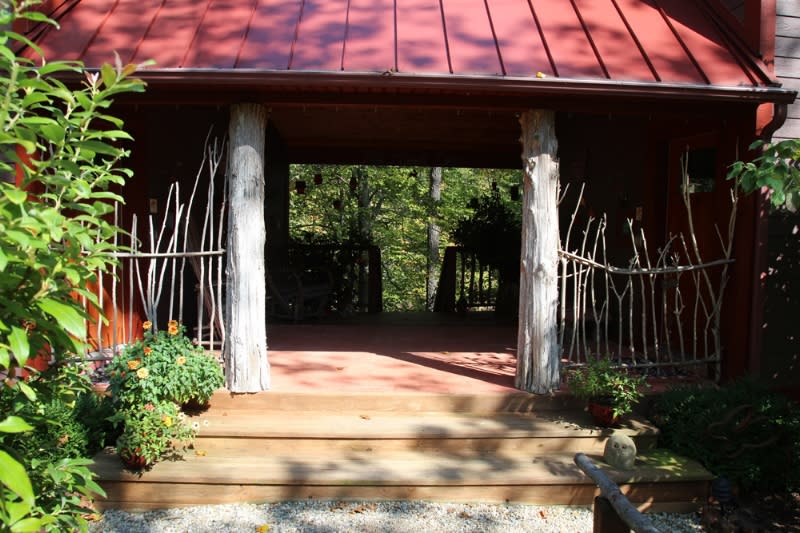 Situated between Bloomington and Nashville, the Red Rabbit Inn is a wonderful escape but not too far from Bloomington fun either. The property has two architecturally designed cabins, each with a private deck overlooking a private pond so don't forget your fishing pole. You don't even have to cook in the morning because breakfast is provided. Since the cabins are close to Nashville, make sure to cruise down Arts Road 46 and explore some of the unique galleries, architecture, and events along the way. 
 
Jellystone Park at Lake Monroe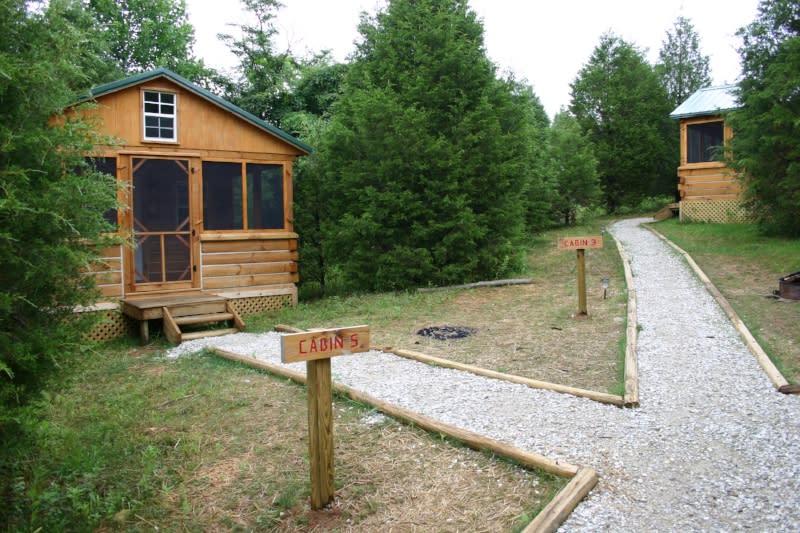 This is the ultimate in family lodging for those that want to be as close to the lake as possible. Jellystone has a variety of cabins available for rental as well as RV hookups if you prefer to bring your home with you. In terms of activities on the property, they have it all. From an outdoor pool, splash zone, wagon rides, and a playground, it might be hard to tear the kiddos away from the Jellystone campus. The property is right on Monroe Lake as well so you can even rent a boat to cruise the lake with the whole family. 
 
Hardin Ridge Recreation Area
Hardin Ridge is a recreation area located on the shores of Monroe Lake featuring 1,000 acres of land with hiking and bicycle trails, a public swimming beach, a large boat ramp, picnic areas, and shelters as well as a full-service campground with over 200 well-developed campsites and lakeside cabins for rent. From Memorial Day through Labor Day they offer interpretive weekend programming like guided wildlife hikes. Hardin Ridge is also an excellent place for birding and wild mushroom hunting.
Paynetown State Recreation Area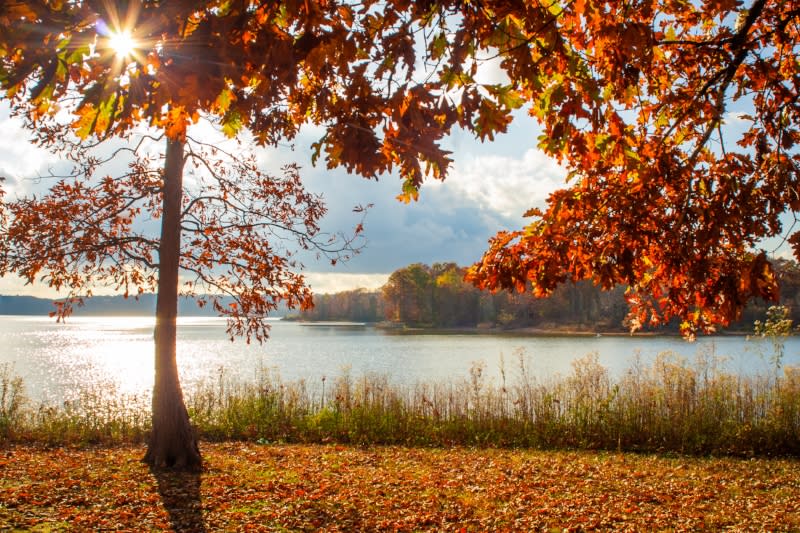 We're lucky to have so many of our camping areas right next to Monroe Lake and Paynetown is no exception. It may not be warm enough to swim in the fall but trust us, a lake cruise to see the golden hue of the forest is a must. If you don't have your own boat, don't worry! Paynetown has a public swimming beach, electric and nonelectric camping sites, a boat rental service, a marina, and a camp store. 
 
Angler's Log Cabin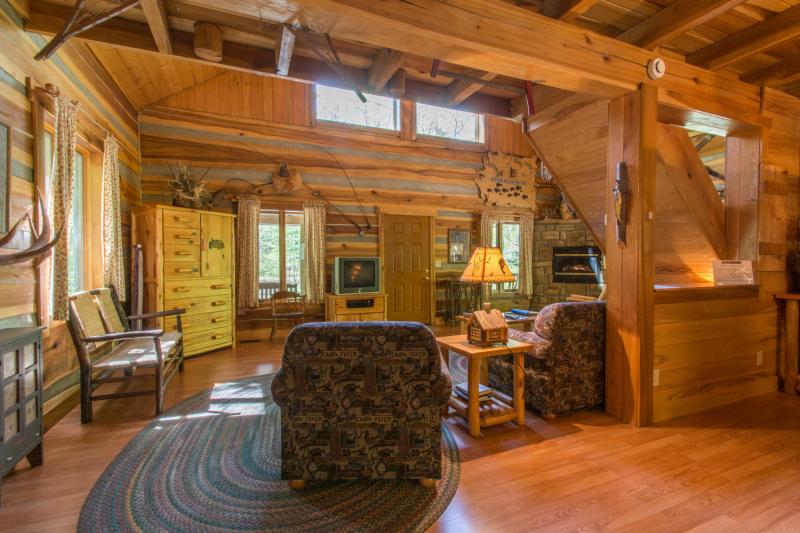 Cozy up this fall in the Angler's Log Cabin. It's decked out in vintage fishing gear, fireplace, and quirky tapestries. Outside you'll find a massive porch with seating, charcoal grill, hot tub, and your very own fishing pond. Enjoy the great outdoors and have a comfortable place to rest your head; it's the best of both worlds. 
Lemon Ridge Lodge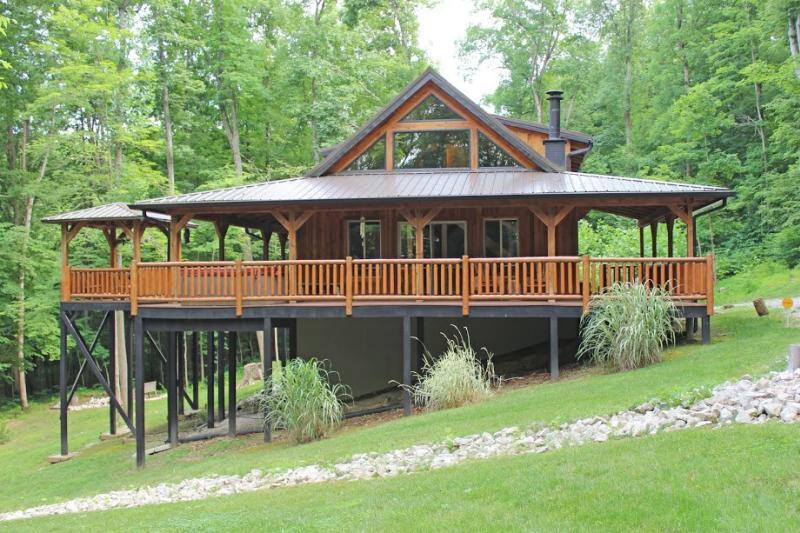 15 minutes from IU and 15 minutes from Nashville, Indiana the Lemon Ridge Lodge is an ideal location for visitors wanting to visit both Bloomington and Nashville, Indiana. The lodge features a wrap-around deck, hiking trails nearby, and Direct TV in case you want to have a movie night. 
You don't want to miss views like this. Hike, ride, cruise, and explore Bloomington this fall. Just don't forget to take time to chill by the fire with a s'more or two.