Wednesday, March 23, 2016
Best Places to Watch IU Basketball Games
Categories: Indiana University, Wine & Culinary
Experiencing IU basketball in Simon Skjodt Assembly Hall is one of the most exciting and intense sporting events in the known universe. The passion you feel from the players, coaches, and other fans will give you goosebumps. But tickets are hard to come by, and when the team is playing on the road, say in the NCAA tournament, the very next best thing is to watch the action at one of these Bloomington venues with a few dozen other rabid IU fans.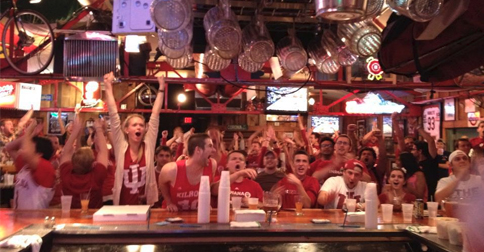 photo from Nick's English Hut on Facebook
Nick's English Hut
This bar is an IU tradition in and of itself, but on game nights, it is a holy place. The Hoosier Room (upstairs) has tons of space and tons of televisions, so grab a stromboli and some sink the biz fries and start cheering.
The Tap
Newer to the Bloomington brewpub scene, The Tap is becoming a local favorite. It's spacious, serves only craft brews (like a million of them) and has plenty of televisions (including some in the restrooms, which deserve a spot on the top ten restrooms of Bloomington blog, but I digress). The pickle fries are awesome, as are the tuna tacos.
BuffaLouie's
Nothing goes better with basketball than wings, and Buffa has the best in town. They also have televisions every few feet, and some great basketball memorabilia. It's kid friendly too, for those lil' Hoosiers who want to get in on the action. Obviously, you have to order some wings, and I also recommend the Hurryin' Hoosier sandwich.
Kilroy's Sports Bar
Pretty much no one over the age of 30 goes here unless it's summer break and you're feeling nostalgic, but if you want to mingle with actual IU students, this is the place to go. They have huge televisions and it gets loud and proud during basketball games. There are usually drink specials and the pepperoni-stuffed breadsticks are ridiculously good.
This family-friendly sports grill has been in Bloomington since 1984. They have plenty of tvs for game watching, tons of IU memorabilia, excellent burgers and homemade mozzarella sticks. Do you need any other reasons? We're loving the new garage door that opens out onto their patio with a view of the downtown square.