Bikes & Beer: Cycling tips around Bloomington
Categories: Outdoors
Bloomington sits in the middle of limestone country, whose ravines, fissures, underground springs, and caves make the land quite hilly -- perfect for adventurous cyclists. I asked some local cyclists about their favorite Bloomington routes, and because they're cyclists, they also offered their favorite places to fuel up after a ride (AKA food). For more info on biking in Btown, check out our cycling guide with info and more links.
Michael Fox
"Riding from town out toward Lake Lemon and exploring the country roads is always a go-to road ride for me. I always try to drop by the Port Hole Inn while I'm out there for Quarrymen Pale Ale and Fried Catfish Sandwich--you gotta replenish the calories you are burning, right?

"Monroe County is a great place to cycle. Bloomington and Monroe County have done a tremendous job in the past decade building up bicycling infrastructure. People in motorized vehicles are accustomed to the cycling culture and courteous to cyclists. The terrain is great too--we have a lot of fun and challenging hills!
"Lennie's is a great place to go after a ride! We are big supporters of Bloomington's cycling culture. We host "Bike to Lennie's Month" in May where we reward employees and customers who ride their bicycles to Lennie's, we have a year-round bike to work incentive and host an annual bike ride to celebrate BBC's 10-Speed Hoppy Wheat. Oh, and we have 12 BBC draft lines, 2 nitro taps, 2 hand-pull lines and a diverse and eclectic food menu." As you might have gathered, Michael works for Bloomington Brewing Company, which is a part of Lennie's Restaurant & Brewpub.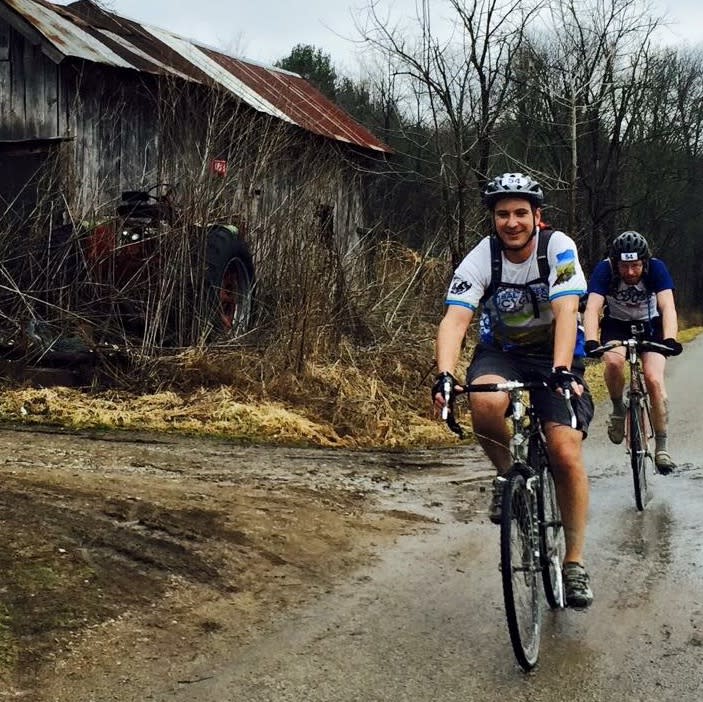 Jane Kupersmith
Jane is the co-owner of Hopscotch Coffee, and can often be seen riding her bike (which matches their espresso machine) hauling loads of coffee beans up and down the B-Line Trail. She has shared with us her Happy Map, one of her favorite rides: "It is a big loop that goes up old 37, past Butler Winery, and ends up going south to Kerr Road. I think Kerr Road is one of the most peaceful and beautiful places in the county. If Bloomington buys enough bike-delivered coffee, maybe I'd be able to move there some day? But then I don't think I'd be able to ride to work. So...nevermind. I'm a novice, so I try to ride with experienced people, and I let them either map our routes or I consult with them if I map them. Check your ego and follow the rules of the road! And enjoy!"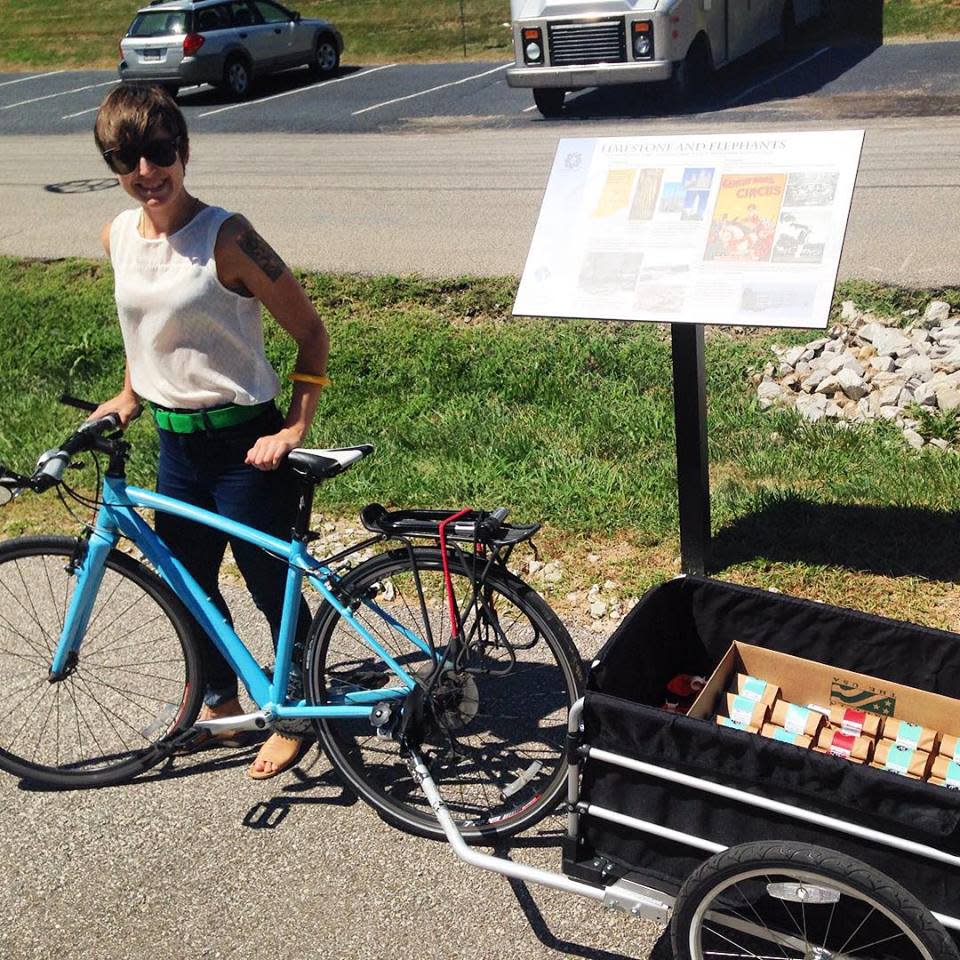 photo by Jeff Grant, co-owner of Hopscotch Coffee
John Turnbull
"My favorite route is called Will Flock Mill Road loop. It is a road south and west of town near several quarries, cutting mills, and Indiana Limestone. It follows Clear Creek a lot so the views are very nice. Monroe County provides subtle beauty. Green fields, varied terrain, small creeks and rivers, wild mustard fields, red barns, and white farm houses. It is a nice backdrop of colors with several hills and added sounds of nature. I like Upland Brewery after a ride. Best black bean burger on planet earth. That is science, not opinion." John is the Sports Division Director for the City of Bloomington Parks and Recreation Department.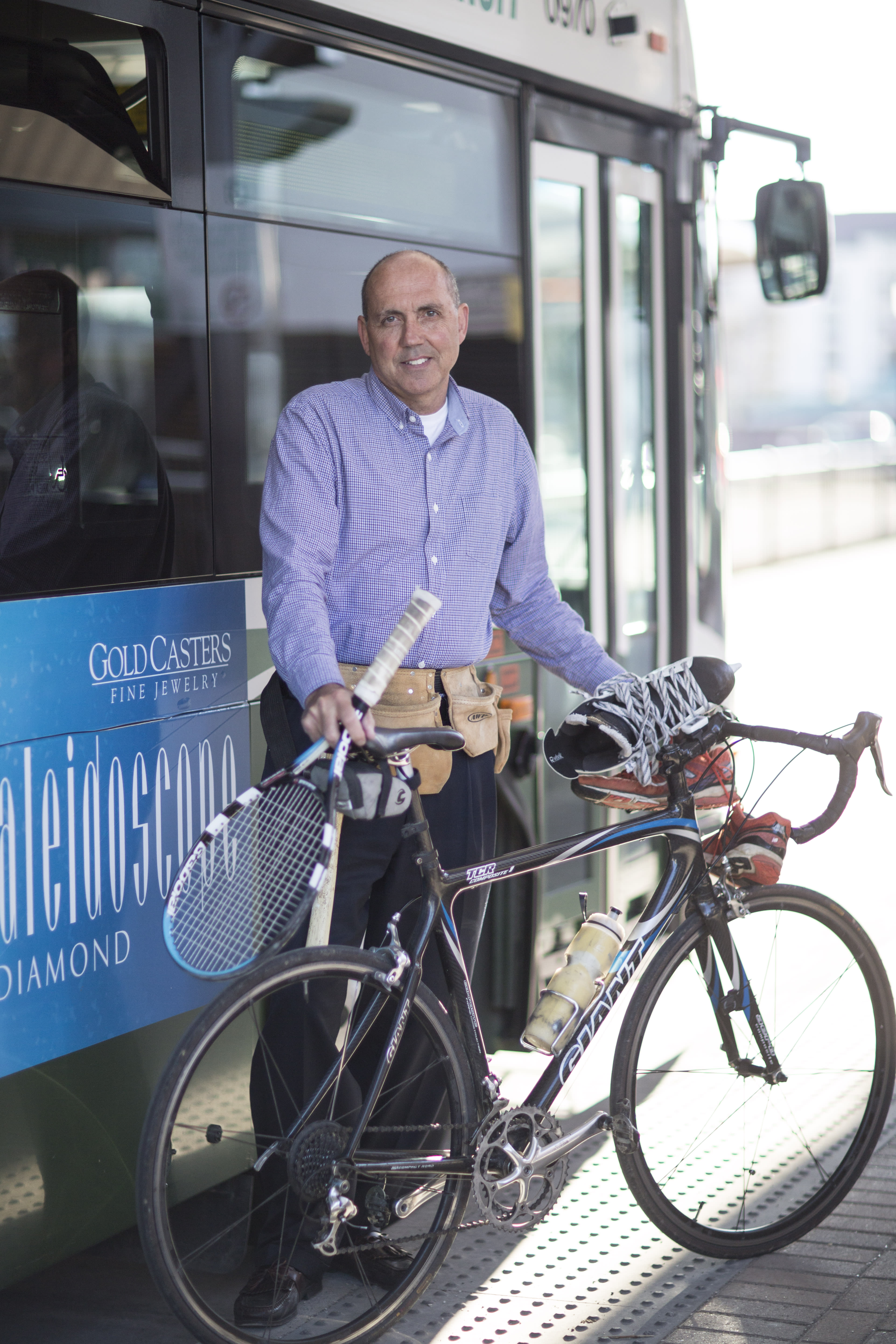 Sarah Perfetti
"One route that I like a lot is the section of Bloomington where E. Rogers turns into S. Smith Rd. because there's a horse farm on the curb as the road bends from going east to heading north. Seeing all those pretty horses in the pasture makes me smile every time I ride by. There's a short, steep hill right before coming to the horse farm (if you're headed east) and then a couple more pretty rolling hills as you head north on Smith toward Third Street so that mile stretch of road where the horses are is a nice, flat break between all the hills. After a long ride, sitting on Upland's patio and ordering the inferno burger paired with the Dragonfly IPA will hit the spot." Sarah is the Executive Director of Bloomington PRIDE.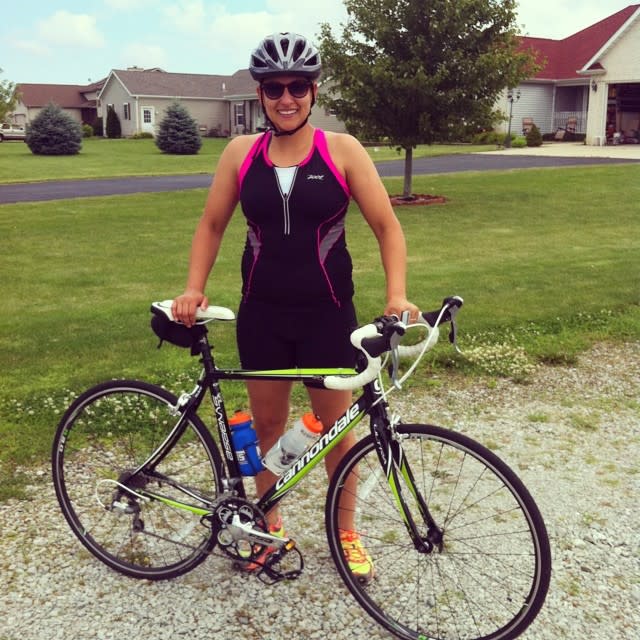 Mike McAfee
"I don't have a lot of time to haul my bike around so I like to make a Bloomington urban loop connecting the Clear Creek, Karst Farm Greenway, and B-Line trails with the larger paved trails along the bypass and on the east side of town. You can make a 20-30 mile loop riding most of it on paved bike trail. It's great, convenient exercise and there's always interesting sights to behold in Bloomington.
"The bike culture here is healthy, growing and supported. 22% of Bloomington's population cycles or walks to work and that ranks #2 in the country for our market size. Although there are always exceptions, if you follow the rules of the road it's rare to have safety issues with cars.
"Every cycling adventure should end with a chocolate banana milkshake. Jiffy Treet on the east side is close to my house and they won't let you down." Mike is the Executive Director of Visit Bloomington!