Birding in Bloomington? May is the Month!
Categories: Outdoors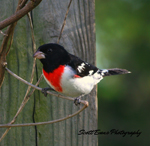 The beauty of spring is all around us right now... flowering dogwoods, lovely gardens, and - my favorite - singing birds. Have you listened to the musical songs outside our doors each morning? The birds that flew south for the winter have returned, and the males are busy attracting mates and establishing territories, much to our listening pleasure.
The reports of rose-breasted grosbeaks visiting feeders are on the rise. This handsome bird is a favorite of many folks, but they only pass through Bloomington from late-April to mid-May on their way to their breeding grounds further north. If you aren't lucky enough to have a grosbeak visiting your feeder, listen for a sharp "chink" sound that resembles a sneaker squeaking on a gym floor, then look up high to the tree tops where they often perch, singing a quick, warbling, flute-like song.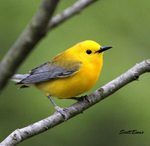 American goldfinches have regained their bright yellow plumage, bluebirds may have already laid some eggs, and indigo buntings are arriving back on their territories. But the crown jewels of May birds in Bloomington are the wood-warblers: little flashes of color and song, filling our forests with joy and life, some 36 species in all!  While half of these species are just migrating through (and some can be extremely difficult to find), the other half nest in Monroe County's forests and fields and can be observed with a little knowledge and effort.
Habitat is key to finding birds. While some species are generalists (like a cardinal), many can only be found in a certain type of place.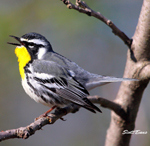 The Prothonotary warbler and the Northern waterthrush, a migrant, prefer the wooded swamps of a place like Beanblossom Bottoms, a Sycamore Land Trust property north of Ellettsville. The forested slopes of Morgan-Monroe State Forest provide nesting opportunities for the cerulean warbler and the worm-eating warbler. Pine warblers are understandably linked to stands of pine trees, which occur scattered in places throughout Hoosier National Forest. 
Two Bloomington parks-Griffy Lake Nature Preserve and Leonard Springs Nature Park-provide easy access to beautiful hiking trails and beautiful birds. Yellow-throated warblers and northern parulas are boisterous singers that can usually be found high in trees around Griffy Lake. Walking the trails of these parks can be especially exciting during migration, as the diversity of habitats draw in many species.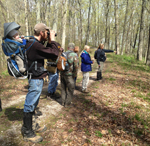 Often it is easier to find some of these birds with a birding group or guide. There are a couple of opportunities in the month of May in Monroe County. Sycamore Land Trust offers a birding trip to The Cedars Preserve on Thursday, May 15 at 9:30 a.m.; pre-registration is required.  And, as a part of Visit Bloomington's Tourism Week, IndiGo Birding Nature Tours will host a birding walk ($5/person) at Griffy Lake on Wednesday, May 21 at 10:00 a.m.
As the owner of IndiGo Birding Nature Tours, I pride myself in providing an affordable, customized tour for my guests that exceeds their expectations. All physical abilities and knowledge levels of nature enthusiasts are welcome to contact me about a tour. The IndiGo Birding Facebook page is a great way to stay abreast of current happenings in Bloomington's more natural landscapes... like the arrival of the spring songsters!
This guest blog post was written by David Rupp. David is the owner of IndiGo Birding Nature Tours and also currently serves as President of the Sassafras Audubon Society and Outreach Event Coordinator for the Sycamore Land Trust. All bird photography in this post is by Scott Evans. WonderLab is currently hosting an exhibit of Scott's bird photography through the month of May.