Tuesday, September 1, 2015
Bloomington community comes together for travel writers conference
Categories: General, Wedding & Event Planning
In August of this year, Travel Media Showcase (TMS) took place right here in Bloomington. TMS connects travel writers with destinations from across the country, and even the globe, for three days of journalist/exhibitor appointment sessions, local and regional press tours, plus numerous networking opportunities (see photos from these activities on Facebook). The 16th annual Travel Media Showcase here in Bloomington was the first time the conference was held in a college town. It is also the smallest destination the conference has ever been hosted.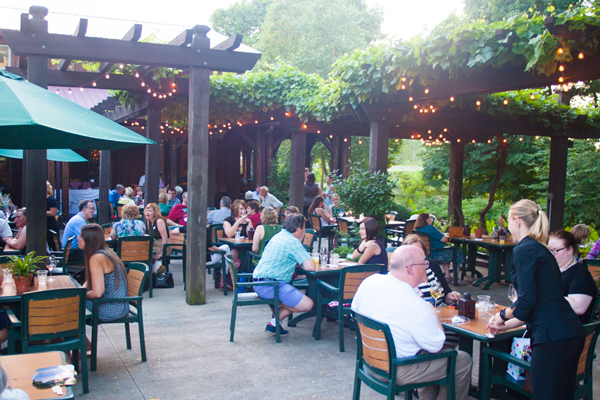 It's also a chance for the host destination - this year, Bloomington - to showcase their city to dozens of travel writers covering a range of topics from family travel to foodie tours, budget getaways to big vacations. We were thrilled at the response from writers and exhibitors alike about their experience here in Bloomington. TMS attendees experienced the city in and out, including outdoor adventures; locally made beer, wine, and spirits; arts and culture; Hoosier hysteria; Bloomington's Tibetan connection; and beyond.
But Visit Bloomington couldn't have had such success without the help of 48 local businesses, restaurants, and attractions. They helped us demonstrate to visitors the kind of tight-knit community that we all know Bloomington to be. Because of their support, friendliness, and eagerness to share the stories of their businesses and crafts, we were able to shift mindsets and create new memories of Indiana. Believe it or not, there is way more than corn in Indiana.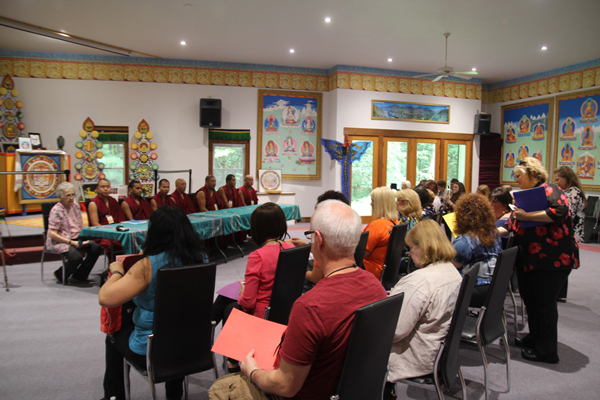 Impact on Bloomington

The three-day event in Bloomington created more than 29 million impressions on social media and created new likes and follows on our social media channels. We expect to receive coverage of our destination for at least the next year from the writers who attended the conference. Several stories have already been published, with glowing reviews of the writers' experiences in Bloomington. For a colorful recap of the Instagram contest that generated more than 450 photos of Bloomington, click here.
The conference was significant not only for Bloomington and Monroe County, but also for the entire state of Indiana. Fifteen Indiana destinations hosted either a pre- or post-tour in conjunction with TMS. Indiana hosted travel writers, some of whom had never set foot in our state previously, for as many as nine days, exploring the state from Lake Michigan to the Ohio River. We had professional travel writers from as far away as Australia and as close as Bloomington!
Local Partners
Please join us in recognizing the contributions of the following local partners to making Travel Media Showcase a huge success, which in turn will mean positive media coverage for Bloomington and expanded economic impact from tourism!
AZ Vintage - Alison Zook
Bloomington Antique Mall
Bloomington Bagel Company - Sue Aquila
Bloomington Convention Center - Talisha Coppock, Lauren Dexter, April Wason, Joan Snapp, Evan Somes, Patrick Smith
Bloomington Herald Times - Bob Zaltsberg
Butler Winery - Jim and Suzi Butler
Cardinal Spirits - Adam Quirk, Jeff Wuslich, Alison Zook
Center Catering
Chocolate Moose - Justin Loveless
City of Bloomington - Adam Wason, Diane Daily, Miah Michaelsen
Courtyard by Marriott - Barinder Singh, Caitlin McKinley, Chris Latta, Rachel Weigler
Crazy Horse - Ron Stanhouse
Cresent Donuts
Department of Natural Resources - Jill Vance
Dillman Farm
DJ Jonny Yuma - Jonathan Richardson
Downtown Bloomington, Inc. - Patti Russo, Marie Carpenter
FARM Bloomington - Daniel Orr, Bob Adkins, Jordyn Fox, Ashley B., Ali Sohrabi
Fourwinds Resort & Marina - Tony Suttile
Go Express Travel - Kim Chandler
Hopscotch Coffee - Jane Kupersmith
Hyatt Place - Shane Mobley
Indiana Geological Survey - Brian Keith
Inga's Popcorn
IU Art Museum - Abe Morris, Patsy Rahn
IU Athletics - Jonathan Benedek, CarolAnn Mitchell, Kori Boe, Laura Kneiss
IU Auditorium, Benton Hall of Murals
IU Cinema, Benton Hall of Murals
Landlocked Music - Heath Byers
Lennie's / Bloomington Brewing Company - Jeff Mease, Mike Fox, Robin Lasek, Lennie Busch, Fred Manion, Matt Houghton
Lilly Library - Rebecca Baumann
Markey's AV - Jonathan Richardson, Zac Strabbing, Rob Reynolds, Thomas Tiggleman
Metropolitan Printing
Monroe County Courthouse
Mother Bear's Pizza - Ray McCann
Nick's English Hut - Pete Mikolaitis, Mitch Craig
Oliver Winery - Kathleen Oliver, Sarah Anderson, Ellen Rodkey, Sarah Rihm
Pictura Gallery - Martha Moore
Relish - Brad and Sharon Fugate
Scholar's Inn Gourmet Café & Wine Bar - Lyle and Kerry Feigenbaum
Stamp & Engraving Center
Terry's Catering - Andrea Cockerham, Lilly Cockerham, Terry Cockerham
Tibetan Mongolian Buddhist Cultural Center - Lisa Morrison
Triple R Marketing - Matt Ruedlinger
Upland Brewing Co. - Angela Schnick, Andrea Lutz, Chef Paddy
Uptown Café - Michael Cassady
US Forest Service - Judy Perez
Visit Bloomington Staff - Erin Erdmann, Mike McAfee, Pete Nelson, Laura Newton, Abby Perfetti, Danielle Riendeau, Marcia Roach, Teal Strabbing, Julie Warren