Bloomington Craft Beer Week + Bloomington Craft Beer Fest = a Great Time to be in B-town!
Categories: Wine & Culinary, Live Music, Festivals
Hopefully, you already know about the Bloomington Craft Beer Fest, coming up on April 13 at the historic Woolery Limestone Mill. If not, here's the scoop - Live music will be provided by the Secret B-Sides, from Asheville, North Carolina and 220 Breakers, a Bloomington band. Indiana brewers will be joined by a select group of out-of-state breweries to bring you the best in regional craft beer. Doors open to VIPs at 3 pm. General Admission at 4 pm. Tickets are $35 in advance (get them here) or $45 at the gate.

If you're traveling to Bloomington to attend the Craft Beer Fest, here are a few good reasons to come early, also known as the very first Bloomington Craft Beer Week. That's right, we said WEEK! Bloomington Craft Beer Week was created by  residents who are lovers of craft - especially local - beer. Local breweries, restaurants, bars and retail establishments will be hosting events all week long, celebrating the very best of locally brewed beverages in Bloomington and leading up to the festival on the 13th.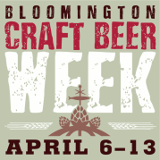 Here's a list of Bloomington Craft Beer Week events: 
$8 Thgr3e Wise Men Growler Fills - Scotty's Brewhouse
All week, except Sunday, April 7.
BBC & Upland Kill the Keg - House Bar
Brewery swag goes to the lucky beer lover whose pour empties the keg.
Saturday, April 6 
Brewer's Workshop - The Tap
Featuring brewers from Sun King, Flat 12, Black Acre & Brugge. 
Tuesday, April 9, 6:30 
Beer School - Yogi's Grill & Bar
Yogi's will feature Indiana Craft Beer on all 55 taps.
Beginning Tuesday, April 9, 7 pm, throughout the week.
Indiana Beer Specials - The Bishop
$3 pint night featuring local breweries.
Tuesday, Apri 9
BBC & Upland Pint Night - Malibu Grill
Wednesday, April 10
Triton Brewery Tap Takeover - Max's Place
Wednesday, April 10, 6 pm
BBC Dinner - Restaurant Tallent
Wednesday, April 10, 6 pm
Girls Pint Out - The Tap
Featuring Cutters Brewing
Wednesday, April 10, 6;30 pm
Cutters Meet the Brewer Event - Nick's English Hut
Wednesday, April 10, 7 pm
Bloomington Champaign Velvet Release Party - The Tap
Wednesday, April 10
BBC Tap Takeover - Nick's English Hut
Thursday, April 11, 7 pm
Fountain Square Brewery Tap Takeover - The Owlery
Thursday, April 11, 8:30 pm
Daredevil Brewery - The Root Cellar at FARMbloomington
Friday, April 12, 6 pm
Flat12 Tap Takeover - Max's Place
Friday, April 12, 6 pm
BBC & New Albanian Tap Takeover - The Tap
Friday, April 12, 7 pm
Flat 12 & People's Collaboration Tap Takeover - Nick's English Hut
Friday, April 12, 7 pm
Cutters Tap Takeover - Atlas Bar
Friday, April 12
BFest After party: Flat12 & Sun King Tap Takeover - The Tap
Saturday, April 13, 7 pm