Bloomington PRIDE Summerfest
Categories: B-town's Rainbow Flavor, Festivals
Written by guest blogger Sarah Perfetti, Director of Fundraising and Events for Bloomington PRIDE, Bloomington resident since 2009 and IU alumnae.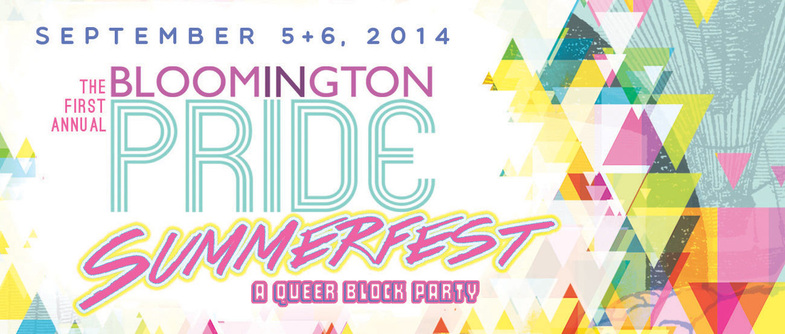 Finally!  An LGBTQA summer event in Bloomington!
We at Bloomington PRIDE are often asked why Bloomington, the gayest city in Indiana, doesn't host a summer pride event. Well, it takes quite a bit of planning and volunteer brain power, not to mention financial muscle, to pull off a grand street festival. But that hasn't stopped this new nonprofit from taking on this awesome challenge. Our volunteers are a bunch of Energizer bunnies, and with the support of The Back Door, we've succeeded at bringing three days of rainbow-colored fun to the streets of our city. That includes dozens of musicians from a variety of genres, drag shows, and an array of family-friendly hands-on art activities like a photo booth with costumes, rainbow jewelry making, and balloon twisting. Of course, folks can also pig out on tasty food truck grub and wash it down with their favorite local beer or keep it classy with a glass of wine. Visit our website for more Summerfest details but here's the gist of it.
Bloomington PRIDE'sSummerfest Steering Committee is a group of nine dedicated volunteers, the owners of The Back Door, and PRIDE's director of fundraising and events. Our volunteers include IU students and alumni, parents, straight allies, and a drag queen --who've all been meeting twice a month since April. They take care of everything from collaborating with City officials and other pride festivals to graphic design and talent management. Because of this passionate group of volunteers, the first annual Summerfest will be bigger and better than we could have imagined.
There are loads of summer pride festivals around the country, so why bother hosting one in Bloomington? What's so special about our city and what makes this festival different from others? We often hear from LGBTQ people and our straight allies that there aren't many places in the Midwest - and specifically in the Hoosier state - to celebrate queer culture. But Bloomington is unique in its acceptance and celebration of the entire spectrum of LGBTQ and allied individuals. But there still aren't enough ways for LGBTQ folks to get together, celebrate, and make connections, because most of the time we're just living our normal lives. When we leave our homes we all just want to be treated like regular human beings because that's what we are. We're small-business owners, people with kids who worry about not mowing our lawns enough, people who like to play nerdy board games with our neighbors, people who accidentally wear mismatched socks to work, or people who want to hold our partner's hand on the way to dinner. Bloomington is one of those uniquely safe and supportive spaces where folks can just be themselves. It's the perfect progressive, artsy Indiana city to host an event like Summerfest to attract all sorts of unique people. 
We hope visitors will attend multiple Summerfest events. For people who just spenttoo muchon new rainbow sequin suspenders, there are affordable lodging options in town, or for the outdoorsy folks there's always free camping at the Hoosier National Forest. Fortunately, Summerfest is free so you won't need to spend money to enter. There are a number of adorable bed and breakfasts in Bloomington like the Grant Street Inn and Scholar's Inn Bed and Breakfast,or for a discounted rate, book a room at Hyatt Place, the newest hotel in town. Other lodging options can be found here on Visit Bloomington's website.