Bloomington's Best Parks for Families
Categories: Outdoors, Family Fun
Days in Bloomington are meant to be spent outdoors, and our community is fortunate to have a plethora of outdoor recreation opportunities. Whether your family is into hiking in the wilderness or bird watching, there are options for every family. We've the best parks and outdoor recreation spaces for families and put them into a convenient list so you can get out and enjoy your day!
Bryan Park

1100 S. Woodlawn Ave.
The crown jewel in the Bloomington Parks & Recreation Department's very large inventory of great parks, Bryan Park has more amenities than can fit here. Some highlights include three playgrounds, basketball courts, and lots of grassy fields for games. This 33-acre park is conveniently located close to the center of town for easy access for all. Families will love the variety of amenities and age-specific playgrounds. It's also a perfect venue for parties (the pool and shelters are available for rent) and the parks department hosts Sunday evening concerts there in the summer.
 
Karst Farm Park

2450 S. Endwright Rd.
The Monroe County Parks & Recreation Department doesn't have quite as many parks as the city, but they certainly have some outstanding ones, including the massive 122-acre Karst Farm Park. This park features three playgrounds with options for smaller kids and exciting slides for bigger siblings, a disc golf course, a dog park (membership required), a walking trail, and plenty of open space for games of tag or frisbee!
 
Upper & Lower Cascades Park

2602 N. Kinser Pike & 2851 N. Old St. Rd. 37
Lower Cascades Park was the first city park, dedicated in 1924, and continues to be one of the most popular. It features a huge playground with some intense slides and a challenging climbing apparatus for older kids, plus more mild equipment for the younger set. The limestone shelter houses are great for parties, and there's a waterfall nestled in the trees that kids love to see (or splash in, despite protests from parents). Upper Cascades has a few features that make it fun for families, including the city's only skate park, a fun playground surrounded by trees, and a golf course.
 
Sherwood Oaks Park
1600 E. Elliston Dr.
This park is a hidden gem in Bloomington. The Sherwood Oaks Park offers a playground, tennis courts, basketball goals, and one shelter, plus connections to the Jackson Creek trail. The really unique attribute that kids will love is the native plant garden that attracts butterflies. Even when it's not filled with butterflies, it's still very pretty and an educational opportunity, complete with interpretive signs.
 
Waldron, Hill & Buskirk Park
331 S. Washington St.
This park isn't especially big, nor does it have huge playgrounds or fancy equipment, but the downtown location makes it an awesome choice when the kids need some space to run in-between dinner and a show. The playground does have multi-age apparatuses and green space for games or free play. On Friday evenings in the summer, they host free concerts on the outdoor stage, and that green grass makes for a great dance floor!
 
Griffy Lake Nature Preserve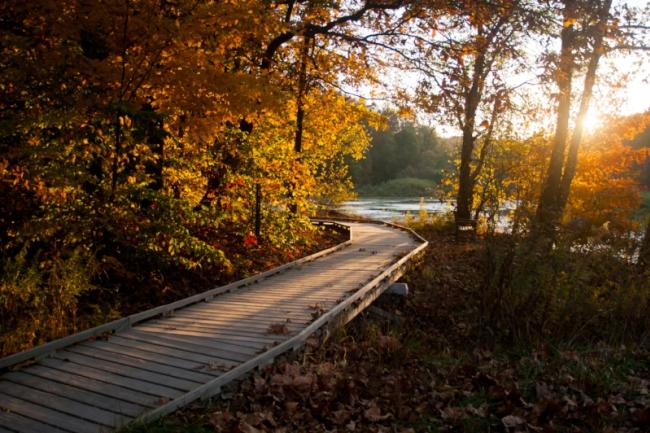 3300 N. Headley Rd.
This little lake packs a big punch with kids! There's something about the still water on Griffy Lake (no motorized boats allowed) and the 1,200 acres of quiet forest surrounding it that make for a magical setting, all just a few minutes from the busy downtown. The nearly 11 miles of trails are easy to moderate difficulty, so even little ones can hoof it. The boathouse rents canoes and kayaks spring through fall for even more active recreation options.
 
Paynetown State Recreation Area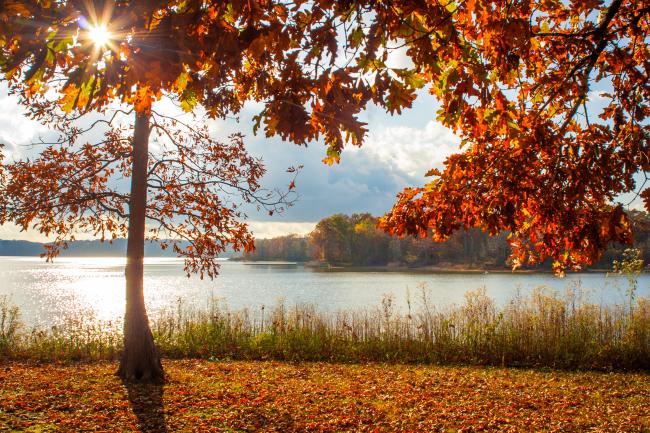 Off of St. Rd. 446
Monroe Lake offers a number of recreation opportunities, but Paynetown SRA is a great all-in-one option. There's a swimming beach, boat rentals, hiking trails, plus primitive and RV camping with a playground nearby. One of the coolest things about this SRA is all the programming that goes on year-round, from guided tours highlighting the wildlife in the area to arts and crafts projects. There's a $7 gate fee from spring through fall, or you can buy a DNR annual pass for $50 and get into all the state parks.
 
Jellystone Park ​at Monroe Lake
9396 S. Strain Ridge Road
Yogi Bear's Jellystone Park has just about everything a kid can dream of! There is everything from a water zone and pool to wagon and train rides. Located just a mile from Monroe Lake, there are cabin rentals, campsites, and RV hookups, Jellystone is perfect for a family getaway. 
 
This blog is featured in Bloomington Parent magazine which is available at the Bloomington Visitors Center as well as other locations.