Bloomington's Best Seafood Dishes
Categories: Wine & Culinary
While Bloomington doesn't have a dedicated seafood restaurant (and we're yearning for the day that we do), many of our restaurants do offer some amazingly tasty seafood dishes. Whether you're a connoisseur of all things from the sea, a shrimp savant, or a participant of Lent, there are plenty of opportunities to enjoy seafood in B-Town. To aid you in your endeavor, we've rounded up some of Bloomington's very best appetizers and entrees featuring species of the sea.
Tortellini Salmon from Da Vinci Pizza & Pasta
One of the more unique seafood & pasta pairings in town, Da Vinci Pizza & Pasta's Tortellini Salmon balances sweet and umami flavors brilliantly. The rich truffle cream sauce contrasted with the sweet & tangy balsamic glaze is a treat for the taste buds, and both the tortellini & salmon are cooked to perfection.
Tortellini Salmon: Balsamic glazed salmon over five-cheese tortellini in a truffle cream sauce
 
Seafood Japtangbap from Do Asian Fusion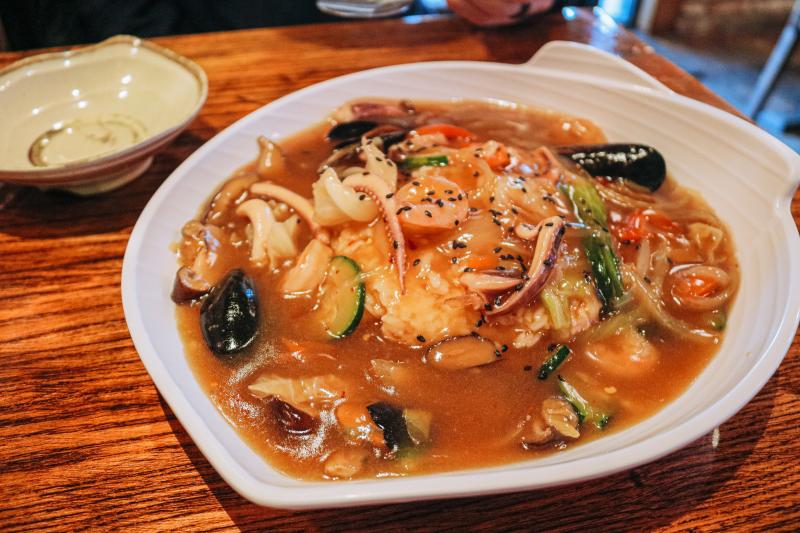 Zealous lovers of seafood will be excited by this hearty dish: Do Asian Fusion's Seafood Japtangbap is a rich seafood stew paired with fresh vegetables and rice. Featuring succulent and tender shrimp, squid, clams, mussels, and crab in every bite, the umami-flavored gravy is a unique and delicious compliment to both the seafood & vegetables in this dish — which is large enough to feed two!
Seafood Japtangbap: Mussels, squid, shrimp, clams, and Blue crab in a vegetable stew
 
Oysters from The Irish Lion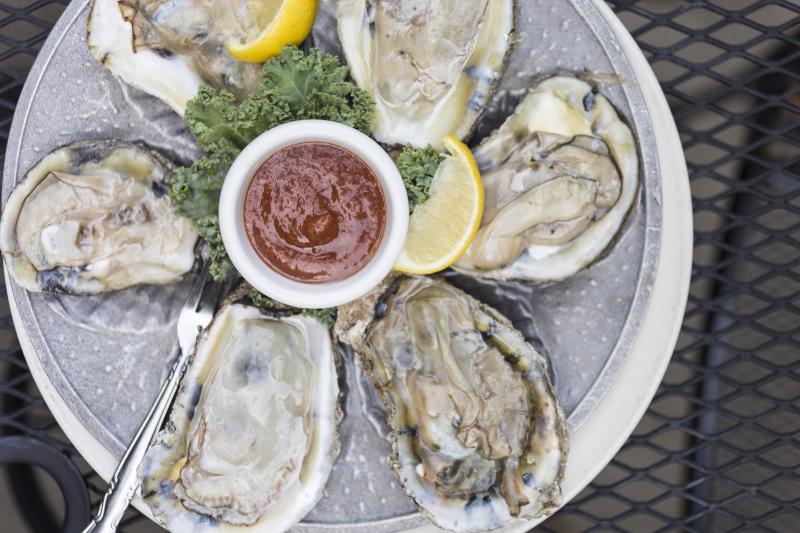 Oysters are definitely an acquired taste, but if you have an affinity for them or are curious to try them, The Irish Lion is the place to do so. Offering both raw and steamed varieties, an order of oysters is a great way to kick off a meal at the authentic Irish pub.
Oysters: Half-dozen oysters on a half-shell, raw or steamed, served with cocktail sauce or drawn butter
 
Seared Rare Tuna & Pan-Seared Sea Scallops from Malibu Grill
Transport yourself to the Californian coast with these two dishes from Malibu Grill. Start your meal with the Seared Rare Tuna appetizer, which features a generous portion of perfectly-seared Yellowfin tuna and several fresh sauces & garnishes to pair with every bite.
Next, savor the buttery texture and deep sea flavor of the Pan-Seared Sea Scallops entree. Seared to a beautiful golden brown and topped with a flavorful compound butter, the scallops are truly melt-in-your-mouth delicious. Paired with a garlicky sauteed spinach and seasoned rice, the entree is light, fresh, and leads with the scallops as the star of the plate.
Seared Rare Tuna: Seared Yellowfin tuna served with an Asian slaw, seaweed salad, sriracha drizzle, and Chinoy sauce
Pan-Seared Sea Scallops: Fresh sea scallops with maitre d'butter, served with Chef's rice and sauteed spinach
 
Ocean and Mango Tango Rolls from My Thai Cafe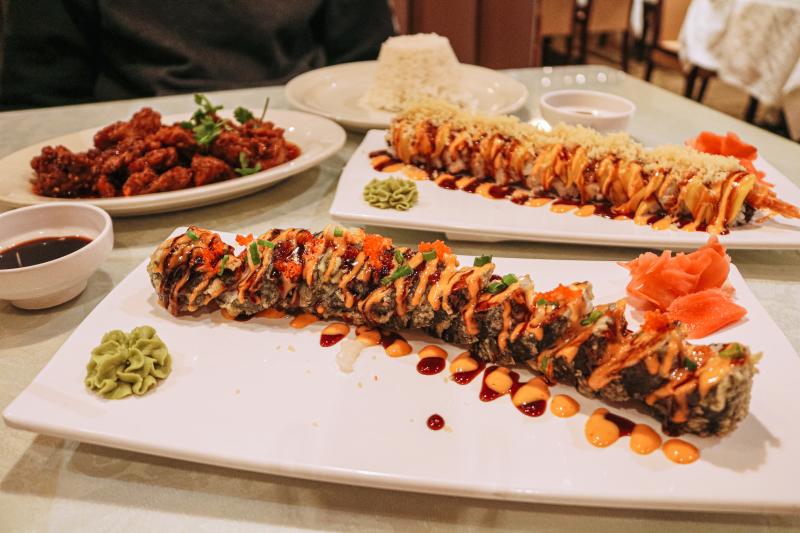 Sushi lovers, rejoice: My Thai Cafe Plus offers some of the best sushi in Bloomington. The Ocean Roll and Mango Tango Roll are so tasty, they'll have you happy dancing in your seat. The Mango Tango Roll offers a shockingly delicious balance of sweet and salty flavors — don't shy away from the mango; it provides the perfect hint of sweetness to complement the shrimp tempura and spicy mayo.
The Ocean Roll is packed full of a variety of succulent seafood, and its deep-fried exterior adds a saltiness that pairs well with the fresh flavors of shrimp and fish inside the roll. Topped with an assortment of sauces and garnishes, your taste buds will be tingling as you devour this roll.
Ocean Roll: Shrimp, salmon, tuna, and scallions deep fried and topped with spicy scallops, fish eggs, eel sauce, and spicy mayo
Mango Tango Roll: Shrimp tempura and cucumber topped with sweet mango, eel sauce, and spicy mayo
 
Lobster Spring Rolls and Ahi Tuna Poke from NOURISH Bar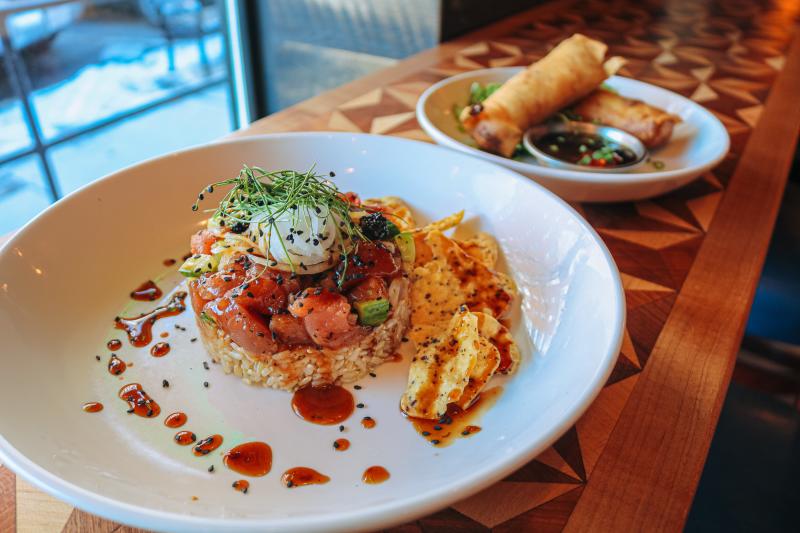 NOURISH Bar offers a few unique seafood plates, but two of their best are the Ahi Poke and Lobster Spring Rolls. For a healthy meal that packs a punch full of flavor, go for the poke. The Ahi is the star of the dish, but the rich marinade is what ties the ingredients together.
If you have no qualms about keeping things nutritious, the Lobster Spring Rolls are a must. Stuffed with massive chunks of lobster and shredded cabbage, they're sure to be the most impressive spring rolls you've ever tried.
Lobster Spring Rolls: Deep-fried lobster spring rolls served with sweet & spicy pepper jelly
Ahi Tuna Poke: Ahi tuna served atop brown sweet sticky rice, shaved sweet onions & cucumbers, and sesame-sriracha shoyu marinade
 
Shrimp Scampi Pizza from Osteria Rago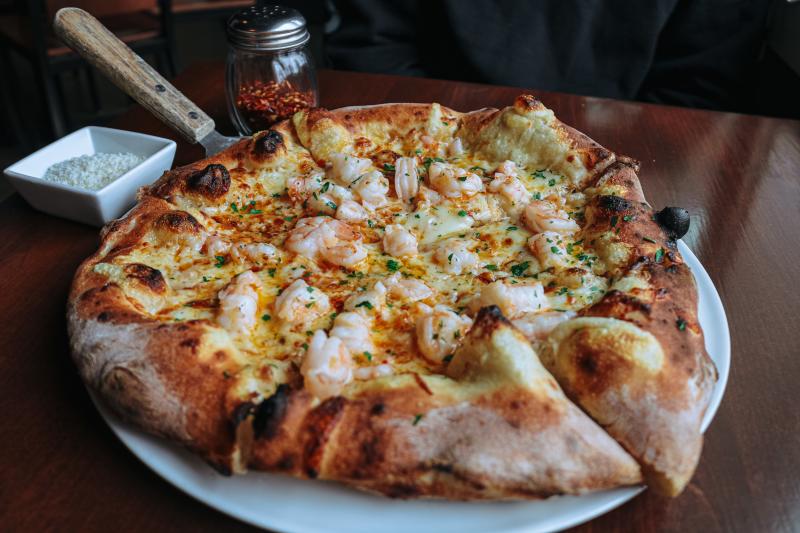 You've likely had shrimp scampi pasta, but have you experienced shrimp scampi pizza? Osteria Rago nails this pizza rendition of the classic pasta dish — the shrimp is fresh and juicy, the cheese is ooey-gooey, and the garlicky, lemony butter base ties everything together to deliver what truly tastes like a shrimp scampi pizza masterpiece.
Shrimp Scampi Pizza: Shrimp, fontina, and smoked mozzarella atop a garlic shallot lemon butter
 
Smoked Salmon & Croissant Bennie and Cold Smoked Salmon Hash from The Runcible Spoon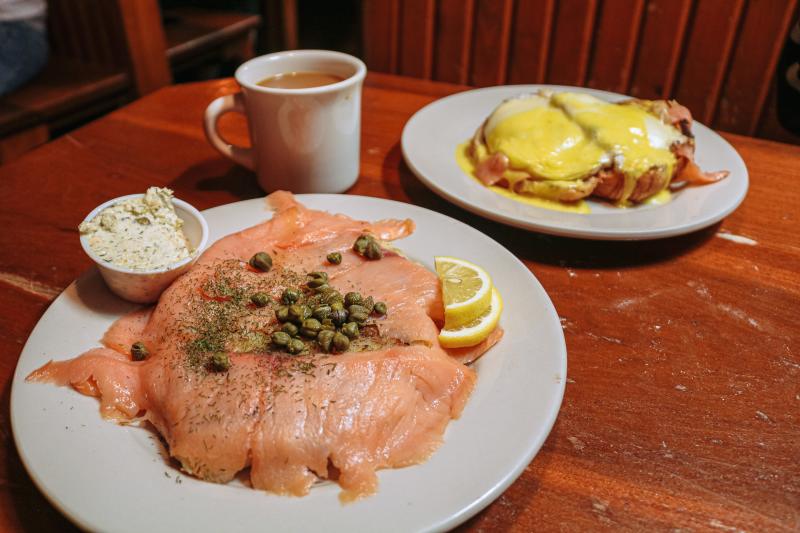 We try to be as unbiased as possible, but you simply cannot visit Bloomington without experiencing these two breakfast plates from The Runcible Spoon. The Smoked Salmon & Croissant Bennie is The Spoon's unique rendition of Eggs Benedict, sub smoked salmon for the Canadian bacon and a croissant for the English muffin. Both are top-tier, chef's-kiss replacements.
And then you have the Cold Smoked Salmon Hash, a brunch dish we've yet to experience anywhere else. All of the plate's components are delicious, but the horseradish sauce is the key element. Sounds a little crazy, but go out on a limb and give it a try. We think it'll surprise you.
Smoked Salmon & Croissant Bennie: Two eggs over medium, cold smoked salmon, and Swiss-American cheese atop a split croissant, topped with hollandaise
Cold Smoked Salmon Hash: Cold smoked salmon draped over smashed potatoes, topped with dill, lemon, capers, and horseradish sauce
 
Shrimp Pad Thai from Siam House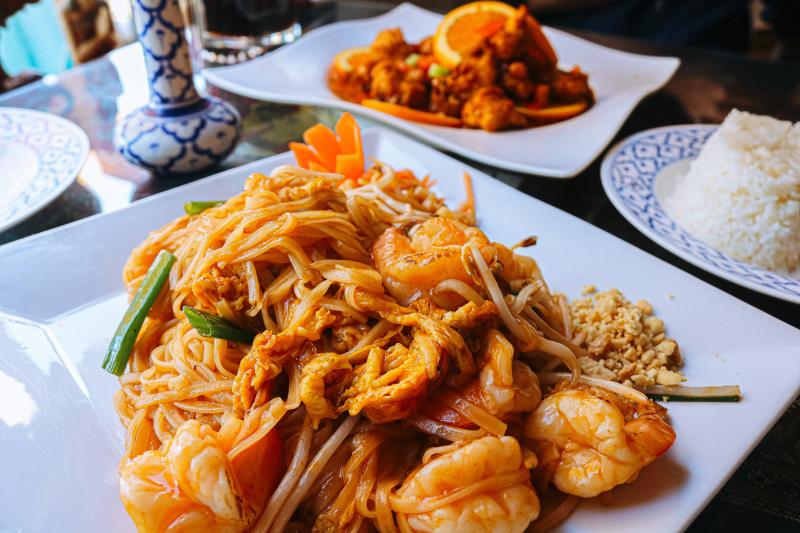 If you're looking for the best Pad Thai in town, Siam House's is definitely a front runner. Featuring a generous amount of large, succulent shrimp to match the heaping mound of stir-fried noodles and veggies, it's one of the most delicious Asian seafood plates from one of 4th Street's most beloved authentic international restaurants.
Shrimp Pad Thai: Rice noodles cooked in a homemade tamarind sauce, stir-fried with shrimp, bean sprouts, green onions, egg, and peanuts
 
Catfish Bites and Shrimp & Grits from Southern Stone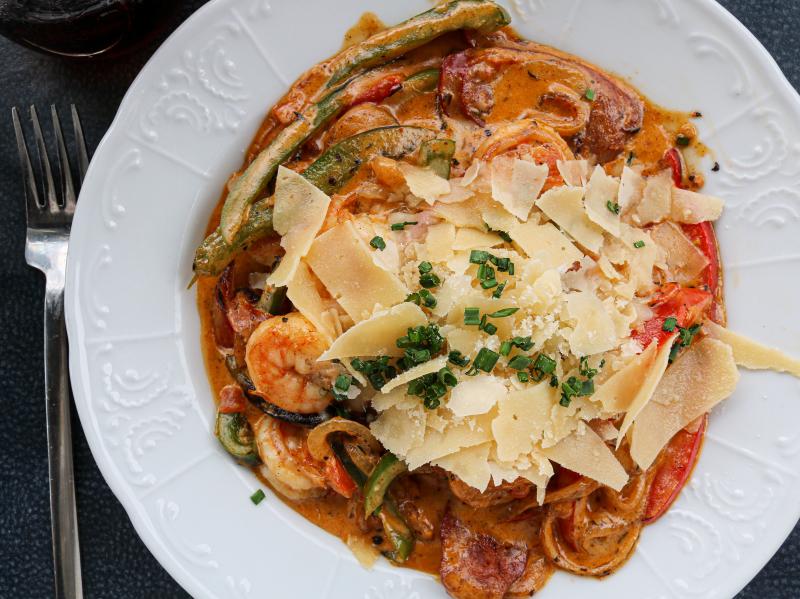 If you're looking for seafood with Southern flair, look no further than Southern Stone. Start your meal with the Catfish Bites — battered with a cornmeal mixture and fried to golden brown perfection, the bites are outrageously crispy on the outside and mouthwateringly juicy on the inside. As delicious as they are themselves, the Cajun horseradish ranch is the wow-factor of the appetizer.
Then there's the Shrimp & Grits. Before you get nervous at the mention of grits, trust us when we say these are not your average grits. The gouda elevates them to another universe, making them the perfect complement to the Cajun cream sauce, shrimp, and other elements of the dish. Take a leap of faith and give the meal a whirl.
Catfish Bites: House-breaded catfish with Cajun horseradish ranch
Shrimp & Grits: A Cajun cream sauce with sauteed onions, peppers, shrimp, and andouille sausage, served over gouda grits
 
Fish & Chips from Upland Brewing Co.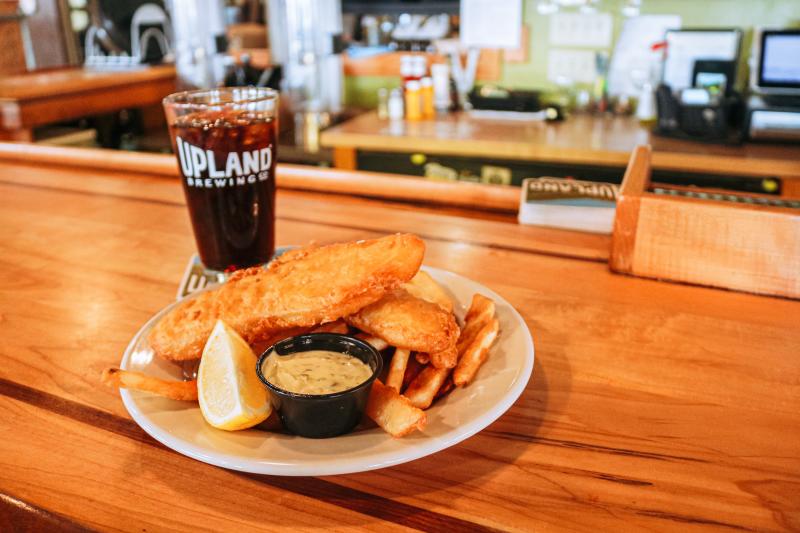 If you're searching for B-Town's best plate of fish & chips, head to Upland Brewing Co. Two fillets of beer-battered cod are deep-fried to golden brown, crispy perfection, the fish magnificently moist and flaky. The house-made tartar sauce is tangy and creamy, serving as the ideal compliment to the fish. Don't neglect the lemon — give it a squeeze over the entire dish to add bright, fresh flavor. While fries can often seem like an afterthought, Upland's are anything but. Crispy on the outside and pillowy on the inside, they're some of the most satisfying "chips" in town. 
Fish & Chips: Half-a-pound of beer-battered cod, served with house-made tartar sauce and brewery fries
 
Smoked Salmon Pate and Crawfish Etouffee from Uptown Cafe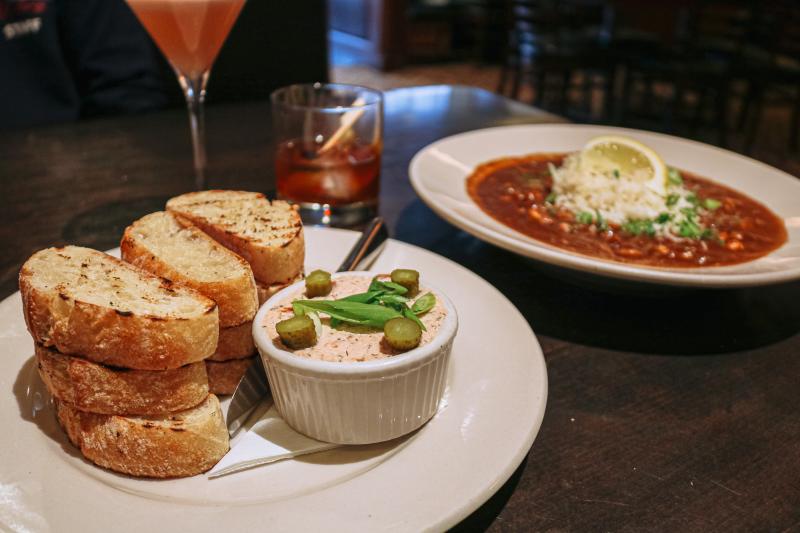 Savor the flavor of New Orleans seafood dishes right here in Bloomington at the beloved Uptown Cafe. There are a few seafood plates on the restaurant's menu to choose from, but we highly recommend the Smoked Salmon Pate appetizer and Crawfish Etoufee entree.
The Smoked Salmon Pate leads with its smoky flavor but is also zesty and delightfully smooth. The pickle garnish enhances the flavor in a surprisingly delicious manner — ask for extra if pickle is your jam. The medley of flavors in this appetizer will have you scrapping the bottom of the ramekin for every last bit, even with its generous portion.
The warm, smoky flavor continues on in the Crawfish Etouffee entree. The dish, large enough to split between two people, is packed with tender crawfish tails and southern vegetables. The flavor of the roux is rich & savory, and the lemon wedge atop the basmati rice is not to be ignored — squeeze it over the entire plate for a fresh note of citrus that breaks through the heaviness of the warm flavors.
Smoked Salmon Pate: Honey hot smoked salmon, cream cheese, sour cream, horseradish, and dill on olive oil-toasted baguette slices
Crawfish Etouffee: Dark, smoky roux, tender crawfish tails, and basmati rice