Bloomington's Spookiest Attractions
Spooky season is upon us, and Bloomington has plenty to offer for those seeking chills and thrills. From classic Halloween-themed fun to legitimately unsettling experiences, check out B-Town's most spooky attractions this fall — there just so happens to be 13 items on the list. Cue the goosebumps!
 
Visit the el Dia de los Muertos Altar at the Monroe County History Center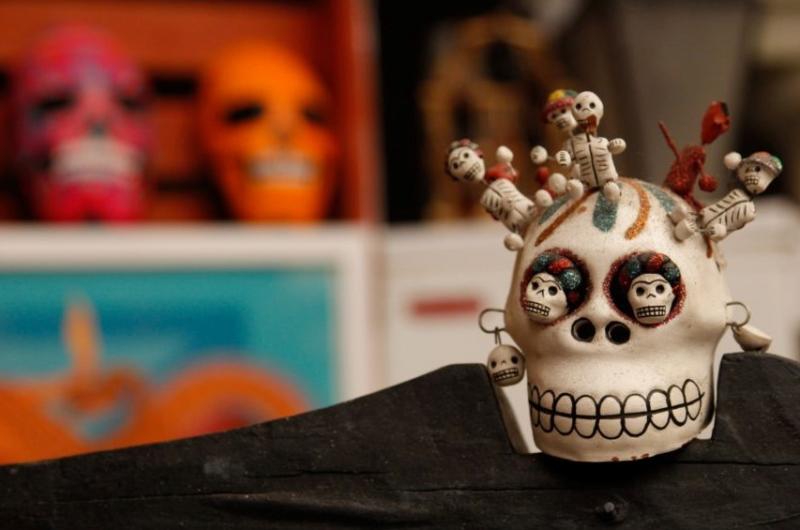 Photo by @seemamiah on Unsplash
During the month of October, the Monroe County History Center displays an el Dia de los Muertos (Day of the Dead) altar in their Education Room. While this is pretty tame as far as spooky goes, it's a great opportunity to learn about the Mexican holiday that celebrates the life and death of loved ones. The celebration begins at midnight on October 31 when the gates of heaven are opened for the dead to rejoin their families for 24 hours.
 
Look for Owls at the Muscatatuck National Wildlife Refuge
Owls are heavily associated with fall and Halloween, and there's no better place to spot them than at the Muscatatuck National Wildlife Refuge. During autumn, it's common to see great horned owls and barred owls at the refuge. If you're lucky, you may catch a glimpse of barn owls, eastern screech owls, short-eared owls, and northern saw-whet owls. These species are much less commonly seen compared to the great horned owls and barred owls, but they have been previously sighted at the refuge. While it's not necessarily a bone-chilling activity, it's still a great Halloween-themed adventure for families, wildlife enthusiasts, and nature lovers.
 
Go on a Harry Potter-Inspired Adventure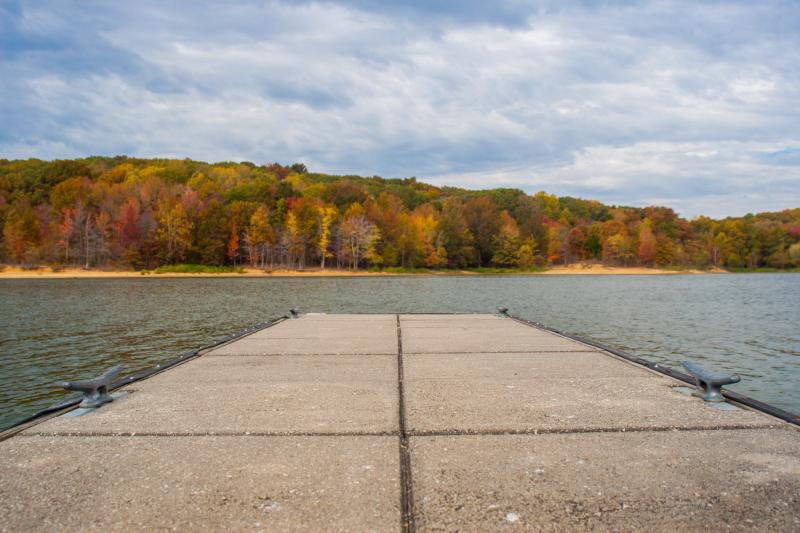 One of the coolest things about Bloomington is that it's home to many places that have an uncanny similarity to parts of J.K. Rowling's Wizarding World. Watching and/or reading the Harry Potter series is a fall tradition for many fans — bring the epic story to life by discovering the B-Town destinations that parallel Potter's universe. Amp up the spookiness by touring certain destinations during a misty morning, at dusk, or into the night, such as Maxwell Hall, the Student Building, the Indiana Memorial Union South Lounge, The Irish Lion, and Monroe Lake.
 
Go Ghost Hunting at the Monroe County History Center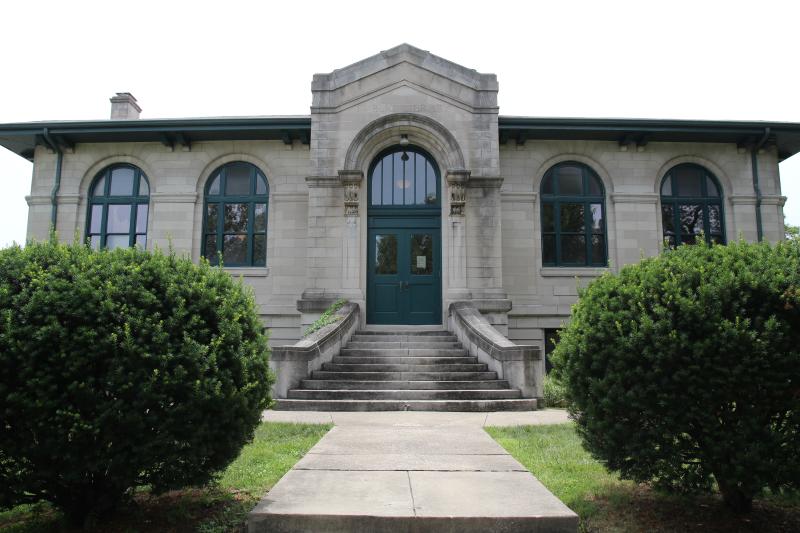 Those seeking a paranormal thrill should visit the Monroe County History Center. Legend has it that the downtown building has been frequented by several ghosts for decades — visitors occasionally hear eerie noises and witness furniture & artifacts having mysteriously moved. There have even been specific reports of a child ghost being spotted in the pioneer cabin and walking down the history center's stairs — stop by this fall to see if you can witness the paranormal yourself.
 
Get Chills at the Rose Hill Cemetery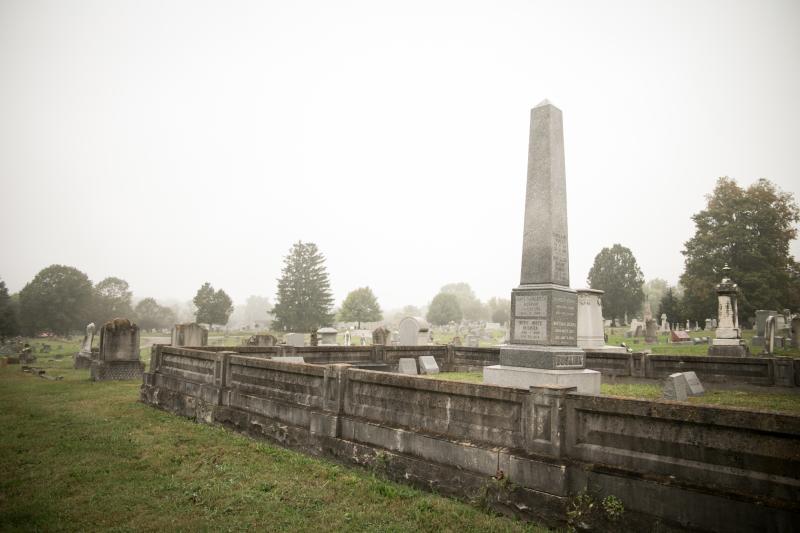 Cemeteries are inherently spooky, so why not visit one of Bloomington's oldest during your fall visit? Rose Hill Cemetery is the final resting place of many prominent B-Town citizens, including Hoagy Carmichael, Professor Daniel Kirkwood, and Dr. Alfred Kinsey. Take a self-guided tour around the property during a foggy morning or at dusk for maximum goosebumps and chills.
 
Take a Spooky Hayride at Fowler Pumpkin Patch
Fowler Pumpkin Patch is your quintessential pumpkin patch, complete with a corn maze, petting zoo, hayrides, u-pick pumpkin patch, and more. During the month of October, the pumpkin patch offers "spooky hayrides" at night. They also keep their corn maze open so long as maze trekkers bring a flash light along on their attempt to find their way out of the stalk-lined puzzle. Enjoy classic Halloween-themed fun and a jump-scare or two at this fall-favorite B-Town attraction.
 
Tell Scary Stories Around a Bonfire in the Hoosier National Forest
Telling scary stories around a bonfire is a classic Halloween activity. Round up the family or a group of friends for a camping excursion in the Hoosier National Forest this fall, and spend your nights challenging one another to tell the most chilling tales you can come up with. The added eeriness of the dark, quiet forest at night will set the mood excellently. Make the evening as spooky as you desire through your tales — consider this a create-your-own spooky adventure.
 
Attend the IU Folklore & Ethnomusicology Ghost Walk
Every year in October, IU's Folklore & Ethnomusicology Student Association hosts an evening ghost walk. The event starts at the Folklore & Ethnomusicology office and winds through campus, stopping at the statue of Herman B Wells, Dunn Cemetery, the IMU Tudor Room, and several other locations as IU and Bloomington ghost stories & legends are told to the evening's guests. The ghost walk is open to students, locals, and visitors, but is limited to 150 guests who are accepted on a first-come, first-served basis.
 
Join the Dearly Departed Cemetery Tour at Rose Hill Cemetery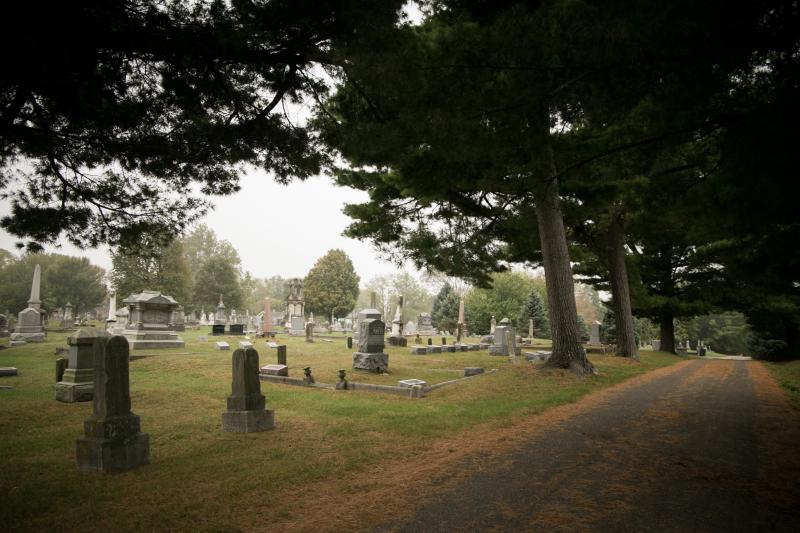 Every October, the Monroe County History Center partners with the City of Bloomington's Parks & Recreation Department to host the Dearly Departed Cemetery Tours at Rose Hill Cemetery. Both family-friendly tours and scary tours are offered, each featuring tales of the dearly departed who now rest beneath the cemetery's grounds. Reenactors guide guests through the graveyard while sharing secrets that lie beneath the stones, as well as some of Bloomington's haunted history. The Halloween-inspired event is a must for those who get a thrill out of ghost tales!
 
Get Terrorized at the Forbidden Hollows Haunted Farm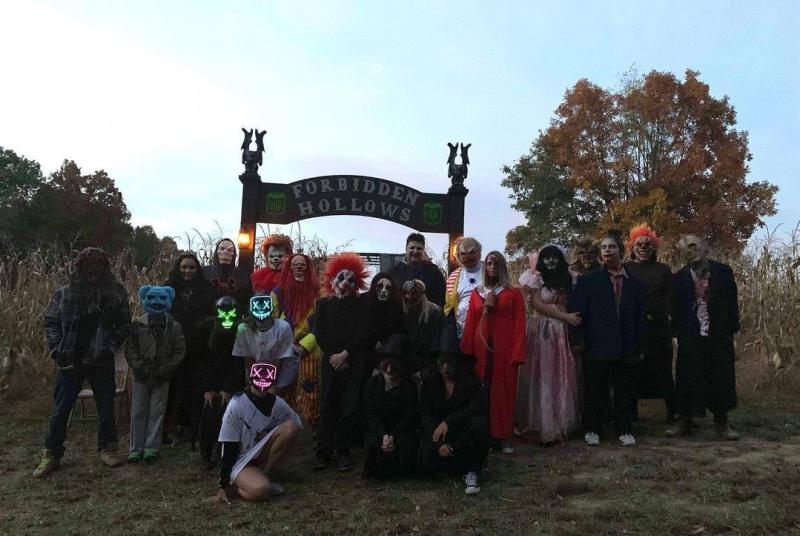 Photo by Forbidden Hollows
During the month of October, visitors can take a 20 minute drive south of Bloomington to the Forbidden Hollows Haunted Farm. Open every Saturday night, the farm features your classic haunted corn maze, house, and hayride, all of which are crawling with horror cosplayers waiting to scare thrill-seekers. The farm also offers kid-friendly Halloween activities from 5:00-7:00 pm, including a not-so-scary hayride and a Zombie Shoot in which kids can use Nerf guns to bring down zombie cosplayers. Forbidden Hollows is classic Halloween fun at its finest!
 
Experience a Halloween Fright Night at the Barn of Terror
Another classic Halloween attraction, the Barn of Terror in neighboring Monroe County town, Harrodsburg, is ranked Indiana's sixth best haunted house. Open every Friday and Saturday in October, as well as Halloween night, the old tin barn features a variety of rooms filled with creatures and sights that will spook visitors of all ages. Like the Forbidden Hollows Haunted Farm, horror cosplayers can be found hiding in every corner of the Barn of Terror, waiting to petrify anyone who walks through the property. For a night of good ole Halloween frights, the Barn of Terror is one of the scariest attractions in the area.
 
Witness Paranormal Phenomena at Stepp Cemetery
Bloomington's most hair-raising attraction is Stepp Cemetery, located deep within the Morgan-Monroe State Forest. The remote, rural graveyard is infamous for paranormal activity and unsettling history — the most well-known ghost story involves a woman in black who roams the cemetery, haunting the grave of her dead child. She's been rumored to be seen exhuming the child from his grave, just to hold him. Those brave enough to visit the cemetery often leave toys at the child's gravestone, marked "Baby Lester." The cemetery was also once used for ritualistic practices by an unsavory religious sect, adding to the creep-factor by ten-fold. If you're looking to have your own Blair Witch Project adventure of-sorts, Stepp Cemetery in Morgan-Monroe State Forest is the place to go.

Looking for more fall fun in Bloomington? Check out these blogs: