BPP Has Another Great Show!
Categories: Arts & Culture, The IU Student Perspective
Here's the very first post from our summer intern, Lauren! She's going to be letting you in on some inside information on how to spend a great summer in Bloomington from a student's perspective. Be sure to leave her a comment or two!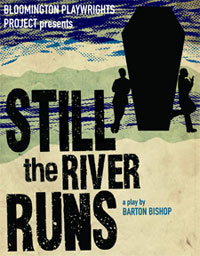 Last Thursday night I got to see a preview of the newest BPP production "Still the River Runs". This was my very first visit to the Bloomington Playwright's Project and I can't believe I waited this long to go! The theater itself is small yet comfortable and the fog machine definitely set the mood for the play, which takes place in the swamplands of central Florida. It's only a two-man show with a fairly simple set but they honestly don't need anyone or anything else. Gabe Gloden and Daniel J. Petrie put on a great show! Their performance was both lighthearted and thought-provoking and they seem to have a natural ability to capture the audience and draw you into the story. On the surface the play is about two brothers who steal their grandfather's body from his coffin during the funeral and bury him in a place that holds more meaning. As the play progresses the audience learns more about the brothers and the internal struggles and challenges they face. Even by the end, I left wondering what would happen next in the brothers' lives. There are parts that made me laugh out loud (listen for the whale talk) and other parts that were very deep and sincere. In short, this production is definitely worth a look and if you're a fan of country and folk music you don't want to miss it!  
Also, if you're looking for something to do before the show, Scholar's Inn Gourmet Café and Wine Bar has created a special drink called the Swamp Thing Martini inspired by the production. It is an Arnold Palmer "with a strong Southern kick" and it's sure to be a hit!
They will also be performing May 26-28 and June 2-4 at 8 pm so you have plenty of opportunities to catch this performance!