The Brood X Cicada Emergence in Bloomington
Categories: Outdoors
After 17 years spent underground, the cicadas of Brood X are emerging in Indiana. You may have already noticed more cicadas than usual flying around and hanging out outside, but the brood's emergence isn't supposed to peak until late May or early June. Experts estimate a whopping 200+ billion cicadas will emerge in Monroe County — here's everything you need to know about the periodical insect species and their loud (but temporary) stay in our town.
About Brood X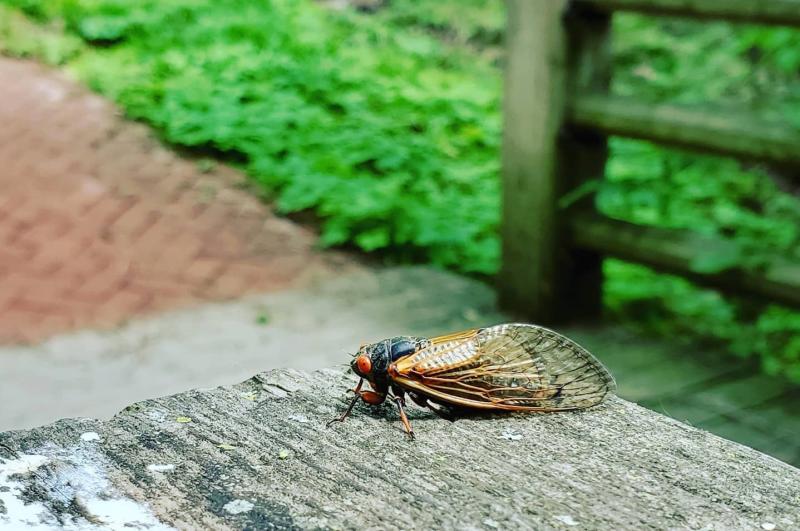 Photo by Beth Cayton
Most cicadas have a 2-4 year life cycle, but three cicada species — including Brood X — live for 13-17 years. Periodical cicadas, such as Brood X, can be characterized by their orange eyes, black bodies, and orange & black legs.
Broods have varying geological locations, but Brood X is expected to appear in mass populations across Indiana, Kentucky, Tennessee, and parts of Maryland, Pennsylvania, and New Jersey. The insects will wait until the ground reaches a temperature of about 64 degrees, then they'll surface, crawl up trees, shed their old exoskeleton, and sing their deafening mating call so they can achieve their primary purpose for emergence: to mate. The male cicadas will die after mating, and the female cicadas will die after laying their eggs, which are expected to hatch in late July or early August.
Periodical cicadas are beneficial to the environment in a number of ways: their emergence tunnels in the ground act as a natural aeration of the soil; the insects serve as a food source for a variety of predators, which positively impacts those populations; the act of laying eggs in trees is a natural pruning process, which results in the trees producing more flowers and fruit the following year, and after the cicadas die, their decaying bodies contribute huge amounts of nutrients to the soil. 

Where to Find Them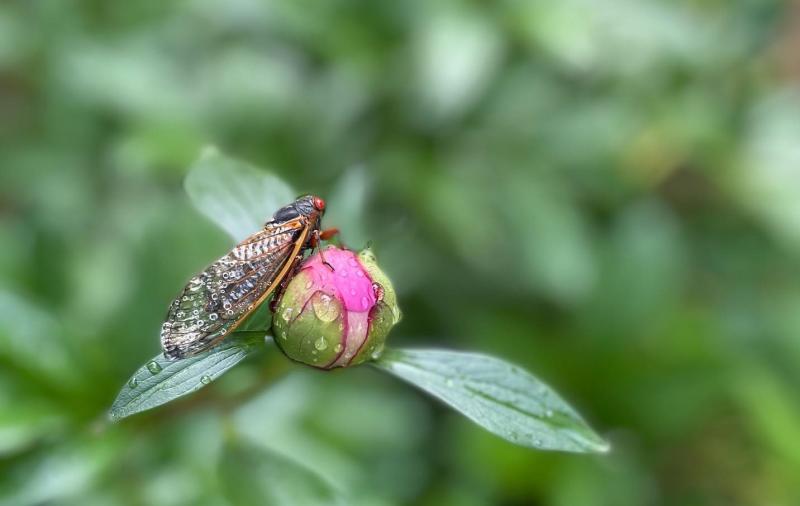 Photo by Rachael McAfee
Outdoor areas with many trees are where you'll have the most luck finding cicadas and hearing their chorus. IU's Dunn Meadow and Old Crescent, Griffy Lake, and the Hoosier National Forest are great places to find the insects in Bloomington. Look on the ground, on limestone structures, and on trees for both live cicadas and their molted exoskeletons.
Restaurants with Cicadas on the Menu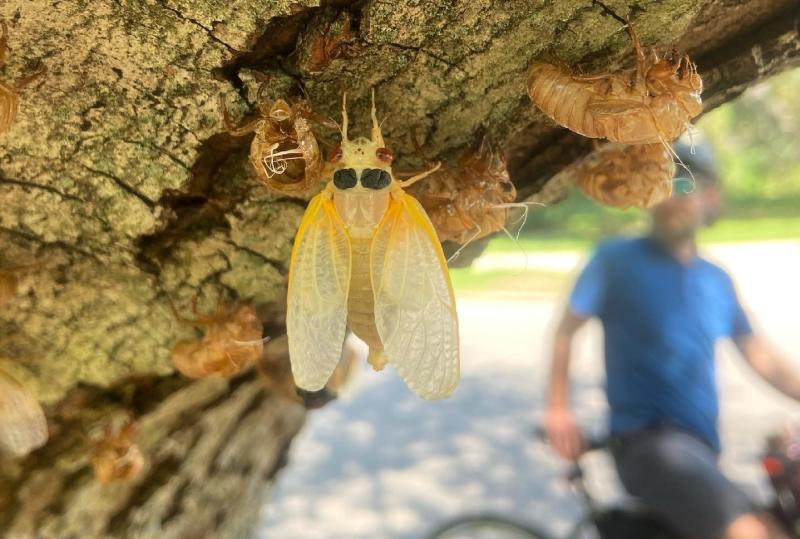 Photo by Erica Penna
It's rumored that cicadas taste like shrimp, and a few local restaurants are cooking up cicada-inspired dishes for you to taste-test that theory.
Pili's Party Taco Truck will feature slow-roasted cicada tacos and a cicada-spiced elote on June 4.
Le Petit Cafe will offer cake made with ground, grilled cicadas and fresh rosemary at their window on June 12. Chocolate-dipped cicadas will also potentially be on the menu.
Pizza X isn't serving cicada-topped pizzas, but they have changed the name of their Big X Bargain to the Brood X Bargain in the spirit of the natural phenomenon. 
 
Cicada-Related Events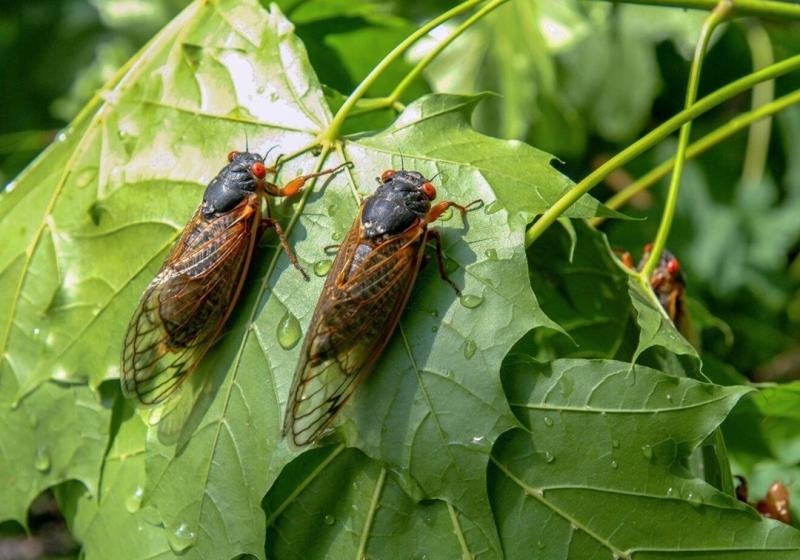 Photo by the Audubon Society
WonderLab Ask Me Anything: Brood X Cicadas in Bloomington & Beyond
On Tuesday, May 25 at 5:30 pm, the WonderLab Museum will host a live Zoom question & answer about Brood X cicadas with two Indiana University Biology professors. Admission is free, and interested participants can register here.
 
Cicada Celebration
The Paynetown State Recreation Area is hosting a slew of kid-friendly cicada-related events and activities on Saturday, May 29 and Sunday, May 30. Saturday's events include cicada paper mask coloring, a cicada life-cycle placemat activity, cicada lapel pin crafting, and cicada shell hunting & art-making. Sunday's events include cicada origami, cicada toy crafting, and paper cicada flying. The weekend's programs are included with admission to the Paynetown SRA — a daily fee of $7.00 per in-state vehicle and $9.00 per out-of-state vehicle.
 
Nature Sounds: Cicadas
The City of Bloomington Parks & Recreation Department is hosting Nature Sounds: Cicadas on Friday, June 11 at 6:30 pm. The event will take place at the Willie Streeter Community Garden, and admission is free. Attendees can expect live congas and percussion from Rex Miller, and a relaxed, educational conversation about cicadas amongst the group. 
 
Cicada Mania at The Sinkhole
In partnership with All Creatures Yum!, The Sinkhole Beer Bar will host an evening of music, family fun, and cicada dishes on Saturday, June 12 from 4:00-8:00 pm. Patrons can enjoy cicada tacos, cicada/pork sausage from The Wagon Wheel, Le Petit Cafe's cicada cake, and street corn ice cream from The Chocolate Moose. The event will also include a talk from a local biologist, cicada-themed coloring books for kids, and locally crafted cicada artwork.