Cafe Pizzaria: A slice of Bloomington life since 1953
Categories: Wine & Culinary
by Kurt Christian for the Herald-Times (reprinted with permission)
There is a great war in Bloomington, where the lines are clearly sliced and competition has risen from within. Even though corporate giants like Pizza Hut have their ties to this city and even this restaurant, Cafe Pizzaria has stood with distinction as the first restaurant in Bloomington to specialize in pizza. It's a 61-year-old establishment with simple beginnings.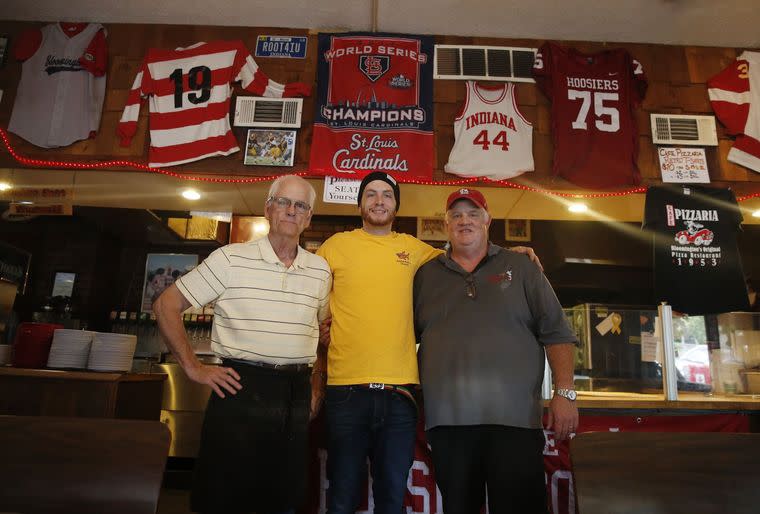 In 1953, what was then known as simply "The Pizzaria" was established in the front window of Hoover's Cafe, a lunch and breakfast restaurant that served plates for 25 cents. The oven and make-table were set in the front window for patrons to see the new spectacle that was a "pizza pie."
"I think one of the neatest stories about (my dad) is, before he even started working here, he heard about pizza pies, but he didn't actually even know what they were," said David Webb, co-owner of Cafe Pizzaria with his father, Larry. "So he rode his bike all the way into town just to see what a pizza pie was. He thought it was going to be like an apple pie, or a cherry pie."
"We stopped up and down the road collecting pop bottles to sell to buy the pizza," said Larry Webb. "We used to get five or six cents apiece for them, and when we sold enough pop bottles, we came in to get a pizza. We couldn't even afford a drink to go with it."
Thirty years after that curious bike ride into town, Larry gained ownership of the restaurant where he first learned about pizza and stromboli. At times, he worked 100 hours a week with a wife and two kids. Now, he's been in the business for 53 years, co-owning with his son David and working with his grandson, Crosby. His wife, Sharon, works alongside him at the grill, where over the years, menu items such as burgers and tenderloins have joined the traditional pizzas.
"I grew up in here," said David, who started working at the restaurant full time in 1977. "As soon as I was old enough and tall enough to reach the counters, I was working in here with my dad, and that was all I ever wanted to do. It's a lot of work, but it's a lot of fun, too."
It's the small details of this family business that have ensured its longevity at its coveted 405 E. Kirkwood Ave. location. The recipe for the made-fresh sauce is a secret that only Larry, David and Crosby know. Their dough is rolled, not tossed, which allows for a low-gluten flour.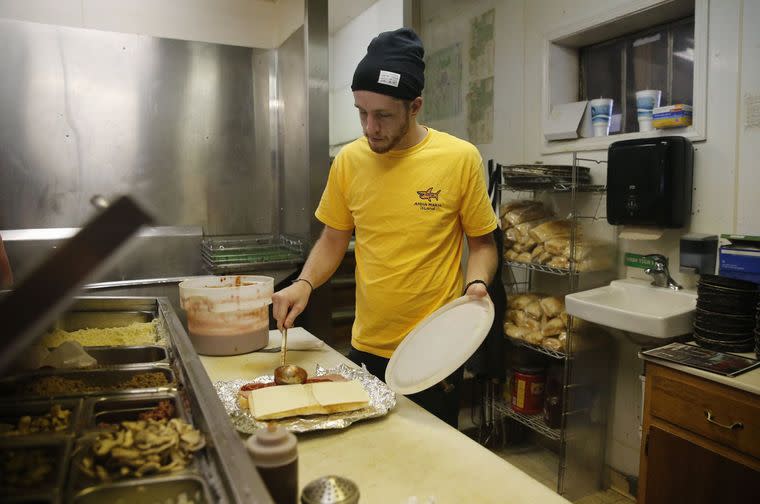 "We have a relationship with the Office Lounge," said David. "We make half-baked pizzas and freeze them, and they sell them out there. One of the things that we put on our Facebook page is, if you want a beer with any of the variety of our pizzas out there, you can go to the Office Lounge."
The restaurant's clientele, a seasonal mixture of townies and students, has been another factor in the Pizzaria's durability.
"What's really neat about us is when the students leave, the townspeople come out and support us," said David. "For other businesses, when students leave, it really drops off. We stay busy all year round."
"The problem is a lot of our local people won't come back until the students leave for vacation," said Larry, laughing.
Cafe Pizzaria's popularity isn't restricted to local fans; the restaurant was voted one of the top 100 pizza restaurants in the United States by Popular Plates Magazine, placing in the top four in the Midwest, ahead of even Chicago's nationally recognized pizzerias. Its fame extends throughout the state and beyond. David regularly fields emails, inviting the restaurant to open a store in Los Angeles, Chicago and New York.
John Bender, a partner in the formation of Pizza Hut, and Ray McConn, owner of Mother Bear's, both worked at Cafe Pizzaria. Aver's Gourmet Pizza, and other restaurants throughout Indiana, have ties to the vine-covered Bloomington institution.
While Cafe Pizzaria's influence is more apparent in some businesses than others, the Webb family has happily fostered the great pizza landscape that Bloomington has today.
"The only thing I could say is that, since we were first, we were the only place to go for a long time," said Larry. "We've got a really good clientele built up where people have come back since 1953, and over time, no matter how many more come, they always come back."