Thursday, November 15, 2012
Calling All Parents: IU Theatre presents The God of Carnage
Categories: Indiana University, Arts & Culture, Family Fun, B-town Giveaways
We know, it sounds like the last thing you want to do during the holiday season and what could something like "The God of Carnage" possibly have to do with being a parent - but trust us, this new production from IU Theatre & Drama will make you howl with laughter (and may make you feel pretty good about your own parenting skills). 
Yes, I said parenting skills...
Here's why: This production tells the story of what happens when two eleven-year-old boys have a scuffle on the playground at school, and their parents face resolving the matter on their own. Despite the best attempts at courtesy and respect, hard truths and insecurities surface along the way, pitting couple against couple, men against women, and even husband against wife. A Broadway hit and winner of the 2009 Tony® Award for Best Play, The God of Carnage takes a painfully funny look at parents behaving worse than their kids. The show will be on stage at the Lee Norvelle IU Theatre & Drama Center from Nov. 30 - Dec. 9.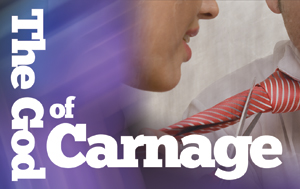 Parenting sure can be stressful at times and I'm betting all you parents out there could use a break, so share your best and/or funniest parenting story with us for a chance to leave the kids at home and enjoy a night at the theatre along with a gift card to one of B-town's amazing restaurants! Simply leave a comment below, share it on your Facebook page so your friends can have a laugh as well and we'll choose a winner on Monday afternoon. Yes, grandparents and/or those without children can enter, too!