Wednesday, November 9, 2016
Canopy of Lights - Dreams and Wonder
Categories: Family Fun, Festivals
One of the most beloved holiday events in Bloomington is the Canopy of Lights (always the Friday after Thanksgiving). Families and friends gather on the courthouse lawn to join Santa Claus in turning on the twinkle lights that cover the downtown square. Nearly 6,000 people attend the annual lighting, when a few thousand lights instantly sparkle, creating a magical experience. Before the lights come on, the crowd sings a few carols together, and even the grumpiest Grinch will get goose bumps at the feeling of togetherness and harmony. When Santa comes on stage, kids giggle and squeal with excitement, and your heart warms up the cold November night. Even if you don't celebrate Christmas, this event is a great time join together and celebrate community and the universal holiday spirit.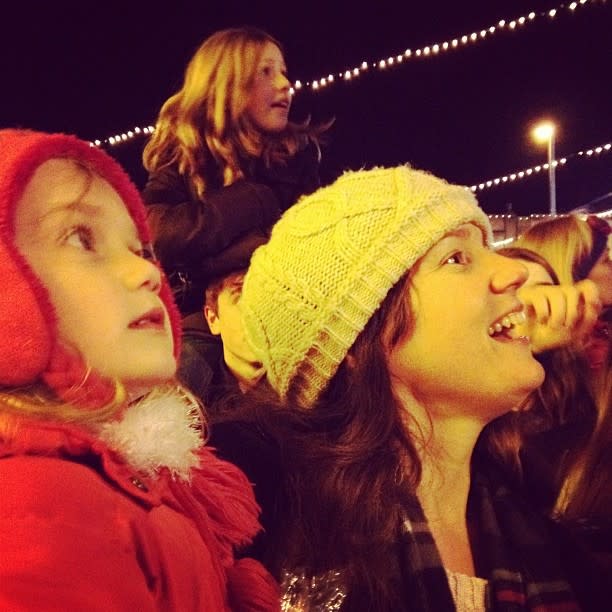 Canopy of Lights Tips
Go early and enjoy the many shops and restaurants in the downtown area, many of which will host fun receptions and gatherings.
If you go early or stay after, check out the Bloomington Symphony Orchestra's holiday performances at the Buskirk-Chumley Theater. The early show is shorter and great for kids.
Check out the Christmas tree and holiday decoration in the Monroe County Courthouse. This historic building is beautiful all year, but especially during the holidays.
Wander through Fountain Square Mall for more decorations and excellent photo opportunities. Santa will be available for photos after the lighting - and he sticks around until Christmas Eve. Fountain Square Mall has several holiday-themed events this season too. 
This event happens no matter the weather, and sometimes it's pretty chilly. Or rainy/snowy. Make sure you bring warm coats and blankets.
There is limited seating around the square, so bring a lawn chair or prepare to stand - and hold your kids. 
With so many people, it is crowded, so find your spot early and know that you might have to stand up to get a good view of Santa.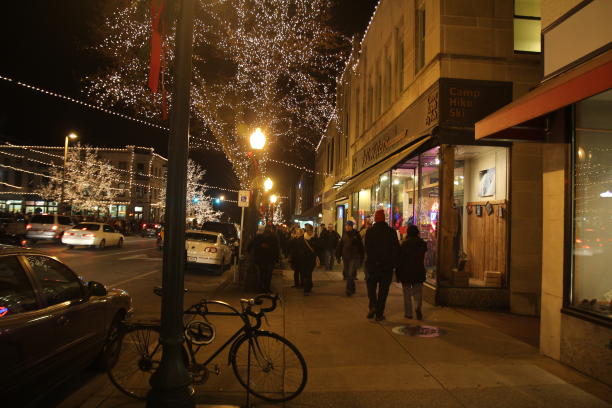 After the initial lighting, the miles of twinkle lights stay lit through much of January, providing holiday cheer well into the new year. This is a fantastic time to do some shopping at the 50+ retailers in the downtown area. The mood lighting is perfect! As Talisha Coppock, head of Downtown Bloomington Inc. says, "Find unique, personalized items for every style and interest. Downtown features shops for hobbies such as knitting, cooking, reading, and music, as well as games, outdoor adventures, handmade items and art, home decor as well as specialized clothing boutiques." You can also purchase Downtown Bloomington Inc gift certificates for those hard-to-shop-for people in your life - the certificates are good at most downtown businesses.
There are also numerous concerts, shows, and special events taking place over the holiday season.  Check out our blog on great holiday happenings for more ideas, many of which are in the downtown area. Enjoy the beauty and wonder of Bloomington this season, especially under the Canopy of Lights. 
Canopy of Lights is at 6pm on the Courthouse Square.