Monday, November 14, 2011
Celebrate Thanksgiving at the Oaken Bucket Game!
Categories: Indiana University, Family Fun, General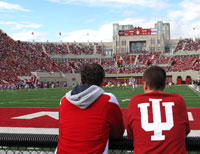 We've got two tickets to the ultimate Indiana football rivalry game - IU vs Purdue, or the Old Oaken Bucket Game and, that's right, we're giving them away! What better place is there for a Hoosier fan to celebrate the Thanksgiving weekend?
Regardless of the rest of the season, both the IU Hoosiers and the Purdue Boilermakers always up the intensity for this contest. At stake? Possession of the legendary Oaken Bucket... and statewide bragging rights! Be there for this year's historic game on November 26th. 
But wait, there's more!
You know us, we just love giving away great Bloomington experiences, so here's what we're going to do: In addition to the two tickets to the game, we're also going to give our lucky winner a gift certificate to B-town Pizza for tailgate munchies... and a gift certificate to the Scholars Inn for dinner after the game! (Scholars Inn certificate can be used at either the Gourmet Cafe & Wine Bar or the Bakehouse.)

So, what do you have to do to win this fabulous prize? Nothing too complicated... just leave a comment on this blog post and share your favorite Oaken Bucket Game memory!
We'll randomly choose a winner on Friday afternoon.
Good luck!