Friday, September 20, 2013
Celebrating 20 Years of Lotus Moments
Categories: Arts & Culture, Live Music, Festivals
My friend Julie and I have a tradition. 
We both love the Lotus World Music and Arts Festival, and while we don't usually go together, we always seem to run into each other somewhere in the festival precinct.
Lotus is like that. It's a one-price-buys-all event, so as you move from venue to venue, trying to see as many of the 25-30 performers as possible, you invariably run into people you know.
So when Julie and I encounter each other, we pause and compare notes. Specifically, we ask each other if we've had any "Lotus Moments."
What's a Lotus Moment? Well, it's sort of an epiphany. The festival brings musicians to Bloomington from cultures across the globe. When that diverse energy and creativity mixes with a curious and receptive audience, interesting things can happen.
For example: In 2008, I was standing in one of the tent venues, absorbed in a catchy Texas Swing number by an American group, when I noticed a North African musician nearby, complete with purple robes and turban, grooving away to the same tune.
That snapshot revealed something: that whatever country we come from, we can all enjoy the same music. That's a Lotus Moment.  
Here's one of Julie's: She once came into the back of the Buskirk-Chumley Theater while a Puerto Rican band was on stage driving a high-energy salsa tune-and the entire audience, young and old, was dancing like crazy.
Another year I sat in one of the quieter venues, listening to an Irish fiddler and guitarist as they lilted a beautiful reel. All of a sudden I realized that, like me, the rest of the crowd was utterly absorbed in the music. The only sound was the rhythmic tap-tap-tap of hundreds of feet on the wooden floor, keeping time.
That's Lotus - a coming together of people and cultures into a long weekend of sharing and harmony. The music is wonderful, everything from classical Indian ragas to Corsican a cappella vocals, from Colombian jazz to raucous Ethiopian brass. You feel like you're traveling the world when you're just crossing the street. But the essence of Lotus is community, the joining of people from different backgrounds into a fleeting but congenial whole.
One last Lotus Moment: I'm standing in front of the stage on Fourth Street, enjoying some performance or other, when I glance behind me. The entire block is filled with people, faces illuminated by the stage lights, with a giant September moon rising behind them...
...and every single one of those faces is smiling.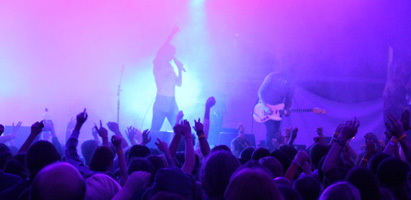 The 20th annual Lotus World Music and Arts Festival is September 25-29, 2013. See www.lotusfest.org for a complete schedule and ticket details and don't forget to share your own favorite Lotus Moments below in the comments section!
Special thanks to our local guest blogger, Bill Holladay. Bill is a Bloomington-based writer and editor as well as occasional baker, stonecarver, cyclist, birder and yoga instructor. He has attended every Lotus Festival to date and has volunteered since 1995, the festival's second year, so it's a pretty safe bet you'll see him at the festival this year!