Remote Office & Coworking Spaces in Bloomington
Categories: General, The IU Student Perspective
In the rising age of remote work and virtual meetings, communal work areas are needed more than ever. Coworking spaces allow full-time remote employees and freelancers to get out of their homes for a change of scenery and a more productive environment, and they also allow travelers the opportunity to experience a destination without having to compromise their work schedule and responsibilities. 
As the home of Indiana University and several pharmaceutical & life sciences companies, Bloomington sees many visiting scholars and professionals. The university also draws a large population of graduate students, aspiring entrepreneurs, and freelancers with non-traditional schedules. The world as a whole is seeing a rise in remote positions following the COVID-19 pandemic — all of these things contribute to a significant need for collaborative, inspiring, and productive public work spaces, and Bloomington has several to offer both locals and visitors.
Whether you're looking for a dedicated work space, a cozy cafe to hole up in, or a vacation rental that accommodates both work and play, Bloomington has something to offer for a variety of digital working needs.
 
Dedicated Coworking & Remote Work Spaces
The Mill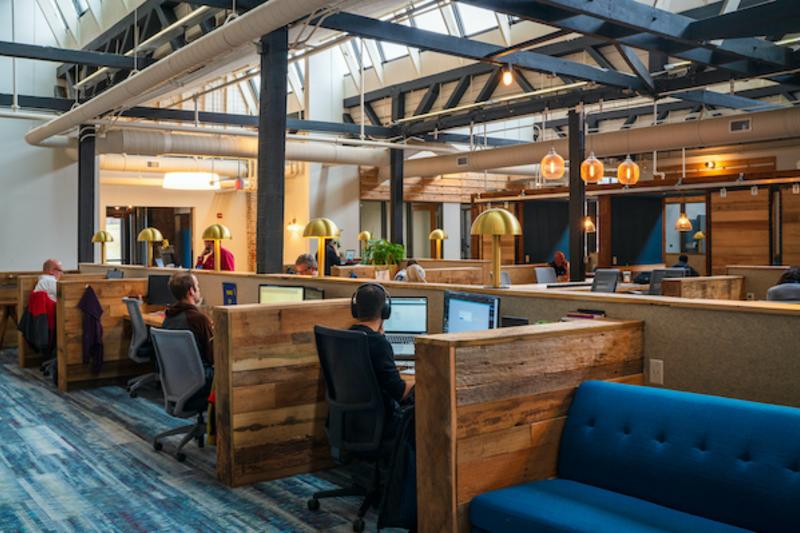 Photo by Martin Boling
The Mill is Bloomington's sole official coworking space, located downtown in a beautifully restored early 1900s factory. The facility offers 19,000-square feet of space for startups, small businesses, independent freelancers, and remote workers. Amenities include free WiFi, free printing, free Hopscotch Coffee, a library of tech gear, lockers, permanent desk spaces, and private office spaces. The Mill offers day passes, as well as a variety of membership plans to choose from based on your specific needs.
Located just across the street from Upland Brewing Co. and near the B-Line Trail, you can easily grab a great local meal for lunch, take a quick brain break with a walk on the downtown trail, or enjoy drinks after work with coworkers-turned-friends.
 
Eskenazi Museum of Art Cafe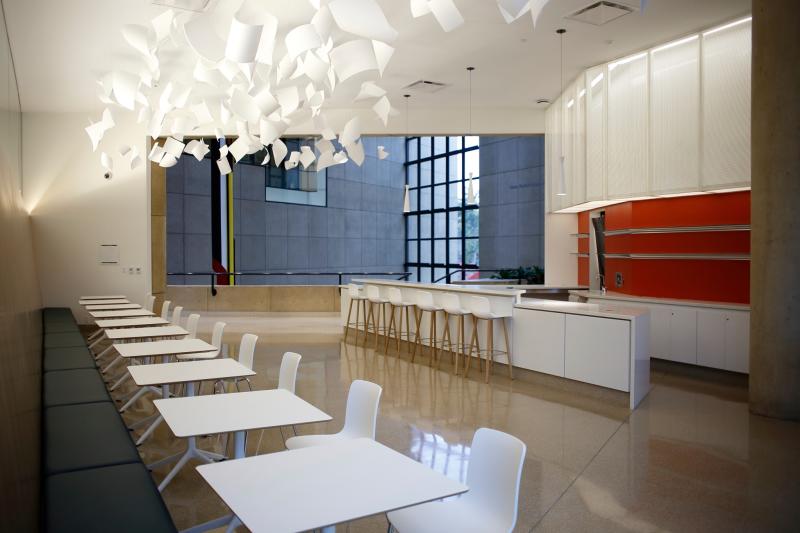 Photo by the Eskenazi Museum of Art
If you work in a creative field and thrive off of inspiring, artistic spaces, the cafe at Indiana University's Eskenazi Museum of Art is the perfect remote work location for you. The cafe offers tables for both solo workers and those in groups, free guest WiFi through the university, and a variety of unique food & drink options to keep your mind fueled as you work. If you enjoy working outdoors, you can also take advantage of the cafe's peaceful sculpture terrace.
In need of a break? Visit one of the museum's incredible exhibits, walk just down the street to the Indiana Memorial Union for lunch, or go sit by Showalter Fountain for a moment of rest narrated by the fountain's water features.
 
Indiana Memorial Union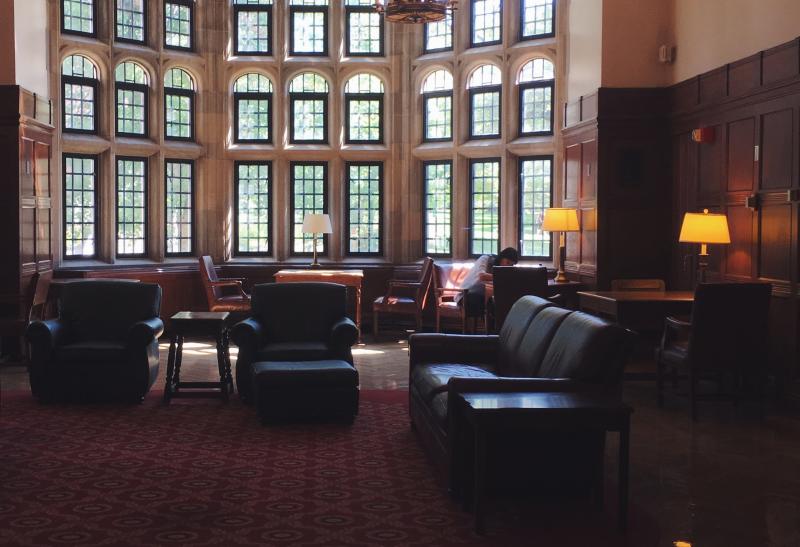 As Indiana University's student union, the Indiana Memorial Union (IMU) is predominantly used by professors, visiting faculty, and — you guessed it — students. But even those without a relation to the university will find the IMU a great coworking and remote work space. The building features several lounges and cafe areas, two favorites being the South Lounge and the in-house Starbucks.
The South Lounge offers cushy leather armchairs and couches for a more relaxed work environment, as well as a limited number of desks for those who prefer a more traditional space. The Starbucks area features, of course, a full-service Starbucks, as well as a huge amount of tables and chairs for both individual work and group work. Additional amenities at the Union include free guest WiFi, easily-accessible power outlets, several additional dining options, wheelchair-accessible restrooms, several large outdoor patios with seating, and tech supplies for purchase at the IU Bookstore.
 
Cozy Cafes & Laid-Back Eateries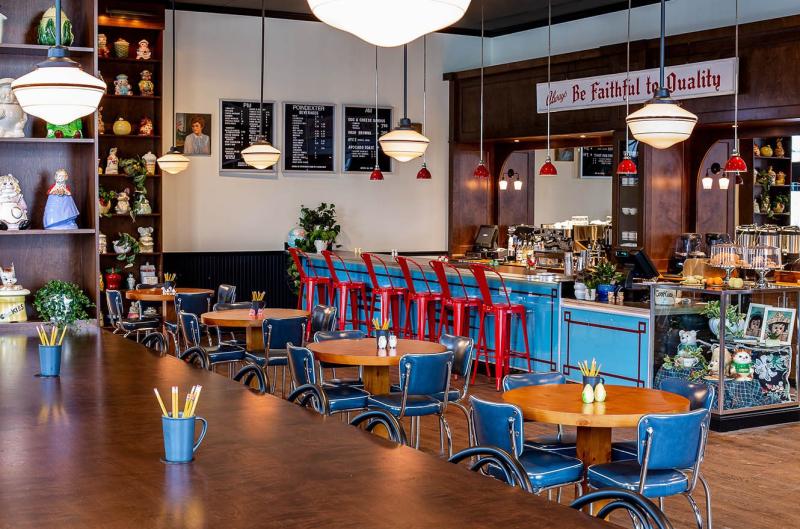 For those looking for a more laid-back work space, consider one of Bloomington's local coffeehouses, cafes, and eateries. All of the following offer free WiFi, an abundance of seating, snacks & drinks to keep you fueled throughout the day, and tables that can accommodate groups of people.
Work-cation Rentals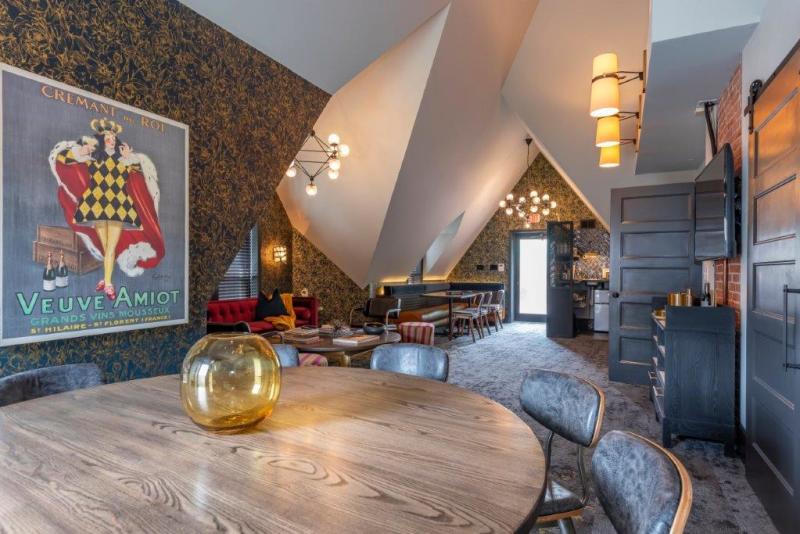 Coming to Bloomington for work and play? We have an abundance of options for you, too. Enjoy a stay at a vacation rental in Bloomington — there are great properties for groups & families, solo travelers & couples, and for those who are specifically seeking a relaxing, remote location. And rest assured: each location provides free WiFi during your stay.
 
For Groups & Families 
Acorn House

Four bedrooms, two bathrooms
Long-term stay options available
For Solo Travelers & Couples
For Work & Relaxation
Looking for more vacation rentals in the area? Check out this page.