Cozy Co-working and Study Spots in Bloomington
Categories: General, The IU Student Perspective
Offices are so last year...
Co-working spaces give entrepreneurs, freelancers, and students a space to collaborate. Without the drama of office politics and competition, entrepreneurs and students alike can go to workspaces to meet other professionals while reaping the benefits of working communally. Sick of working from home? Feel more empowered and take control of your job by working out in the community.
Are you a visiting scholar or remote worker in need of a workcation? With ample workspace around town, Bloomington is a great place to get away for a few days. There are several hotels near Indiana University and downtown so you're close to all the action around town. When you're off the clock, check out our unique international restaurants, catch a show downtown, or enjoy the great outdoors. 
With downtown Bloomington being just a hop skip and a jump away from the Indiana University campus, many recent grads and self-starters now call Btown home. Whether you are looking for a new study space or an area all your own where you can start your own business, check out our recommendations for co-working spaces here in town.
Dimension Mill
We can't have a coworking blog without mentioning our first coworking space in Bloomington. The Dimension Mill has a variety of different plans to satisfy your office needs. The space has a casual lounge vibe with huge tables, comfortable furniture, and lockers so you can stash your personal items when you need to take a jaunt down the B-Line Trail. Cowork is located in downtown Bloomington so you're within walking distance of our delicious restaurants and coffee shops when you need a boost. 
Pourhouse Cafe
This local coffee shop values more than just their coffee; they aim to create a positive atmosphere for professionals to meet, students to study or old friends to have a conversation. Their reservable meeting spaces provide an excellent venue for anyone to meet at an affordable price. Stop by Pourhouse for a casual working atmosphere and to try their latest blend of java.
South Lounge: IMU
Perhaps a quiet area near the fireplace in the heart of academia is your preferred place of work. Located just South of the Starbucks and Alumni Hall in the Indiana Memorial Union, the South Lounge boasts some of the best antique architecture on the IU campus, with walls of windows, original wood floorings, and intricate chandeliers. Whether taking a rest in one of the large, cushy sofas or finding a desk in a nook, this cozy place will not disappoint. Finals are so stressful so when you need a break check out Wonderlab's Study Break event complete with stress relieving activities, dinner, and most importantly PUPPIES.
Rainbow Bakery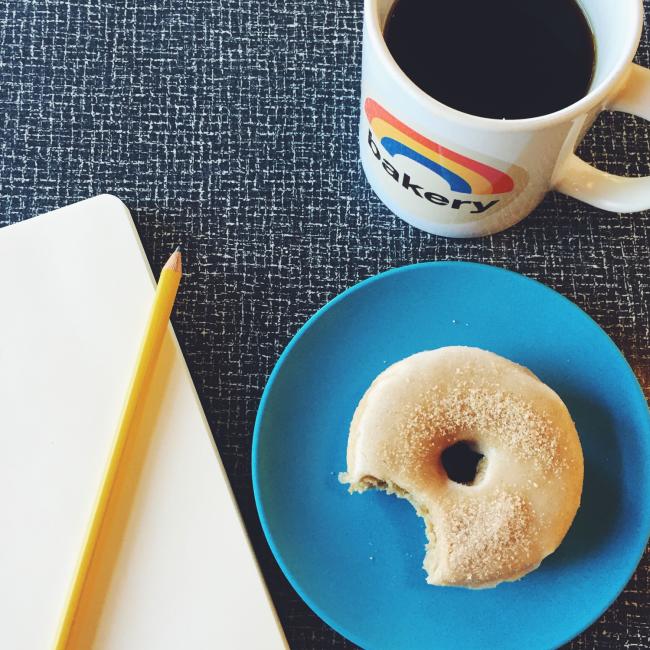 This mid-mod vegan bakery is a local favorite because of their Insta -worthy and delicious confections. It is also a great place to settle in to crank out a few hours of work on your laptop or enjoy a casual meeting. Rainbow's huge windows allow warm sunshine to pour in giving the place a really cozy vibe even if it is snowing outside. They have several large tables good for groups and bar seating going around the bakery if all you need is a little nook for your laptop and donut. Rainbow Bakery also participates in Gallery Walk each month so don't forget to check out their rotating gallery display. They even have a vintage Mrs. Pac Man for when you need to take a mental break.
Hopscotch Coffee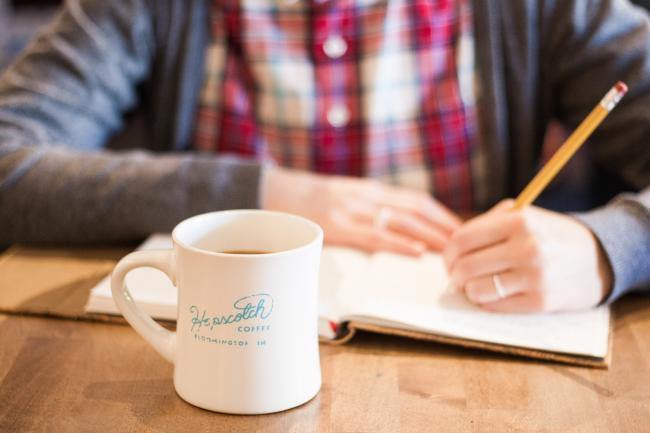 For a location just south of downtown, check out Hopscotch Coffee right on the B-Line Trail. They have nice bar seating if you're solo and several big tables if you're working with a group. When the weather is nice, enjoy an afternoon on the patio with a front-row seat of the B-Line. Hopscotch has a full espresso bar, teas, locally made baked goodies.
Crumble Coffee and Bakery
This local coffee shop and bakery offers yummy quiches, pastries, cookies, cakes, and countless other baked goods. You won't find a space anywhere like Crumble in town. Whether you find yourself reading, writing, editing or meeting, this is a fantastic setting to help you reach your goals. Crumble has two locations: one downtown and one on the east side of town. 
Cup and Kettle Tea Co.
Switch up your daily routine by working at Cup & Kettle. This quaint, new addition to the downtown area offers plenty of space for you to study while you enjoy one of over 50 organic tea blends and homemade scones.
Soma Coffee
Soma is the OG of coffee shops in Bloomington. The first Soma is located right between campus and downtown Bloomington and offers a quiet but funky space for anyone to work and enjoy a cup of brew. Named one of the best college coffee shops in America, this spot is the perfect place to get what you need to be accomplished. If you're working on a group project or just co-working with some friends, check out the newest Soma on 10th at the Crosstown Shopping center because it has a lot more space to spread out and big tables so groups of people can work comfortably together. Don't forget to check out the one on 3rd street across from the Jacobs Music School. Pro tip: order a latte to experience their one of a kind latte art.
Switchyard Brewing Company
Switchyard Brewing is quickly becoming a place to be for work and meetings. The creative, open, and collaborative space opens early for students, entrepreneurs, and remote workers. They do sell coffee, tea, and pastries, but Switchyard is BYOF. They do, however, have a food truck outside every day.