Bloomington's Best Dive Bars
Categories: General, Live Music, Wine & Culinary
If you like to frequent dive bars when you travel, Bloomington has several to offer you. From the no muss, no fuss ambiance to your favorite drinks at a lower price point, B-Town's best dive bars will win you over as soon as you walk through the door. Kick back and enjoy a cold beer or stiff drink at each to determine which one is the best of them all.
 
Alley Bar
The Alley Bar is a classic hole-in-the-wall establishment, located just a block west of The Square, downtown's main plaza. It's a tiny bar with great quirks, a relaxed & friendly atmosphere, a robust drink selection, peanuts — plain and spicy — for snacking, old hardwood floors worn down by discarded peanut shells, and framed photos lining the walls that tell the hidden gem's history.
Snag a seat facing a TV to catch the latest game, grab a spot near their huge picture window to partake in some people-watching on Kirkwood Avenue, or hang out on the patio to experience both the Alley Bar and downtown Bloomington simultaneously.
 
Bear's Place
Bear's Place, located just down the street from Indiana University's Jacobs School of Music, is perhaps the coziest dive bar in Bloomington. The front of the bar is the under-21 room, clad in wood booths & decor from years past, and the back room — referred to as the Bear Cave — is a full-service bar with a homey fireplace, providing a comfortable ambiance for patrons to enjoy as they drink and socialize.
Home to the notorious Hairy Bear, a neon concoction with six shots of liquor that's considered an IU rite of passage, Bear's offers daily drink specials, tasty pub food, and a great selection of craft beer. Visit on a Thursday to hear Jacobs students and faculty play live music during the weekly Jazz Fables show, relive your glory days by ordering the Alumni Hairy Bear — an elevated Hairy Bear with top-shelf spirits rather than the cheapest varieties consumed by college students —  or enjoy a night of karaoke in the Bear Cave.

Hoosier Bar & Grill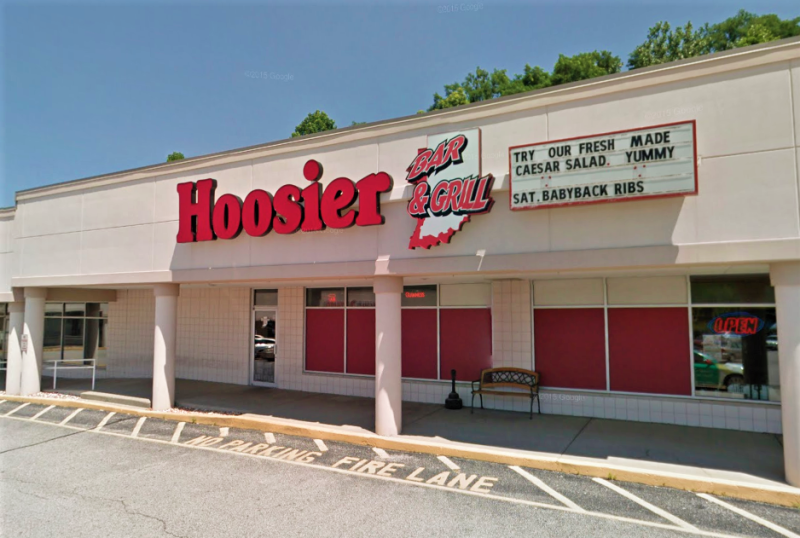 The Hoosier Bar & Grill, located in neighboring Monroe County town, Ellettsville, is a classic dive bar establishment. It stands unassuming in a strip mall, offering a dim ambiance with generous seating, several TVs, and a large menu of classic bar grub. The walls are clad with wood planking and metal signs, and there are two pool tables for customers to enjoy as they hangout and sip a few drinks.
If you're looking for a low-key watering hole with a full bar, a huge menu full of tasty food, and plenty of free parking, the Hoosier Bar & Grill is a great choice.
 
Hoppy Wobbles Pub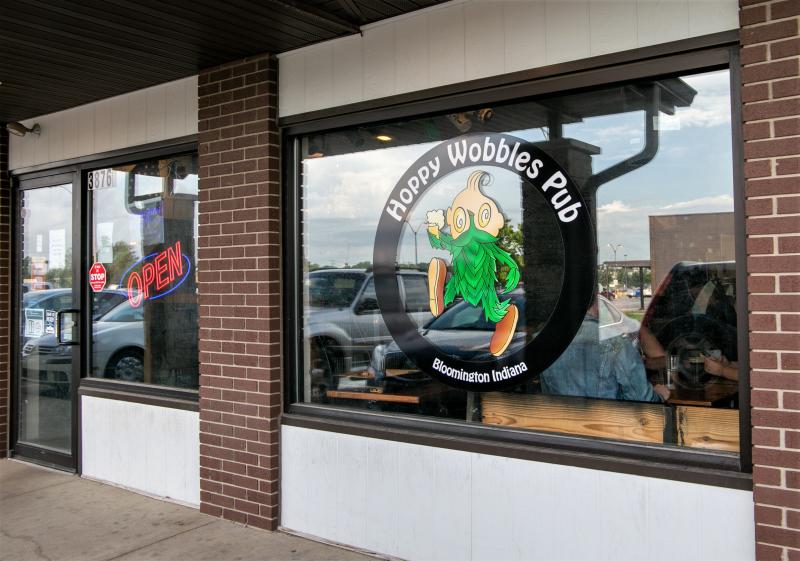 Located on the west side of Bloomington, Hoppy Wobbles is another unassuming strip mall dive bar that townies can't seem to get enough of. The small, locally-owned establishment offers a rotating selection of craft brews on draft, weekly trivia, pop-up shops in collaboration with local artisans & businesses, chili cook-off contests, holiday parties, game nights, and much more. If you're looking for a dive bar with a great sense of community and a fun environment, check out Hoppy Wobbles during your next visit.

Kenny's Tavern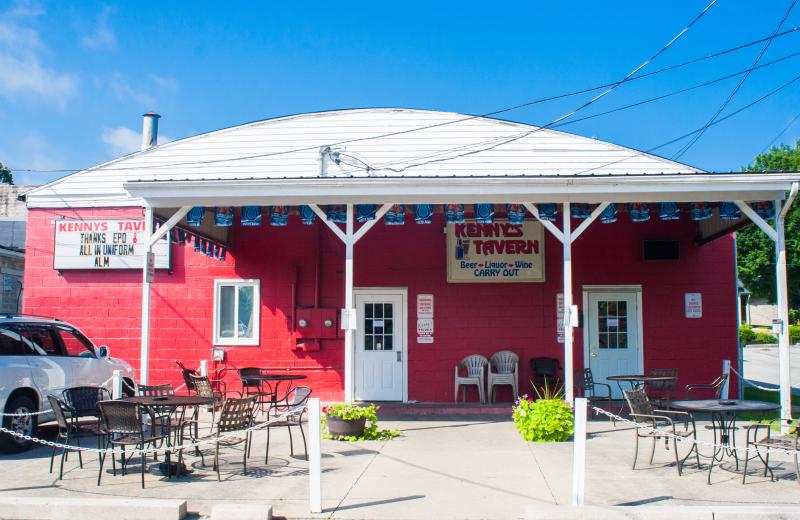 Another Ellettsville dive bar, Kenny's Tavern offers a full bar, pub food, a spacious patio, pool tables, a juke box, and events including live music, costume contests, holiday-themed activities, viewing parties for sports games & motor races, and more. The large bar offers plenty of seating, several TVs, and a ton of interesting decor, including signs and model cars, for patrons to check out. Kenny's isn't quite as crowded as some Bloomington bars, but they have a loyal customer base that frequents the establishment due to it's laid-back and friendly staff.
 
​The Office Lounge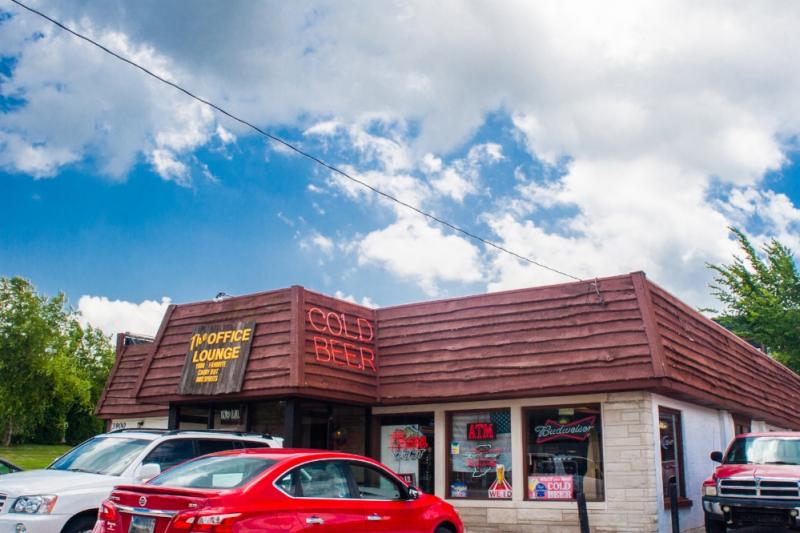 Located on the east side of Bloomington, The Office Lounge offers the quintessential dive bar characteristics of low lighting, inexpensive furnishings, and beer in a can (and on draft, too). They also boast weekend karaoke, several pool tables and TVs, Texas Holdem' on Mondays & Thursdays, a robust menu of late-night bites, and tons of seating for groups of all sizes.
 
Orbit Room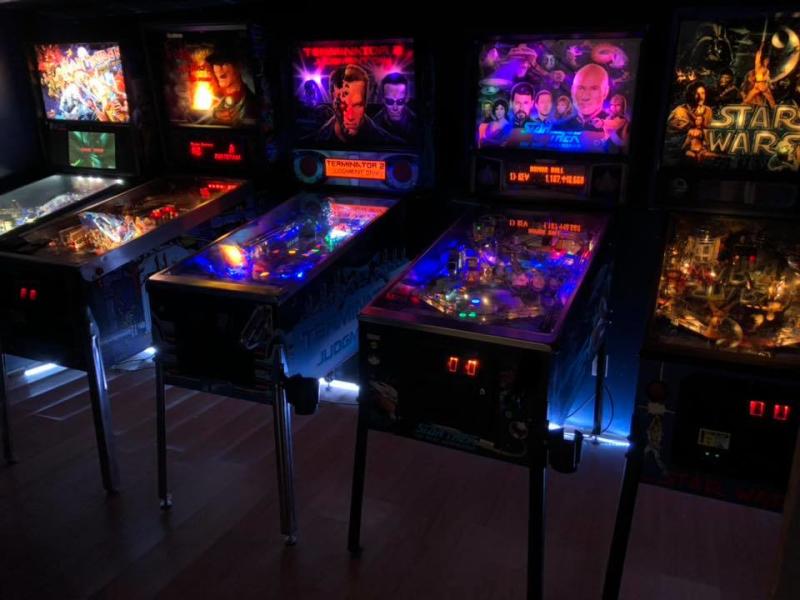 Live music, pinball, and an ever-changing menu of gourmet hotdogs make the Orbit Room a B-Town dive bar you'll want to come back to. While it puts a hip spin on the classic concept of a dive bar, the Orbit Room still offers all of the key elements: dim lighting, unglamorous decor, and an eclectic setting.
For those who are unfamiliar with the bar, it could be a bit confusing to figure out where exactly it's located — find the narrow cubby between Blooming Thai and J.L. Waters & Co. on The Square, then head down the staircase into the hidden gem.  
 
Steve's Place
Steve's Place is a billiards hall and a bar on the west side of Bloomington that definitely qualifies as a dive bar due to its unassuming decor, low lighting, and unbeatable food & drink price point. The bar area is quite small, while the billiards hall takes the majority of the establishment's space — there are six pool tables for patrons to play on. Steve's hosts weekly billiards tournaments, as well as live music, trivia nights, karaoke, and Jeep nights.
 
Video Saloon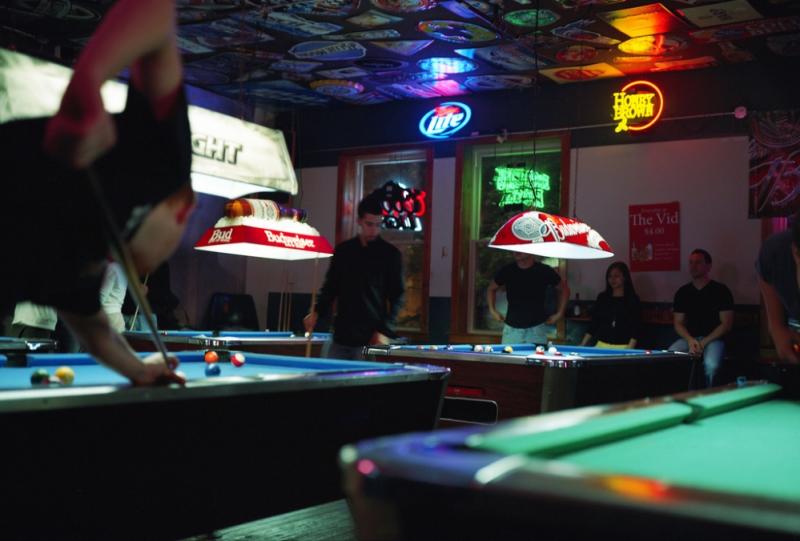 The Video Saloon, known by locals as "The Vid," stands on the corner of Walnut and 7th Streets above The Cade. A true dive bar, The Vid features metal wall signs and eclectic art, ultra-dim lighting, leather chairs that have seen better days but definitely add to the dive bar vibe, a mix of furniture that ranges from plastic tables to wood booths, and a slightly seedy staircase entry. Like we said: true dive bar. In fact, it's arguably the most popular, well-loved dive bar in B-Town.
A common draw to The Vid is their many pool tables and dart boards for patrons to enjoy while sipping their drinks. The drink selection is straightforward — both craft and macro beers, plus a full bar — and the general ambiance is unglamorous yet eclectic. It's a bar that's frequented by both students and locals, bringing together an interesting mish-mash of people who are all looking to have a good time in a relaxed setting.

Looking for more information about B-Town's nightlife scene? Check out these blogs: