Thursday, January 9, 2020
Dog Days in Bloomington
Categories: General, Outdoors, Wine & Culinary, Shopping
Bloomington is truly a town where man's best friend can be a part of every aspect of life. We know that your dog isn't just a pet, but a member of your family. Here are the best ways to stay, eat, and play in Bloomington with your "pawsome" pup.
 
Stay
Your canine companion wants to stay by your side throughout every aspect of your trip, and you'll rest easy knowing that you can spend all your time together in Bloomington, even if you're staying in a hotel.
At Graduate Bloomington, your canine companion can hop up on the bed with you and enjoy a good night's sleep, for free. Graduate hotels did away with pet fees in 2017 and started a collaboration with BarkBox to ensure that your dog gets some true pampering when you stay--after check-in, a free BarkBox along with water bowls and a blanket just for your pet will be delivered to your room.
If you have an active dog, consider staying at the Candlewood Suites. This extended-stay hotel has all the comforts of home and is located close to paths at the Twin Lakes Sports Park, as well as the hotel's very own dog-walking paths. The dog-friendly patio area lets you stay close to your pup while you grill out with friends.
If you're more into outdoorsy lodging, there are some nature-encumbered options for you. The Lake Monroe Village will give you the chance to get away from it all in an assortment of cabins or primitive camping, and your dog will be thankful for miles of beautiful trails around the area.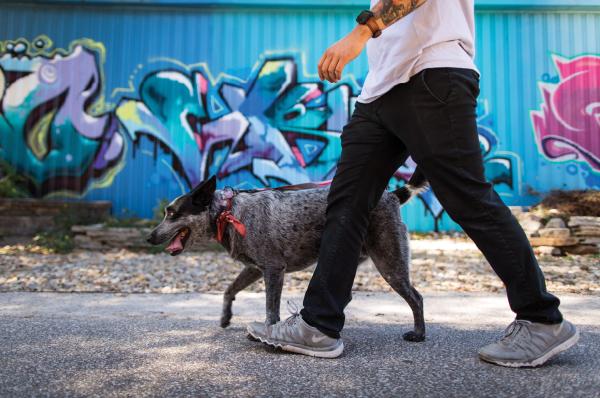 Eat
Doggie diets and human food may not be on the same page, but that doesn't mean you can't bring your fuzzy friend to dinner with you.
There isn't a bad view in Bloomington, especially when you're eating on a patio with a dog at your side.
Take a stroll down the B-Line and get some city sight-seeing in before stopping at Bloomington's very own craft brewery and kitchen at Upland Brewpub. The patio is perfect walking distance from the B-Line so you and your dog can enjoy the hubbub of Bloomington while enjoying some of the Midwest's best beer.
If you're looking for a caffeine buzz to ward off the post-meal drowsiness, look no further than one of Bloomington's best roasteries, Needmore Coffee. Enjoy an expertly roasted cup of coffee on the outdoor seating area while your dog has a complimentary dog treat from Nashville's Bone Appetit Bakery.
Headed downtown? Stop for a traditional Irish meal at the Irish Lion's garden-like patio, and let your dog enjoy homemade treats and water bowls (both are four-leaf clover-shaped!) while you sate your hunger.
While you are downtown, check out Switchyard Brewing Company. They just introduced a larger patio. Feel free to bring your own snacks, grab a beer, and enjoy some great company.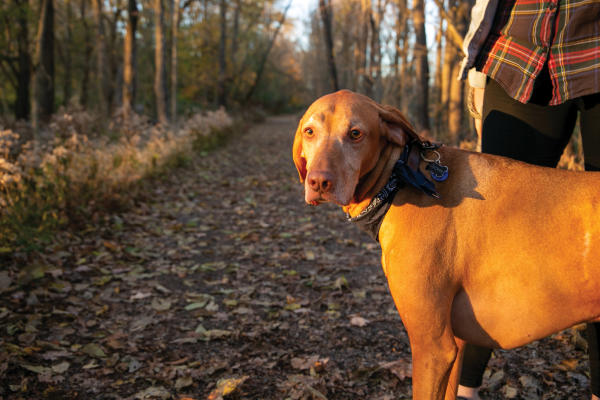 Play
Everywhere you go in Bloomington, there are endless options for fun with your dog. Bloomington is well-known for its proximity to wonderful outdoor options, with outdoor recreation only minutes away from downtown.
The Sycamore Land Trust has eight protected land preserves around Bloomington, with options to explore like the Porter West Preserve, a forested area full of wildflowers, a spring, and wildlife ponds.
If you and your dog are avid bird watchers, check out the National Audobon Society's Important Bird Area at the Beanblossom Bottoms Nature Preserve. This preserve has a walkway for ease of access, making it perfect for pooches who don't fancy rough terrain.
There are also miles of beautiful trails around Bloomington in areas such as the Yellowwood State Forest, Paynetown State Recreation Area, and Griffy Lake Nature Preserve, to name a few. Grab a leash and your sense of adventure, and get ready for a scenic day with your dog.
Urban trails are perfect for getting around town while giving your pet plenty of fresh air. Walk, jog, or run down the B-Line Trail to get some good exercise in and see a variety of local businesses, restaurants, and art.
If shopping is more your scene, Bloomington has some pet-friendly retail therapy spots for you. Pop into JL Waters with your dog to see some of the latest and greatest outdoor gear, for humans and four-legged friends. From harnesses to collapsible water bowls, you'll be ready to take on the outdoors side by side with your best friend.