Drink Like a Local in Bloomington
Categories: Wine & Culinary
Craft beers, local wines, cold smoothies, house-roasted coffee...the ways to hydrate in Bloomington go on and on. With 5 breweries, 2 wineries, 2 cideries, 1 distillery, and countless non-alcoholic options, the ways for you to spend your days drinking like a local are endless. Check this list out to decide where to head when you need a little special something for a liquid treat.
Non-Alcoholic
Just because you're under 21 or simply don't want to imbibe doesn't mean you can't enjoy some unique Bloomington brews. Check out these spots for coffee, teas, smoothies, and juices.
Soma
A local favorite for a good cup of coffee or a smoothie, Soma is a quirky Bloomington stop full of cute surprises. Soma is the place to be if you're hankering for Italian confections from Piccoli Dolci or want to grab a cup before you head to their map-walled back room to get some work done. Take a peek inside TD's CDs & LPs when you're done with your drink--they have an entrance right through Soma's backroom!
 
InBloom Juicery
If you're looking for an early weekend treat, stop by Bloomington's original acai and juice bar. InBloom has every combination of fruit + toppings for the most beautiful acai bowl you can imagine and a killer juice selection for everything from a beginner's juice cleanse to your after party cure. Keep an eye on Kirkwood Avenue in the spring months--the InBloom food truck has bowls, juice, and poke to fuel your morning.
 
Hopscotch Coffee
Take a stroll down the B-Line Trail and hit up Hopscotch for coffee, tea, and even some local beer if you're feeling frisky. Rainbow Bakery treats and a huge variety of other baked goods line the pastry case, and there's no shortage of milk alternatives to suit every lifestyle. Make sure to stop by their second location for a java fix the next time you're perusing the farmer's market.
Insider Tip: Love your Hopscotch coffee but live too far to make a daily stop? Grab a bag of beans or subscribe to a monthly bag of your favorite blend on Hopscotch's website.
 
Cup & Kettle Tea Company
If coffee isn't your thing, Cup & Kettle surely has something for you in one of their 40+ small-batch teas and blends. I personally recommend the Strawberry Champagne blend for a fruity, vanilla-y cup of comfort. Cup & Kettle also has breakfast, lunch, and pastries, making it a great place to have casual meetings or hunker down and get some work done.
 
Needmore Coffee Roasters
Woman-owned, ethically sourced, small-batch, locally roasted coffee? Yes, please. Stop by Needmore to grab a cup of socially-minded coffee sourced from around the world. Muddy Fork baked goods, homemade quiche, and Sazon tamales to munch on let you support an array of Bloomington businesses when you spend the morning here.
21 and Over
Upland Brewing Company
Sipping a pint of an Upland ale while watching the sun go down on the patio is its own kind of wonderful. Upland is one of Indiana's largest breweries and is popular for good reason--their selection of seasonal, craft, and brew-pub exclusive beers will leave you wanting to come back and try them all. The brewpub is also home to an awesome lineup of not-so-typical comfort food to pair with all the beer you'll drink. 
 
Bloomington Brewing Company
One of the first microbreweries in Bloomington and the place locals consistently come back to, Bloomington Brewing Company is located in the same building as Lennie's and shares the same charm as the home-grown eatery. At BBC, you'll find a wide selection of locally brewed ales, stouts, IPAs, and more, all made with sustainable practices and community partnerships in mind. 
 
Cardinal Spirits
Cardinal Spirits is the definitive stop for award-winning craft spirits in Bloomington. Whether you're craving a spiked hot chocolate or you'd rather shake it up with a spiced rum Love Child, Cardinal has a drink for you. Stop into Cardinal for a drink and something off their spectacular small-plate menu and you'll see why Cardinal is so beloved among Bloomingtonians.
 
Nick's English Hut
Nick's is a Hoosier classic. On any weekend, you'll find tables crowded around a game of Sink the Biz and chowing down on Biz Fries or tenderloins the size of your head. There's always a place to watch the game and plenty of seating, so you can bring all your friends. Nick's is sure to be the place you and yours return to when you're searching for that home away from home feeling at a pub.
 
Big Woods Bloomington
Right off Kirkwood Avenue, you'll find Big Woods, the Bloomington home of a Nashville favorite known for its craft beers, food, and spirits. The intimate house is always full of lively conversation and delightful smells from the kitchen, and there's an ever-changing drink menu full of seasonal beers and neo-classical drinks featuring Hard Truth spirits. 
 
Friendly Beasts Cider Company
If fruit-based drinks are more your speed, Friendly Beasts has the cider for you. Friendly Beasts is the cidery where people go to catch up over a flight of cider or read a book and sip on one of the many unique flavors offered here. This is a great place to stop if you're looking for somewhere to drink but have gluten-sensitive friends with you--cider is naturally gluten-free!
 
The Tap
With the motto of "Drink Good Beer" and a hearty selection of craft brews to help you do it, it's clear why The Tap is a favorite among locals. There are 90 tapped beers and 400 bottles to choose from at The Tap, including seasonal options as well as blended beers. The Tap is the place to go if you're looking for a world-wide craft experience without leaving Bloomington.
Insider Tip: Make sure to get to The Tap a little early on the weekends--they don't take reservations and it's a seat yourself restaurant. Oh, and get the Tap Fries, you won't be disappointed.
 
Switchyard Brewing Company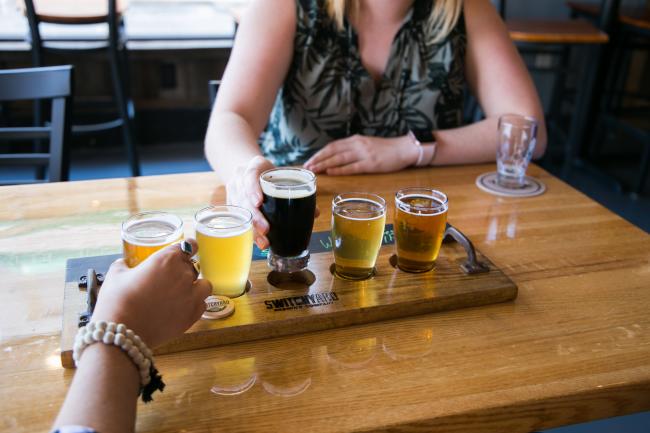 Dog-loving beer-lovers have found a favorite stop in Switchyard Brewing. Bloomington-based brews in a dog and family-friendly space, Switchyard has a variety of unique local beers that will leave you coming back for more. Their food truck partnerships ensure that you'll never be hungry, whether you're grabbing a Mac Daddy from the Big Cheeze or enjoying Sazon's traditional Mexican food on Taco Thursdays.