Easy Riding on Electric Bikes
Categories: Outdoors
Bloomington is well-known as a cycling town: we have a silver level status by the League of American Bicyclists, dedicated biking lanes, a city commission on bicycle and pedestrian safety, and host several cycling events each year. There are great routes to ride and several places to purchase or rent bikes if you're visiting. One such bike vendor is the new Pedego Electric Bikes shop in downtown Bloomington. Never heard of an electric bike? I hadn't either, or at least, didn't know exactly what it meant. It's basically a bicycle with all the usual parts (seat, handlebar, gears, pedals) plus a small electric motor if you don't want to pedal or need assistance. On the right handle, there's a throttle for controlling the motor and speed. On some bikes, there's pedal assist, which activates the motor as you pedal, to help you get some speed or get up a hill.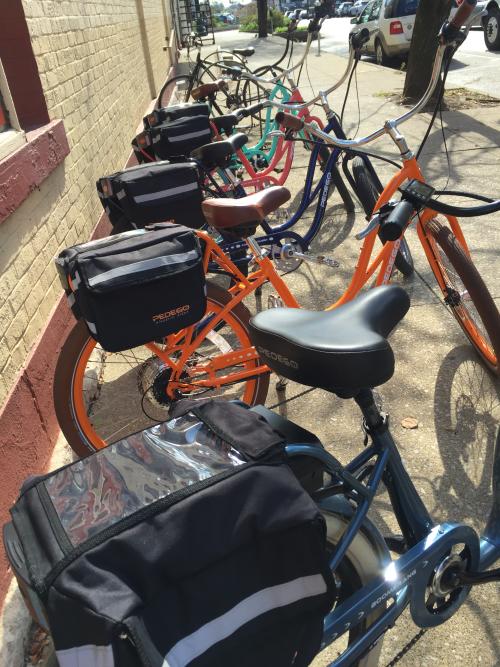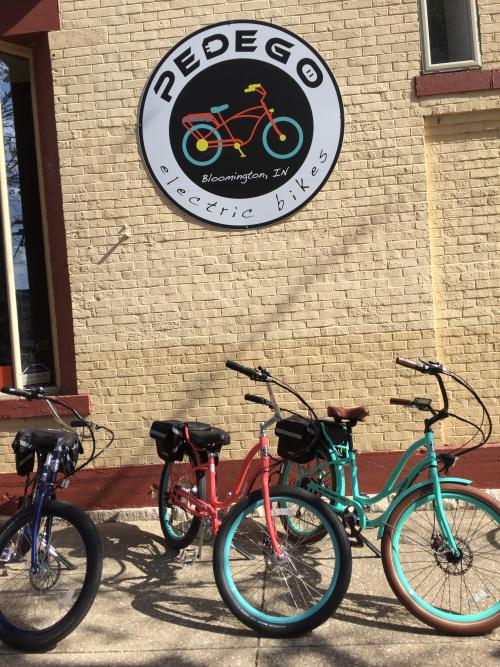 Our staff just had to test these bikes out. Some of us ride somewhat frequently, others haven't been on a bike in years. But as they say, it's just like riding a bike - once we got moving, it was very familiar.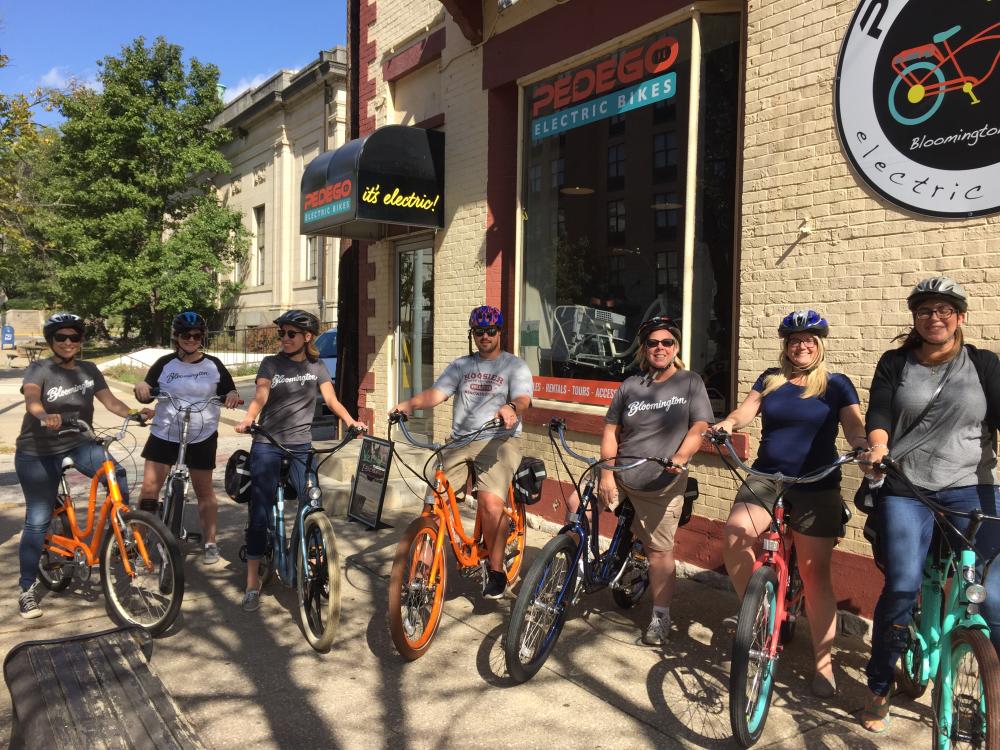 Electric bikes were totally new to all of us, however, and it was a little intimidating using the motor for the first time. Thankfully, the throttles are easy to use - not too sensitive and accelerate gently. After a few minutes, we were all comfortable cranking those babies to full throttle. The top speed seems to be around 20 mph, and it felt plenty fast (but not dangerous) when we were all-out.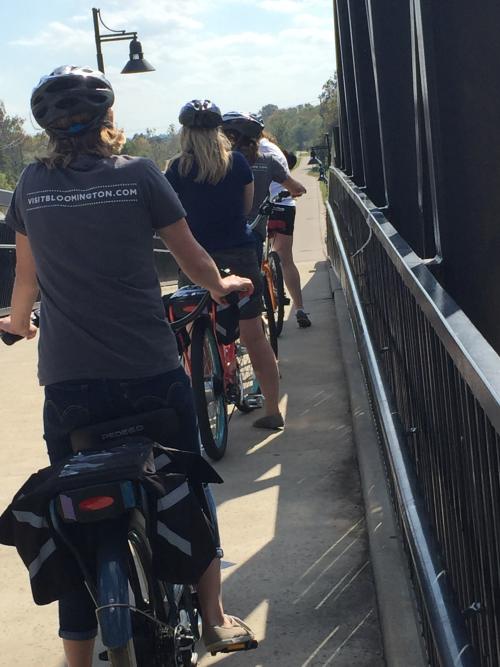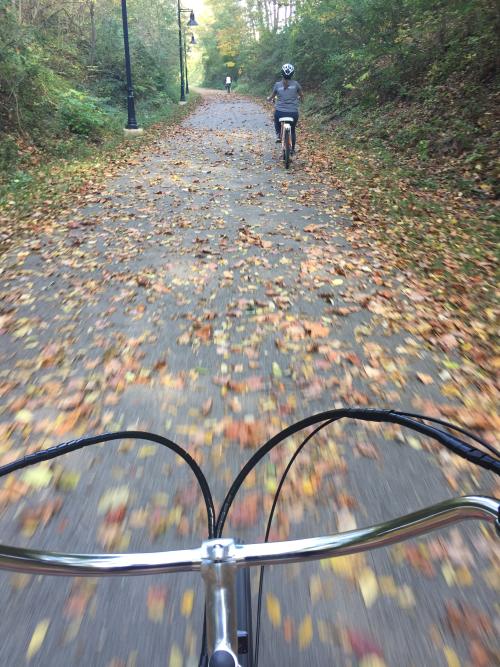 The pedal assist is a bit trickier to get used to. You pedal and the motor kicks in to give you a boost. You keep pedaling to keep it going, so you're still in control, but there's not much pressure on your legs so it's a little more than an assist - it takes over doing the work. This is very nice, especially when trying to get started quickly when crossing an intersection or when going up a hill. But it's also a little more juice than I expected, especially when I just wanted to move just a little quicker. There are five assist speeds, the higher you go, the more assistance you get (faster) but level 1 or 2 were plenty for me.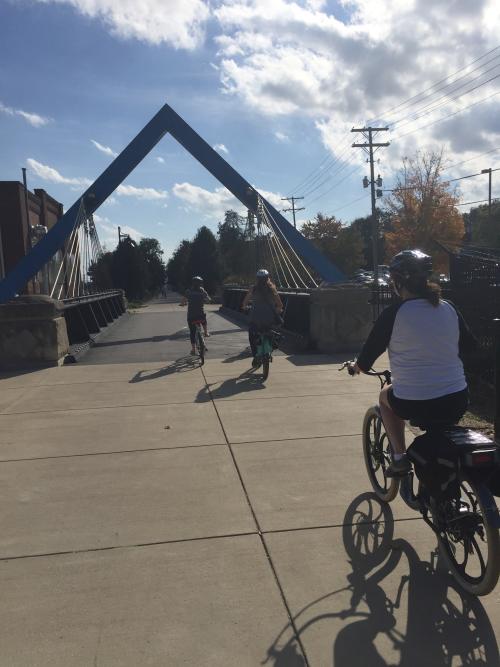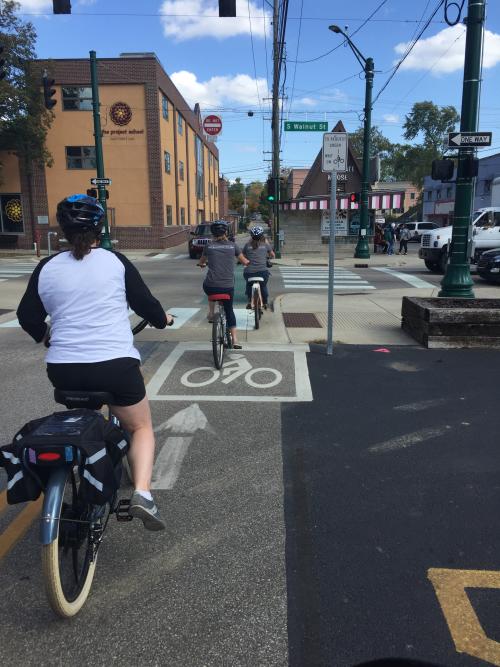 We spent about two hours cycling the B-Line from the northern tip to where it meets the Rail Trail to the south. It was a perfect fall day, and cycling through Bloomington is really an awesome way to experience it. We also made a stop at the Chocolate Moose for a quick recharge of our engines - the electric motors were totally fine, they run for 25-60 miles on a single charge, depending on a few factors (how much pedaling you do, weight of rider and cargo, wind resistance, terrain, etc). The bikes are super comfy, though a bit heavy because of the motor, so you have to drive it a bit differently than a regular bike. Pedego rents the bikes for $15-$20 an hour, and offers small group tours by reservation. These bikes are a lot of fun, and we highly recommend them!