Erin Foley is hilarious
Categories: Arts & Culture
Hey Bloomington and friends, you only have two more days to see the uproarious comic Erin Foley at the Comedy Attic. If you don't know whether it's worth the $12 ticket, give me 5 minutes of your time and you'll see why my face still hurts from laughing last night.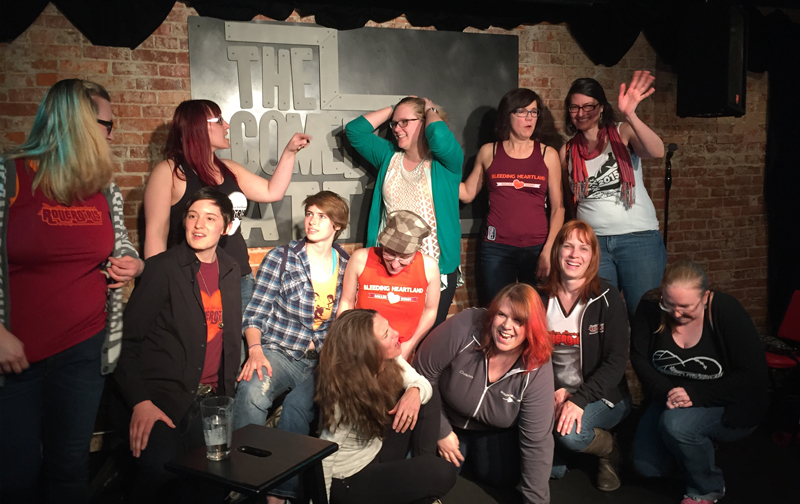 The Bleeding Heartland Roller Girls trying to behave
First of all, the Comedy Attic is a great venue for comedy (one of the top ten in the country, ahem). Seating on three sides of the stage means there isn't a bad seat in the house. The servers have perfected the art of taking orders and bringing drinks and food without interrupting the flow of the comedy (even if you catch them cracking up while they carry beer -- who could blame them?).
But onto the comics.
Local treasure Brad Wilhelm was the emcee, and he started by asking if there were any straight people in the house. There was complete silence, I kid you not. But even though you might want to pigeonhole Erin Foley as a lesbian comedian, her fans run the gamut and her jokes made everyone howl with laughter. From topics like red-eye flights and dating someone 10 years younger than you to health-crazed Los Angeles, I haven't laughed so hard in a really long time.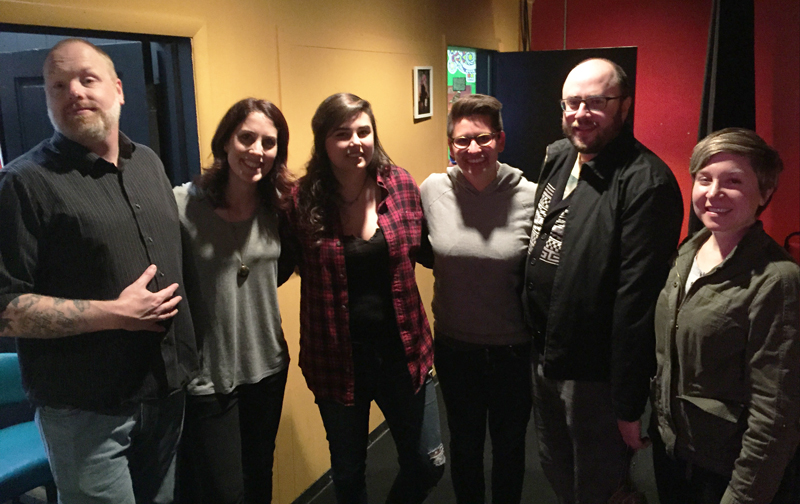 Erin Foley (2nd from left) with comedians and fans

The other comics who preceded Erin -- Mat Alano-Martin and the young but very talented Mo Mitchell -- were just as funny. I really can't remember a better show at the Comedy Attic, and I love that place.
Show Times
Thursday, 8pm
Friday, 8pm and 10:30pm
Saturday, 8pm and 10:30pm
Tickets
purchase online for $12
p.s. If you love comedy or laughter, check out the Limestone Comedy Festival June 4-6, which takes place in venues across downtown Bloomington. Not to brag, but Janeane Garofalo and Michael Che (and 50+ other comedians) will be there.