Everything you wanted to know about Cardinal Spirits
Categories: Wine & Culinary
In anticipation of Cardinal Spirits' official Deck Grand Opening Party this Saturday May 16 from noon until midnight, I met with co-owner Adam Quirk to ask him a few questions about why Bloomington's first and only distillery is so great. Also, I'll take any excuse to visit Cardinal Spirits. We sat on the ginormous new porch under a blue sky. I can't complain.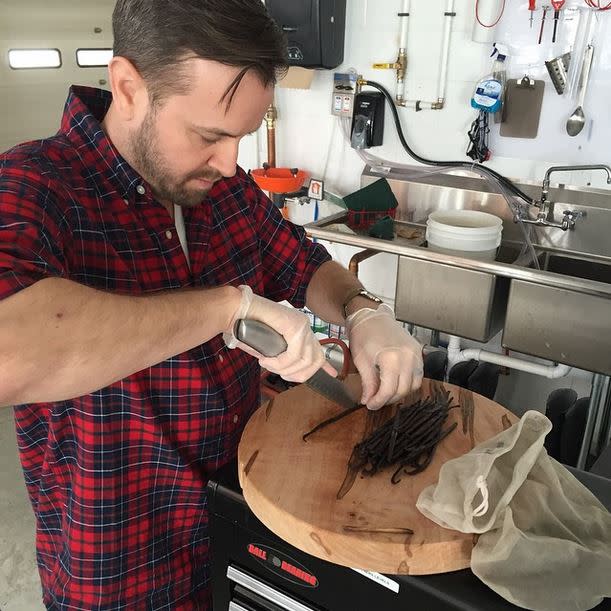 Anyway, here's what Adam had to say (and this photo of Adam cutting vanilla beans is from their Instagram @cardinalspirits...some of my recent photos are at the bottom).
Why did you think Bloomington would be a good place to open a distillery?
I came in 2010 from Brooklyn to meet with Sproutbox (a local tech company), took a walk around the square downtown, and fell in love with it. Culturally it feels a lot like a big city, but it still has the small-town feel. I see my neighbors all the time at Bloomingfoods, Kroger, and Hopscotch Coffee, but there's a fantastic amount of cultural activity and opportunities -- the Bloomington Playwrights Project and IU music, to start.
What's it like being Bloomington's only distillery?
So far, so good! The community of other craft beverage people has been very inviting. There's no negative competitive spirit. We've already done lots of partnerships -- Bloomington Brewing Company, Upland Brewery, Uel Zing, Hopscotch...and we have the best cocktails in town. It's worth a walk or ride down the B-Line, and we give free tours on weekends.
How has being on the B-Line Trail impacted business?
I like to think this section of the B-Line is the most trendy new area in Bloomington, with businesses like Hopscotch, Cardinal Spirits, Sweetgrass, and Feast Market. On the weekends, it's crazy. People will come in mid-jog, have a Bloody Mary, and continue jogging. This happens regularly -- at least one couple a weekend, and it's never the same people. We get massive foot and bike traffic, and opening the porch makes us more visible.
Tell me about your newest drinks.
We have an unaged barley whiskey coming out this month. It's malty, with a little bit of smoke -- I have no idea where that even came from. We also have a coffee liqueur coming out in about two weeks. We make this coffee-infused vodka in small batches in the back, and mix it with fresh coffee from Hopscotch with secret Cardinal ingredients like vanilla.
More about drinks: What's your favorite Cardinal drink?
I'm excited about the new cocktail this weekend called Drop the Beet, which has gin, balsamic vinegar, beet juice, and sage. 
Totally non-booze related question: What's your favorite thing to do in Bloomington?
I like to go with my wife and son to Bryan Park. We throw down a blanket and have a picnic. On Sundays, there are these medieval reenactments with jousting. We also get out hiking every weekend, like the waterfall trail at Lower Cascades Park and all the state parks in the area.
Here are some photos I took from a recent tour of Cardinal Spirits!