Vinegar Hill Instameet
Categories: Arts & Culture
To help celebrate National Preservation Month and gear up for Limestone Month (June), we're hosting a special Instameet with Bethany Emenhiser of the City of Bloomington where we'll explore the unique heritage of the Vinegar Hill neighborhood. If you've never heard of an Instameet, they are a place and time where photographers and instagrammers can meet in person and take photos of a unique space. For more on the Bloomington instameets, check out the Bloomington Igers account @igers_btown and you'll see photos from all around town as well as shots from other meetups. 
The surge of prosperity brought by the thriving limestone industry and the expansion of Indiana University on its new east side campus led to the steady spread of residential development south and east of downtown between 1900 and 1940. Vinegar Hill, a gentle rise that crested about 2000 feet south of the Third Street row of university classroom buildings, took its name from the smell of rotting apples, windfallen in the many orchards spread along its slopes. The construction of the Elm Heights School in 1926 spurred further building to the south and east.
Among the first to build houses along First Street were stonecarvers, many of Italian or German birth, who had been brought to Bloomington by quarry owners who valued their skills and artistry.The homes themselves are exceptionally detailed, with interior stone mantles and balustrades, as well as exterior carved transoms and window surrounds.The styles range from craftsman through art deco.  Revival architecture allowed the artisans a broad range of expression in stone. Both as social history and as exceptional architectural expression, the district is unique in the State of Indiana.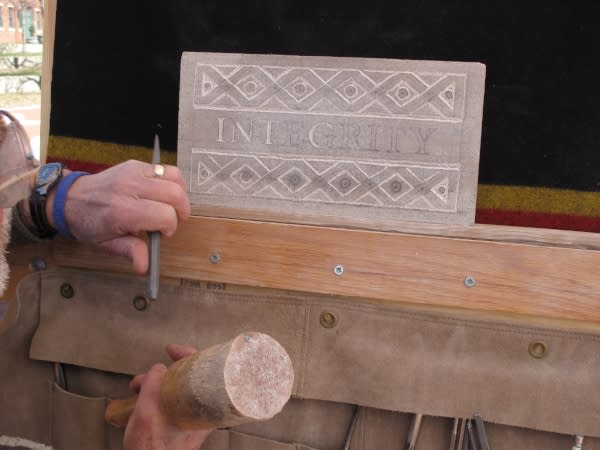 Along with the quarry owners and stonecarvers, homeowners in the area included Indiana University faculty and administrators, as well as Bloomington businessmen. Bloomington photographer Charles Gilbert Shaw photographed many of the houses constructed in this neighborhood when they were built. 
This home (pictured above) was built by Domenick and Concetta Mazzullo as their residence in 1935. Domenick immigrated to the United States from Sicily in 1903. In Bloomington, he had a stone carving partnership with Joseph Anthony, who also built a home on First Street. Carved relief decorations and gargoyle drains decorate the house, while numerous limestone artifacts are found throughout the yard. 
Join us for a special instameet on Saturday May, 13th with Bethany Emenhiser, Bloomington's Historic Preservation Manager, as we tour this historic neighborhood in celebration of Preservation Month in May and Limestone Month in June. To learn more about the homes on this tour, click here.
Meetup details:
When: Saturday, May 13th at 10 AM
Where: Corner of E. 1st St. and Woodlawn Ave.
Parking: Free parking at Bryan Park just a few blocks down from 1st St.
If you can't make this meetup or just need have more limestone history, check out two other Vinegar Hill History Walks in June.