Fall Family Fun in Bloomington
Categories: Family Fun
It seems the norm these days for most school systems to offer a reprieve in the middle of October, a fall break they call it. Kids and teachers need a couple days (or in some cases a full week or more) to recharge. For most families, it's not quite long enough to take a full-fledged vacation. Or, in the case of our family, we blew our vacation money on a big summer trip. The best option for fall is a quick getaway that won't break the bank.
Luckily, Bloomington is a quick drive from wherever you are (well, for most of you anyway) and there are a ton of affordable activities you can partake in with the family. Here are my suggestions, with some input from Visit Bloomington's resident fun experts, Ellie and Remi (my daughters).
WonderLab
We have to start this post out with WonderLab -- it's a must for any child in elementary school. The museum is completely interactive; you can literally touch everything. The activities and exhibits focus on science education, so the kids are learning about biology, nature, technology, and engineering, but in entertaining ways. Admission is $7 a person, a steal when you can spend a few hours learning and having fun. Ellie recommends the grapevine climber.
The WonderLab is so fun it requires video.
Mathers Museum of World Cultures
Just one more museum, I promise. But this one is pretty cool for kids in middle and high school, with exhibits covering a wide variety of cultural artifacts from any given time period in human history. And in October, there's a special exhibit called Dia de los Muertos Community Altar, with artwork commemorating the dead. You can even add your own gifts to the altar. Added bonus: it's free! Remi suggests checking out the dinosaur skull.
Hoosier Heights
More indoor fun that keeps the kids active! This rock climbing facility has rock walls that will challenge parents but also plenty of kid-friendly climbs. Even short stacks can enjoy climbing in the bouldering area with crash pads for safe tumbles. Day passes are between $8 and $20, with an additional fee for gear rental. Ellie loves to act like a ninja and climb the walls that make me the most nervous.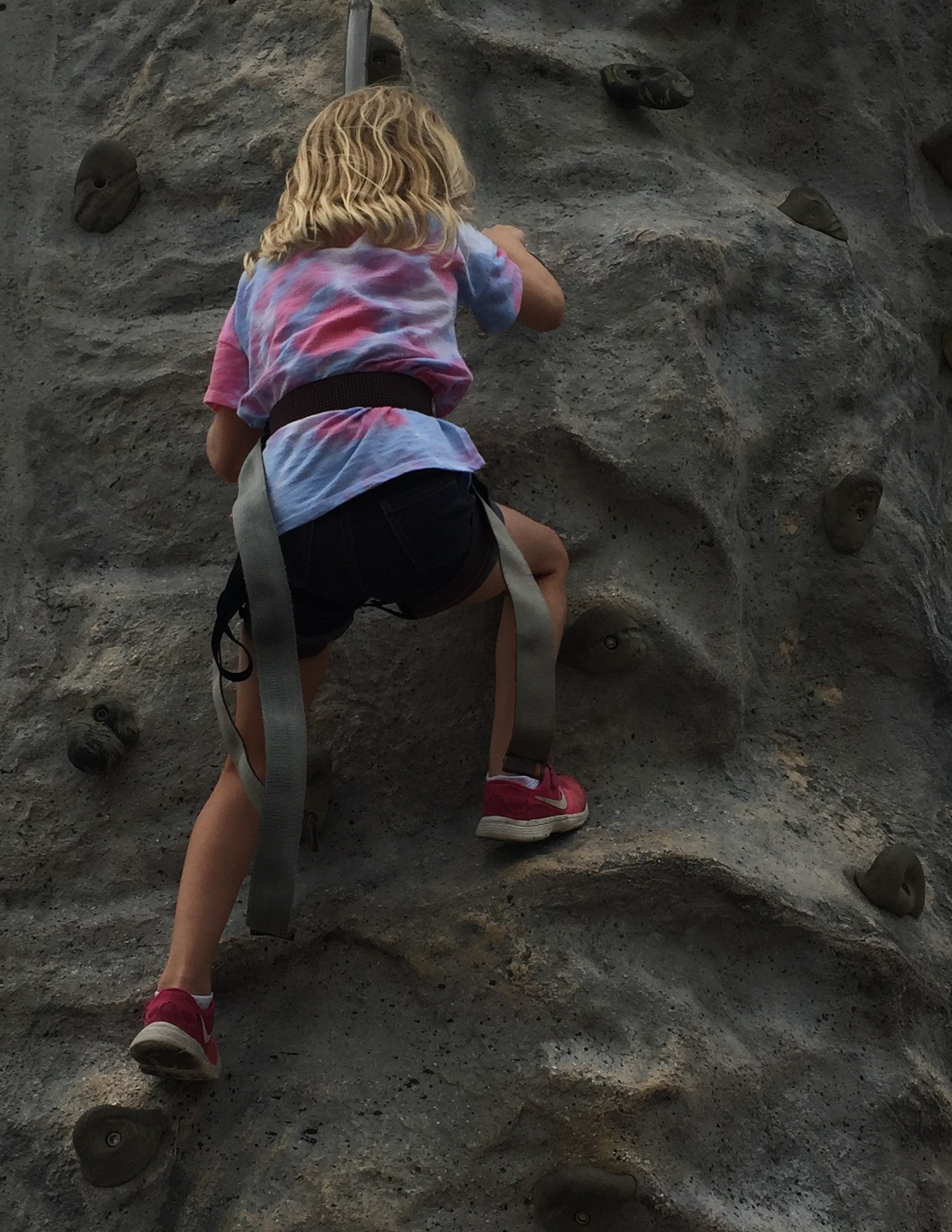 Ellie loves a physical challenge, including the mobile rock wall from Hoosier Heights.
Cardinal Stage Company's Peabody
Everything Cardinal does is top-notch, and they've commissioned this family-friendly play that is sure to entertain. The story centers on one pre-teen's journey to discover the scientific process of how water becomes pee. No joke, it's full of fun jokes (and science) that kids and parents will enjoy. The show runs October 17-25, Thursday-Sunday at the Ivy Tech John Waldron Arts Center, and tickets run between $11.95 and $19.95. Ellie suggests arriving early to get the best seat right up front.
Hoosier National Forest
Now for an outdoor adventure in one of the most beautiful places in the Midwest. Just about 20 minutes from downtown Bloomington is the Hoosier National Forest, which surrounds most of Monroe Lake. This hilly landscape is absolute perfection in October, when the trees turn fiery orange and red. There are trails for hiking, spots for camping, and a huge fire tower that will beckon your adventurous teens and grown-ups. The forest is free to the public, and Ellie particularly likes hiking by the lake and testing my patience as she gets closer and closer...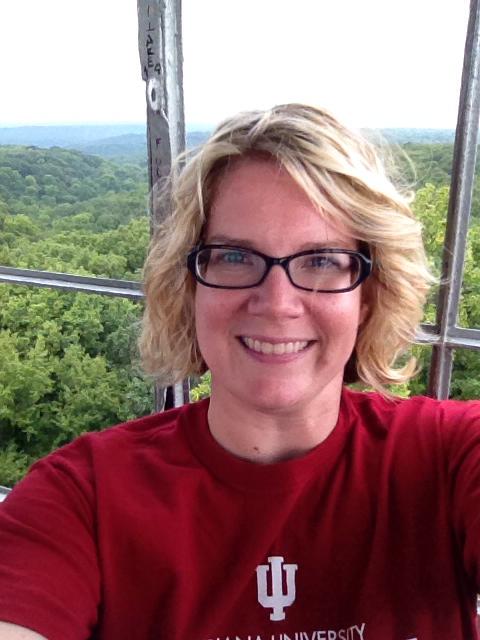 At the top of the fire tower. It's a challenge to climb but the views are worth it.
Jump-n-Joey's
For those cool or rainy fall days when you have to stay indoors but need to burn energy, head to this bouncy play land on the westside. The bounce houses are for kids 12 and younger (including a toddler area for wee ones) but there's also an arcade for any age. Admission is $8, but kids under 36 inches are only $4. Remi advises you to bring plenty of dollar bills for the arcade games!
IU Athletics
If you've got a sports fan in the family, you have come to the right town! The Hoosiers offer 24 different sports, so there is plenty of action in the fall. And if you're planning far enough out, you can schedule a guided tour of Memorial Stadium's North Endzone, Assembly Hall or Cook Hall. Tours are available at 9:30am and 1:30pm on Wednesdays and Thursdays, but must be scheduled two weeks in advance. They're free, and even Ellie and Remi can appreciate the magnitude of standing on the court at Assembly Hall.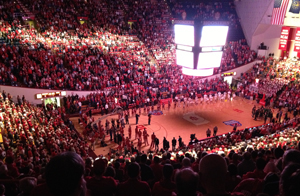 The fabled and soon-to-be renovated Assembly Hall.
Check out the special offers available this time of year too, to help save a little extra cash. There are so many more things to do, from events to kid-friendly restaurants to shopping, it will be tough to cram it all into a few days. You might have to come back for winter break too.