Thursday, August 12, 2021
Bloomington's Best Fall Flavors
Categories: Wine & Culinary, Family Fun, Indiana University
The leaves aren't the only thing changing in Bloomington this fall — our local eateries are rolling out their seasonal specials in the name of all things pumpkin and cozy. If you're looking for Bloomington's best fall flavors and where to find them, you've come to the right place. This is by no means an exhaustive list of every fall-themed dish, drink, and dessert in B-Town, but it'll set you off in the right direction on our leaf-lined streets.
Coffee & Tea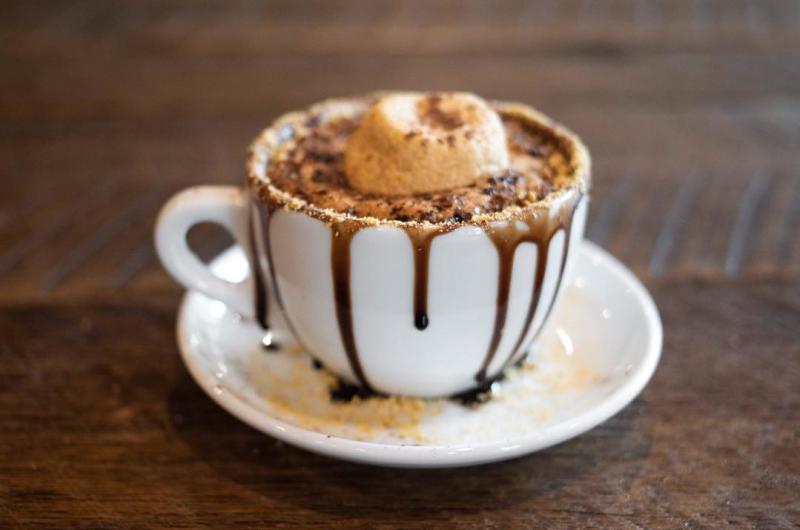 Photo by Crumble Coffee & Bakery
If you're on the hunt for a pumpkin spice latte, skip Starbucks and check out one of Bloomington's locally-owned coffeehouses or cafes instead. You can find a PSL at Brilliant Coffee Co. (they also offer a "Pumpkin Spiked Latte" for those in the 21+ crowd interested in a boozy rendition of the drink), or you can go outside of the basic fall drink box and opt for a Maple Nut Latte at Crumble Coffee & Bakery, a Jack-O-Lantern Latte (made with local Dillman Farms pumpkin butter) from Hopscotch Coffee, or a Campfire Latte from Needmore Coffee Roasters.
Those who prefer tea to coffee should try a Pumpkin Spice Tea Latte from Cup & Kettle Tea Co. or a Pumpkin Pie Chai from Crumble. Hopscotch also offers Musgrave Apple Cider for any cider lovers out there. Head to any one of these locations to check out their full menus — each coffee shop and teahouse offers an assortment of seasonal specials each year, some of which are new creations and some are favorites that make an appearance each fall!
 
Baked Goods & Sweet Treats
It just wouldn't be a proper fall experience if you didn't order a baked good to go along with your fall-flavored coffee or tea! Bloomington's bakeries, coffeehouses, and cafes all carry an incredibly tasty assortment of seasonal goodies. Try a slice of Dark Chocolate Pumpkin Bread from Needmore, an Apple Turnover or Sweet Potato & Goat Cheese Danish from Two Sticks Bakery, a Pumpkin or Apple Cider Donut from Rainbow Bakery, or a Cream Cheese-Frosted Pumpkin Muffin from Brilliant. You really can't go wrong anywhere you go — like we mentioned above, every bakery and cafe in town offers a variety of special fall treats that go well beyond what we can list here! 
Some people will tell you, you can't enjoy ice cream during the colder months, but we believe ice cream season is every season. Several local ice creameries agree, offering an assortment of delectable fall-flavored scoops for ice cream fanatics to enjoy as the leaves turn colors and the air gets cooler. Head over to Hartzell's Ice Cream for Caramel Apple Pie and Apple Butter Rummy Pecan ice cream, or try a scoop of good ole pumpkin ice cream from Jiffy Treet. Before you order, ask what their other seasonal flavors are — they usually offer quite a few!
We'd be remiss if we didn't mention Village Deli's beloved pumpkin pancakes — plate-sized and scratch-made with Dillman Farms pumpkin butter, there's no better fall-themed breakfast to be had in all of Bloomington. 
 
Soups, Stews & Hearty Foods
The fall flavors don't stop at coffee and sweets in Bloomington. If you're looking for something on the savory side, you can't go wrong with Butternut Squash Soup, Coddle, or Mutton Pie at The Irish Lion. Uptown Cafe also offers a delicious short rib pot roast that's served with mashed potatoes — perfect for a chilly fall evening.
Big Woods Bloomington debuts a few specials every month, and fall is no exception. In prior years, they've offered Shrimp & Butternut Squash Ravioli, Pork Schnitzel, and a fall-flavored pizza. Then there's the annual Oktoberfest at Upland Brewing Co., in which you can usually expect a variety of sausages, sauerkraut, potato pancakes, and more on the menu. Lennie's is also known to offer Oktoberfest specials, which have previously included authentic Bavarian dishes like Sauerbraten, Regenbogenforelle, and vegan & pork varieties of Jagerschnitzel.
Fall is also the beginning of soup season, and most restaurants in Bloomington offer an assortment of soups and chili. Janko's Little Zagreb serves a delicious Cream of Mushroom, and Southern Stone offers soup flights in which you can try three of their wildly tasty rotating soups (which include but aren't limited to roasted tomato, asparagus, mushroom, and potato poblano varieties). If you like to try the chili at every establishment you visit, Bub's Burgers & Ice Cream offers an out-of-this-world cup or bowl, and Lennie's Voo Doo Chili is quite famous as well. 
 
Wine, Brews & Cocktails
We've covered all of the food bases, but now we need to shine a light on the incredible fall-flavored cocktails, wines, and beers produced by local brewers, vintners, and distillers. Cardinal Spirits, Bloomington's only distillery, rolls out a few fall-themed cocktails each year, including their signature Spiced Apple Cider cocktail. Made with craft-distilled liquors, their cocktails are just as beautiful as they are delicious — who doesn't love an Instagram foodie moment while traveling?
You'll find a wide variety of fall-flavored beers at Bloomington's five breweries. Switchyard Brewing Co. offers a Pecan Brown and Harvest Ale, in addition to a special Oktoberfest brew. Metal Works Brewing Company offers a Dr. Hops Pumpkin Ale, and Lennie's releases a beer that is pure Southern Indiana fall: the Persimmon Ale. Like Switchyard, Upland also releases an Oktoberfest brew, in addition their seasonal Teddy Bear Kisses line. The Tap makes their beloved Pumpkin Beer available to the masses each fall as well — there's a huge variety of autumnal beers to try in B-Town, so add a harvest season beer crawl to your to-do list! 
You can't leave town without stopping at Oliver Winery for a glass of their signature fall Apple Pie wine — it would be a fall faux-pas, if you will. With notes of crisp apple and creamy vanilla, it's truly like dessert in a bottle. Plus, Oliver decks out their grounds with gourds, pumpkins, and mums during fall, which is a whimsical, cozy experience in itself.
Several restaurants roll out seasonally-themed cocktails as well — be sure to browse menus online before you choose where to feast on fall flavors during your stay in Bloomington.
While we aren't able to list every single savory fall dish in B-Town, we can point you toward our Restaurant listings tool if you'd like to discover more seasonal specials and browse regular menus. There are many, many, many fall flavors waiting to dazzle your taste buds during your stay in Bloomington!

Looking for more of B-Town's best flavors? Check out these blogs: