First-Ever Production of Jack Kerouac's Maggie Cassidy
Categories: Indiana University, Arts & Culture
If you love Jack Kerouac, you've got to make plans to be in Bloomington, Indiana between May 18 and June 2, 2012. The Bloomington Playwrights Project and Indiana University are gearing up to present Maggie Cassidy: An American Musical as part of the BPP & IU New Musical Series.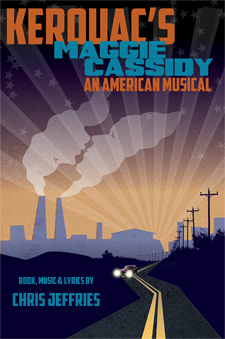 Maggie Cassidy is a musical adaptation of Jack Kerouac's highly autobiographical novel of the same name (a predecessor to On the Road). This production, created by Chris Jeffries based on Kerouac's novel, is the first stage play ever produced with the support of the Kerouac estate and we're proud that it's starting right here in Bloomington! 
Maggie Cassidy presents a new and unfamiliar look at Jack Kerouac, before he wrote the American classic On the Road and became the father of the Beat Generation. The forces that shaped him - tensions surrounding his religion, cultural economic background and an America struggling to find itself again after the Great Depression - are all present and at play. Maggie Cassidy is the powerful story of a great American author coming of age.
The musical tells the story of Kerouac's early years as a French-Canadian high school start athlete and would-be writer on whom everyone in town pins their opes. He has everything, except someone who understands his passion for writing... until he meets and falls in love with the Irish girl from the other side of the tracks, Maggie Cassidy. His love for her creates a new dream that threatens to derail his plans to leave his hometown of Lowell behind. 
The cast will feature talented students from the Indiana University Theatre & Drama Department under the direction of BPP Producing Artistic Director, Chat Rabinovitz. The production will feature a one-of-a-kind scenic design by resident artist Shane Cinal. 
Performances of Maggie Cassidy are scheduled for May 18, 19, 24 - 26 and May 31 - June 2 and 8 pm and May 20 at 2 pm at the Bloomington Playwrights Project theatre located on West 9th Street in downtown Bloomington. Tickets are $18, available online through the BCT Box Office. A special $89 rate is available at the Bloomington Holiday Inn in connection with the production. Details are available on our Special Offers Page.