Free events this summer in Bloomington
Categories: Arts & Culture, Festivals
It doesn't matter if your idea of an expensive meal is filet mignon or PB&J. Everyone likes free stuff. Luckily for those of us who live in or travel to Bloomington, it's ridiculously easy to find free things to do, especially in the summer. I'll share with you some of the best free things to do here this summer because you deserve it.
For more local events, check out our massive Events Calendar.
Bloomington Community Farmers' Market
Yes, this is a place to get great local produce, meat, dairy, wool, and more. But it's also just a really fun community event right in the center of town.
Saturdays, 8am-1pm, Showers Plaza
Tuesdays, 4-7pm, Morton Street and 6th Street (beginning in June)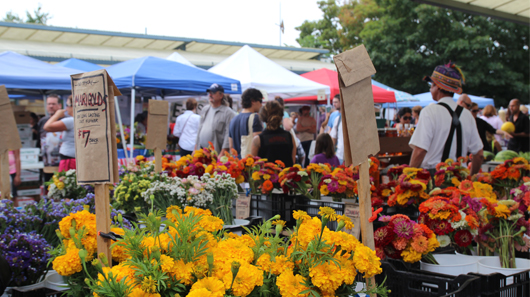 a flower vendor at the Farmers' Market
Sidney and Lois Eskenazi Museum of Art
It's hard to believe that a museum as prestigious as the Eskenazi Museum of Art (formerly the IU Art Museum) doesn't charge admission, but it's true. Being connected to the university means the museum has access to fabulous curators and truly breathtaking exhibits, and there are also free events throughout the year.
Tuesdays through Sundays every week, IU Campus near the IU Auditorium
Concerts in the Park
Bloomington Parks and Recreation hosts this free series of concerts, which includes Tuesday lunchtime concerts in Peoples Park, Friday evening concerts at Waldron Hill & Buskirk Park, and Sunday concerts in Bryan Park.
Various days, City Parks
Bloomington PRIDE Summerfest
This is Bloomington's LGBTQ summer pride festival, and is so quintessentially Bloomington. This year it will kick off at Cardinal Spirits in the afternoon (including space for those under 21), followed by a foot parade up the B-Line Trail to the street festival on 4th Street. There will be live music, food trucks, hands-on workshops and activities, and dance parties. The street fest is free to enter.
August 27, downtown Bloomington (exact street TBA)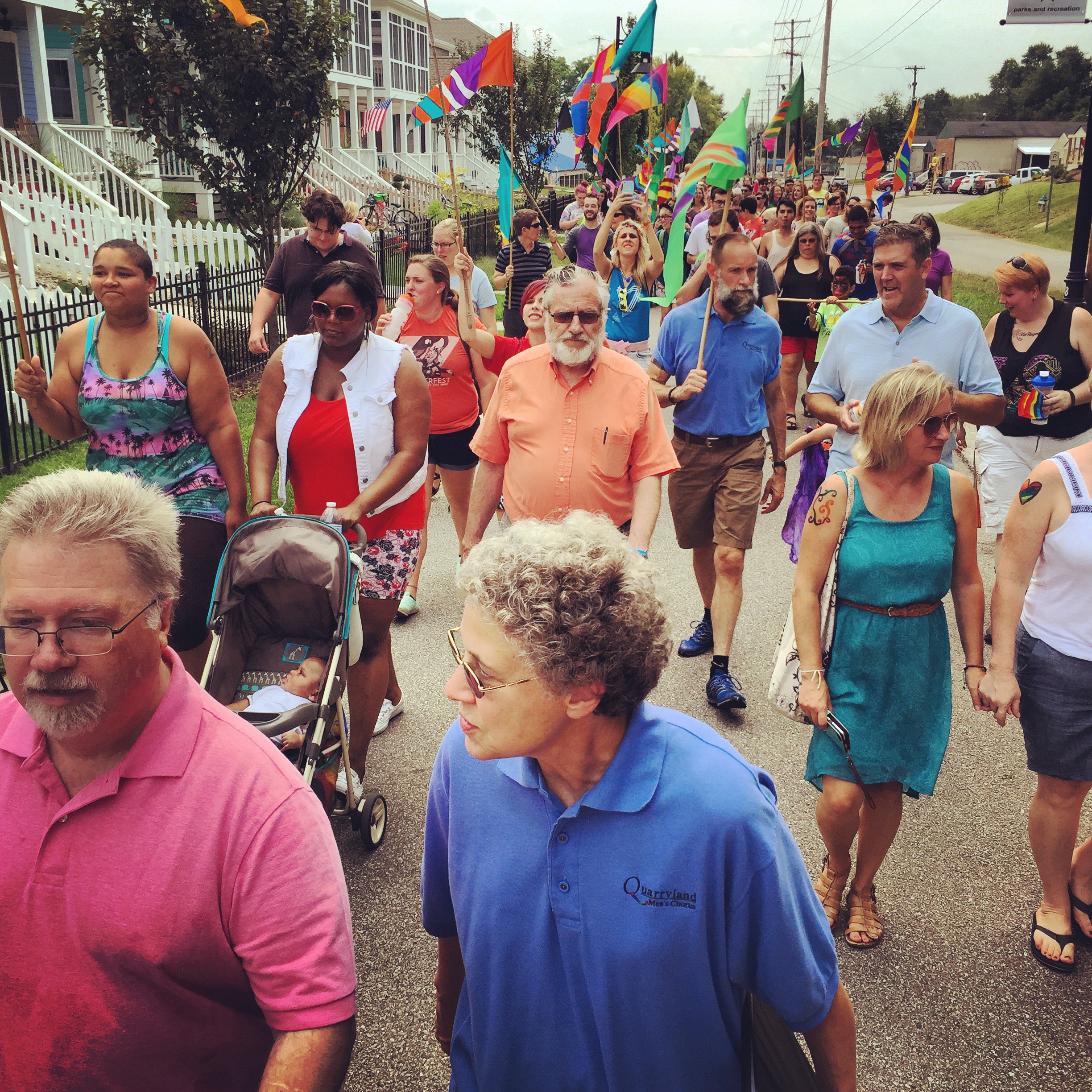 Bloomington PRIDE Summerfest foot parade
Fourth Street Arts Festival of the Arts and Crafts
One of Bloomington's biggest festivals, you'll find artists from around the country displaying their art for thousands of visitors and locals. There's also great live music and booths from local nonprofits. You'll probably want to buy some art once you get there, so don't say I didn't warn you. You should also check out the Garlic Fest, which happens nearby at Waldron, Hill, & Buskirk Park that same weekend.
September 3-4, Fourth Street downtown
Fourth of July Parade
No Indiana town would be truly complete without a Fourth of July Parade, and Bloomington tops them all with a parade all down Kirkwood, leading to the beautiful Monroe County Courthouse on the square.
July 4, Kirkwood Ave.
Swimming, hiking and other outdoors stuff
There's just tons to do outdoors here, and much of it is free. Check out our swimming page for info on places like Monroe Lake and the Karst Farm Splash Pad, and our great outdoors page for all the info on local parks.

kayaking on Monroe Lake
IU Summer Music
The Jacobs School of Music at IU produces some of the world's most talented musicians, so it will blow your mind that many of their concerts are completely free. The Summer Music festival showcases the amazing talent of IU students, faculty, and visiting musicians, with several free concerts each month in addition to ticketed events. Some of the concerts I'm most excited about are:
Summer Philharmonic: Freund, Bernstein/Harmon, and Sibelius, June 25
Star Wars and More: The Music of John Williams, June 29
Honegger's King David: Symphonic Psalm for vocal soloists, chorus, and orchestra, July 9
Faculty/Guest Chamber Music Recital: R. Strauss, C. Baker, and Chausson, July 17
Bloomington Open Studios Tour
The annual Bloomington Open Studios Tour invites art lovers into the studios and work spaces of local artists. The tour features more than 40 artists of all media. Guests can watch artists demonstrate their creative processes in their own studios, and there's no cost to attend. The classic printed guide and new app help you find your way and experience the event on a deeper level. Many artists will have pieces available for purchase.
June 4 & 5, artists' studios around Bloomington (see the guide for locations)
Arts Fair on the Square
The Bloomington Playwrights Project presents this annual juried art show featuring more than 100 regional and national artists and craftspeople on the courthouse lawn. It's free to attend and enjoy, but you'll probably find yourself buying an item or two.