Tuesday, September 1, 2020
From Bloomington with Love
Categories: General, Indiana University, Outdoors, Arts & Culture, Wine & Culinary, Family Fun
Dear Alumni, Fans, fellow Hoosiers, and Biz Sinkers:
Over the years, Bloomington has been your home, your respite, your game-day getaway. Many of you came here for an education but left with so much more—a community of friends and a lifetime of good memories. But it's time to give back to B-Town.
Bloomington needs you, now more than ever. Like many college towns, we have not weathered this pandemic unscathed. But with you in our court, our loyal supporters and die-hard fans, we can keep the IU spirit—and our cherished local businesses—alive. Football fans may not be part of the live action this year, but fun times and fall foliage are here to stay. With less crowds, traffic, and demanding schedules, there's never been a better time to visit Bloomington.

Home is right where you left it.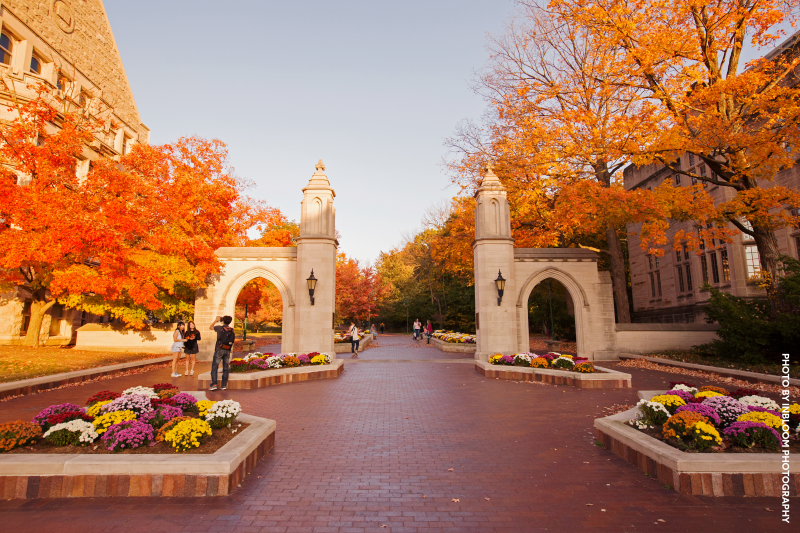 This fall, we invite you to take a trip down memory lane at your favorite iconic IU spots. Visit the Cox Arboretum and walk through the Sample Gates via the Old Crescent. Then, head out to dinner and drinks on Kirkwood Avenue. To promote safety and expand outdoor seating, the street is open to pedestrian-only traffic every Thursday through Sunday. Lennie's, Nick's, BuffaLouie's, and The Irish Lion all have outdoor seating and are ready to serve you safely. After dinner, scoot across town on the B-Line Trail and grab a flight at Upland Brewpub. Or if you're feeling fancy, check out The Wood Shop next door for rare sour beers and unique collaborations.
For the full IU experience, stay at the new Graduate hotel and take in all the quirky décor, from Bobby Knight framed chair prints to the Little 500 bicycle-motif wallpaper. Sip BYOB cocktails and relax on the Jack and Diane rooftop terrace before exploring around town on the hotel's complimentary campus shuttle and bicycles.

Been off campus for a while?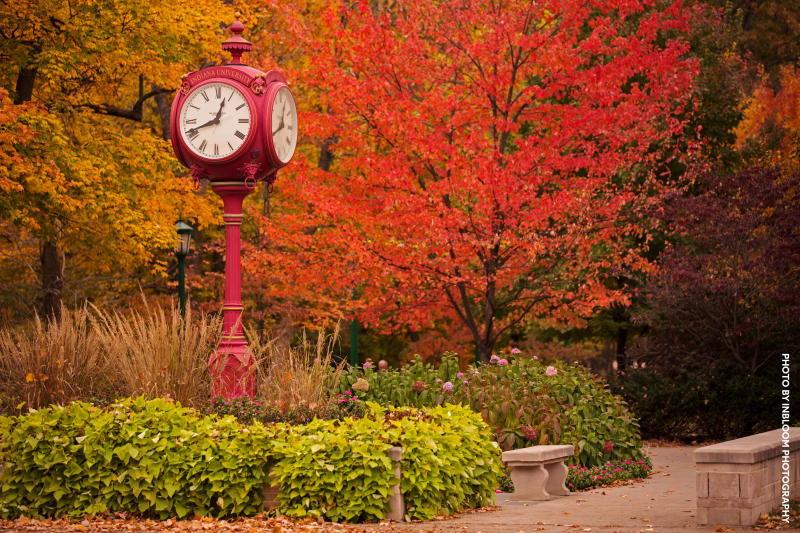 We'd highly recommend playing a round of golf at IU's new Pfau Course, designed by acclaimed architect Steve Smyers. The recently refurbished course offers a world-class layout and features a state-of-the-art short game practice area, complete with two driving ranges.
Art and culture lovers, be sure to check out the newly re-opened Eskenazi Museum of Art. Following a three-year, $30 million renovation, the I.M. Pei-designed building has introduced a brand-new contemporary art gallery with visitor amenities including a new pedestrian bridge, café, and gift shop.

Cream and Crimson, Yellow and Orange.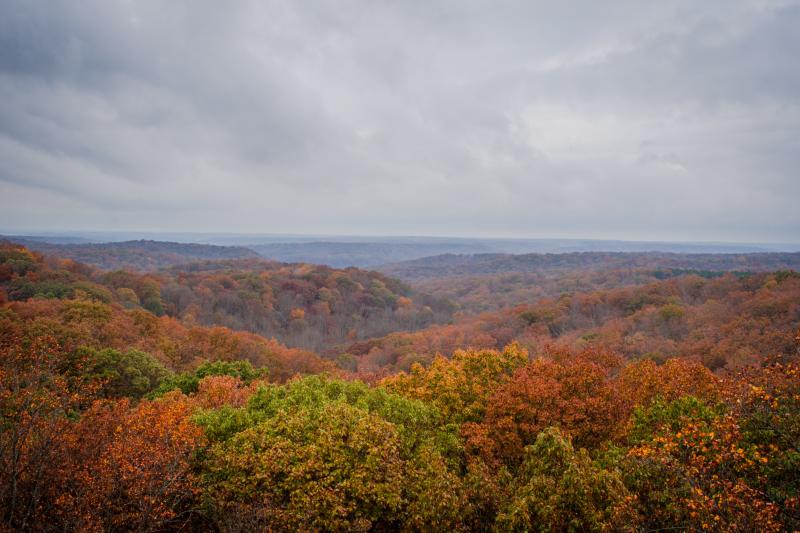 When it comes to fall colors, Bloomington's got you covered. And without the game-day traffic, you and your family can peep leaves with ease. Choose from over 25 scenic hikes in the 200,000-acre Hoosier National Forest and climb to the top of the Hickory Ridge Lookout Tower. Explore one of Bloomington's three lovely lakes—Griffy, Monroe, and Lake Lemon—where visitors can take in the fall scenery by boat, kayak, or campsite. Finally, hop on the B-Line Trail and stop at the new Switchyard Park, featuring basketball, pickleball, and bocce ball courts.
 
It's much easier when you stay over.
Retreat to lakeside camping at Paynetown State Recreation Area with 300 electric and non-electric camping spots, a marina, and boat rentals. Fourwinds Lakeside Inn & Marina is the perfect place to enjoy fall on the water, with private beach access and pontoon rentals. In addition, other popular hotels including the Hyatt Place, Grant Street Inn, and Shower's Inn Bed and Breakfast are just minutes away from downtown.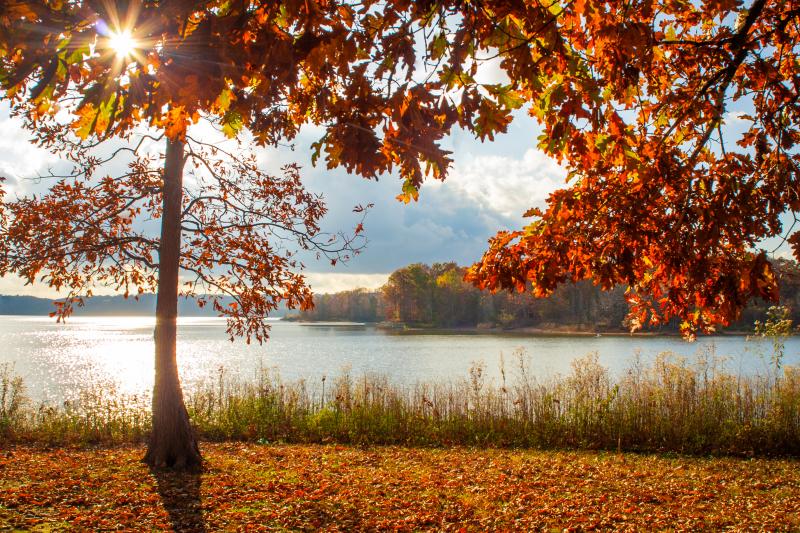 With social distancing top of mind, now is also a great time to check out Bloomington's unique Airbnb properties. May we suggest the Cream and Crimson Barn, an off-the-beaten-path getaway with a sunset deck, gas grill, fire pit, and more? Of course, if you're looking for something more upscale, this penthouse suite should suffice (part of Alley Works, a brand-new development in the heart of downtown). Amenities include a relaxing Zen Den, full chef-grade kitchen, in-unit washer/dryer, and double king suites.
 
Craving fall flavors?
Indulge in the best of fall with special treats and pick-me-ups all around town. Here's a small sampling to get you started:
Seasonal fun for the whole family.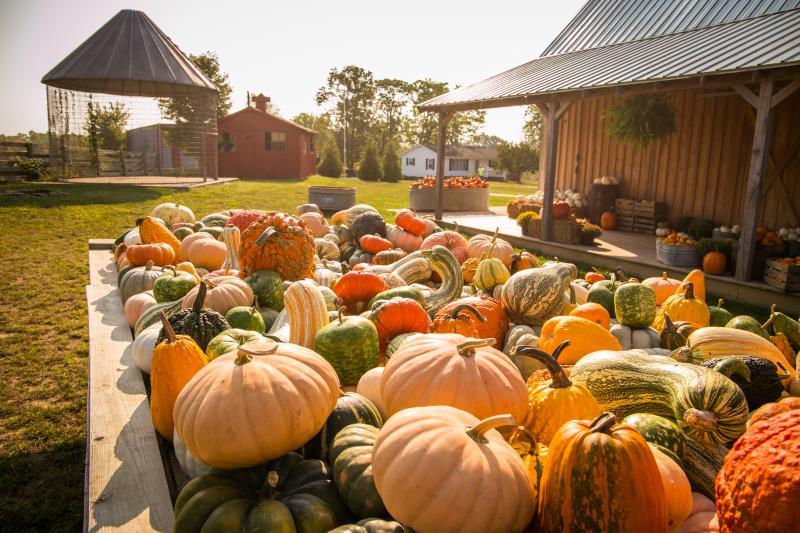 With added safety precautions in place, many of our festivals and activities are still within reach. Check out the annual Kiwanis Indiana Balloon Fest, featuring fireworks, puppet shows, and an evening balloon glow. The countdown to fall is officially on at Fowler Pumpkin Patch. Beginning the first weekend in October, they'll be open for you-pick pumpkins, hayrides, a petting zoo, and more. The Bryan Park Performing Arts Series is running now through the end of September. Admission is free, but you must register in advance. WonderLab Museum is also re-open to the public (reservations required). If you are looking to burn off some energy, take the kids to the Hoosier Heights climbing gym or the Urban Air Adventure Park.
 
It's time for a change of scenery.
Bring your game day spirit back to B-Town, show some love, and make sure your local favorites are still here when football season rolls around next year. Whenever you're ready to escape to the familiar while discovering something new, we're here for you. So, go ahead—meet up with your oldest pals outside at Nick's, plan a fall getaway with your significant other, show the kids your alma mater, or enjoy some solitude in the great outdoors.

We hope to see you soon.
Love,


P.S.
There are plenty of local Bloomington restaurants, retail shops, and hotels ready to serve you safely. But be prepared to wear masks, call ahead, and be flexible as operating hours and capacity may change frequently. 
All travelers should follow protective steps outlined by the CDC. Wear a face mask in public places and maintain a distance of at least six feet from others. Read Bloomington's promise to visitors and full COVID-19 response here.