Funny Business Part 1: An Interview with Jared Thompson
Categories: Arts & Culture
Many people know Bloomington as being home to IU, lots of great sports (especially basketball), good food and drink, and a thriving arts scene. But for those who love standup comedy Bloomington has quickly become a hotspot in the Midwest. This is due almost solely to The Comedy Attic and its owners, Jared and Dayna Thompson. He has built a top-rated comedy club and brings in tremendously talented comics, many of them moving on to bigger stages and screens soon after appearing in Bloomington. And Jared is co-founder (along with local comedian Mat Alano-Martin) of the Limestone Comedy Festival, an annual event that brings 50 comics to Bloomington venues for a long weekend each June.
So we wanted to know how all this happened, and get some of the inside scoop on what it's like to run a comedy club and work with funny people. This is part one of a two-part series; next we'll talk with local comedian Jon Hancuff to get his take on all this. Here's our Q&A with Jared, who's pretty funny himself.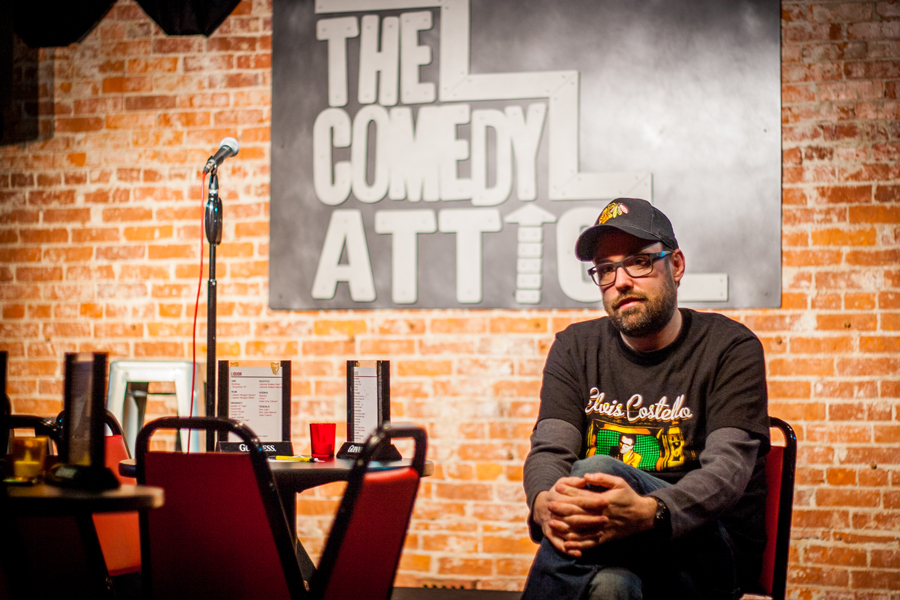 Note: We don't want to filter any responses, so be advised that there is some profanity below.
Q: Why did you want to open a comedy club in Bloomington?
In 2008 the company I worked for was bought out, and my job was moved up to Fishers and they told me I had to reapply for my own job. It was a crazy time for me personally, so I came home, talked to Dayna and was like "F*CK THIS! What do you want to do?" and within five minutes we decided we wanted to open a comedy club. The discussion was basically, "What can we do that Bloomington doesn't already have?" It was a ridiculous thought because there once was a time when comedy clubs were a cash cow, and no one had opened one even at the height of the standup comedy setting. So we were stupid to think that we could do this. It's like when you ask someone "What's 4+4?" and they get the answer right but in their mind they did 4x4. We got the answer right, there can be a comedy club in Bloomington, but the way that it ended up is not how we thought it would. We never imagined we could bring legitimate superstars to town. We never thought we would be highly regarded.
Q: The Comedy Attic has been ranked as a top comedy club in the nation. Why do comedians enjoy performing here?
If there was a pie chart of why comedians love it here, I think the biggest piece of the pie is the audiences. I think we've benefited from how smart the crowds are. What our audiences want is what's happening and popular in comedy right now.
When I book, I'm predicting four years from now, and it's worked. We've had 21 comedians that performed here that now have television shows with their name in it. The 50 weeks that we're open I try to find the 50 funniest people I can find. I look at it like this: in a two to three month span, if I don't have two or three people cancel on me then I'm booking the wrong people, because the people cancelling are getting a movie or a TV show or something that's bigger.
Q: You book comedians who are on the verge, so sometimes these comedians cancel then you have to fill that slot quickly. Is scheduling the hardest part of running this place?
The hardest part is getting people to shut the f*ck up during the show. Because no matter what you do, there's still somebody who, somehow, someway, hasn't gotten the memo that a comedy show is not an interactive thing.
No comedian wants a heckler. Some comedians do crowd work, but that's a specific question to a specific audience member. We book people who do crowd work, but we book only the top 1% of those type of comedians. We don't book every comedian who does dirty comedy, or brings a guitar, or does crowd work; it's just the top comedians in a variety of styles. If I'm going to book a dirty comedian, I'm going to book the Michelangelo of dirty comedians.
To answer your original question, it is challenging to fill spots at the last second, but we've become a place that a thousand comedians want to perform at so it's not that hard to fill.
Q: What is the booking process like?
Well in 2016 the booking process is a lot different than when we first opened. I mean, I don't call anyone; they call me. I don't have anything to do. Honestly, we know that everyone wants to come here, so I wait until they call me and I decide on who to book.
When we first started, we were begging people. The best comedian alive is Maria Bamford, she means the most to current comedy, she's the best comedian, she's the most gifted person I've ever met. She turned us down like five times before we booked her. Part of it is that comedy clubs in general are real sh**ty places. No one wants to come to a comedy club the way it's normally run. So once you get a certain level, you don't have to do this anymore, you can pick and choose your battles. So in Maria's case, a nightmare scenario is a Friday night late show at a comedy club, and who could blame her? Basically Doug Benson knew I liked Maria and wanted to get her here, so he put in a good word for us and the next time we made the offer her she took it.
There are several touchstone moments in the club, and speaking of Doug Benson, he pretty much saved the club. When we first opened, we couldn't get anyone to show up. Another person was booking for us and they didn't really understand what we wanted. So in December 2008 we were close to closing. So Doug came and we sold out all the shows. We followed that up with Brian Posen in January 2009, and finally we got Maria in soon after and the trajectory of our audiences, you can see through their reactions to her.  Because, you know, she's weird. They didn't know what to do. And next time it got better, and the third time, it was unbelievable, the reactions she was getting. So they gave us the freedom to do weirder and weirder stuff. We don't want to bring the same straight, white males every single week. We want a variety of people, some we can't afford, but we try to mix it up.
Q: Who would you like to get here next, the next person who is going to just blow up?
I can say with a straight face that we've been able to bring here 99.9% of the people we've wanted to. The two examples that I can think of are Paul F. Thompkins, who just doesn't do comedy clubs anymore because he spent too many years at clubs with chuckle in the name, and they make him do shots with bachelorette parties on stage. It's just horrible. I want to be able to defend comedy clubs as a whole, but I can't, because they're mostly bad places. We have to fight against that every day. He's the one person we could afford, and his fan base size fits what we do, but he's not going to do it.
As far as pie in the sky type stuff, Brian Regan has the best comedy album of all time, and he's 20 years past performing at a comedy club, but he's who I would get the most enjoyment out of somehow bringing here, but it's never going to happen.
Q: There aren't a ton of comedy clubs in the area, and your comedians aren't performing at those clubs typically. Do you get a lot of people driving in to see the shows?
Sure. We had people from 13 states come to see Hannibal Buress. To be able to see him 5 feet from where you're sitting is just never going to happen again, unless he's dropping into a show for 10 or 15 minutes. So for him to do a full hour of blood, sweat, and tears, you'll never be able to see him do that in front of 160 people. People would love to see him in any setting but to see him in an intimate setting like this is just rare.
Q: Is it fun to hang out with comedians? Do you hang out?
Yeah, I've become friends with a lot of comedians, but typically they're quiet, somewhat boring off stage. They have a routine that they go into. They just want to be on their phone.
Q: Is it like Celine Dion where they try to save their voice and their jokes for the stage?
No, NO, it's not like Celine Dion! They do four hours of work in like three days, so no, they don't "save" anything for the stage.
Q: What are some diva-like behaviors that you've seen?
It's rare. But one time the hotel that was housing our comedian called and said they had a situation where this comedian had requested that the city stop construction outside of the hotel, because they were trying to sleep. At like 2 o'clock in the afternoon.
But normally we really don't have any issues, they're all pretty nice. Patton Oswalt came to the Limestone Comedy Festival and was very down to Earth. He's probably the most famous comedian that we've brought here. Paul Reiser was great. I don't really ever get star struck, but Paul Reiser and Jeaneane Garofalo, that was a big deal. And I talked on the phone to Emo Phillips, and that was real exciting. It's his voice you really know. I grew up watching Dr. Katz, and you just know his voice so well.
Q: It seems like most comedians enjoy themselves and have a good time while they're here.
They do.