Gameday Weekend for Visiting Fans
Categories: Indiana University, Family Fun
You don't have to be from Bloomington to enjoy a football weekend like a Hoosier. B-Town is at its best when the tailgate fields, restaurants, and sidewalks are bustling with a mixture of IU devotees and visiting fans. Prep for your visit with our guide to tailgating, food & drink, and accommodations, and we'll see you on game day! 
 
TAILGATING

While the football games are pretty great, tailgating is arguably one of the best activities for a fall Saturday in Bloomington.
Parking
If you have tickets to the game, you can park in the lots surrounding Memorial Stadium by pre-purchasing a parking pass (guarantees you a spot) or pay per car at the gate. Tailgating is allowed in the parking lots, but they must be shut down within 10 minutes after kickoff. If you don't mind parking further away from Memorial Stadium, you can park in the Red Lot, a large grass field directly south of 17th Street. RVs are not allowed in the Red Lot. All tailgate lots open at a minimum of 5 hours before kickoff, and we recommend that you get there early if you want a good spot. Read more about gameday parking here.
Food 
Because what's the point of a tailgate without some great local food? We recommend:
Drink
To pair perfectly with your local eats, we've got plenty of Bloomington-made drinks in the lineup too:
Stop by any of Bloomington's breweries to get growlers filled with a wide selection of craft beers: Upland, Bloomington Brewing Company, Function Brewing, The Tap, or Big Woods Bloomington.
Upland and Bloomington Brewing Company also have canned versions of some of their beers that you can find in most area liquor stores and grocery stores.
If wine is more your thing, pick up a few bottles from Oliver Winery (also available in most liquor and grocery stores) or the Butler Winery Tasting Room. Oliver's Sangria mixed with fresh fruit is the perfect refreshing drink for the warmer tailgate days, and later in the fall, you may find spice mixes for mulled wine at both of the wineries.
For something you may not have tried before, go to Oddball Fermentables to get a growler of cyser, a cider/mead hybrid that you'll be talking about for years.
Locally-roasted coffee from Hopscotch Coffee and Bloomington Bagel Company go perfectly with the crisp fall air. At both places, you can get containers of coffee that hold 10-12 cups, if you need to caffeinate the whole group.
Activities
The Hoosier Village is a great place to tailgate if you don't want to bring a ton of your own supplies. They have live bands, kids activities, plus food and beverage stands.
Bring your yard games, footballs, and cornhole boards! While you can only take up one parking space per car, once everyone arrives, there's more than enough open space for games between the rows.
*While alcohol is permitted at tailgates for those over the age of 21, for safety reasons, consumption of all beverages should be from plastic cups/plastic bottles, and not glass. 
DINING & NIGHTLIFE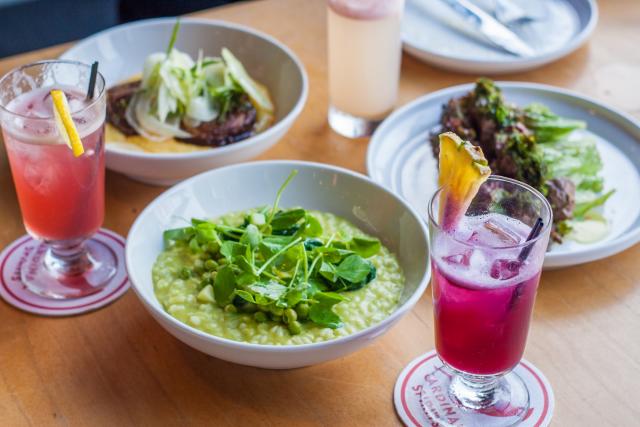 Downtown Bloomington boasts some fabulous culinary experiences that alone are worth traveling for. And despite being a college town, there are plenty of after-dinner and nightlife options for those among us who are no longer 21-years-old.
Dinner
Nightlife & Bars
ACCOMMODATIONS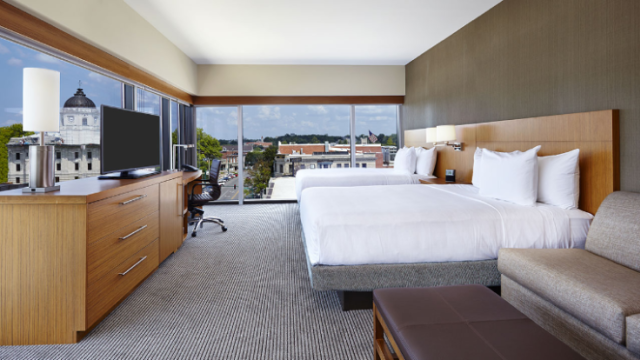 Whether you prefer a hotel right downtown, a quiet bed & breakfast, or a cabin in the woods, you'll find a place to stay in Bloomington. Just remember to book as early as possible!
BREAKFAST & BRUNCH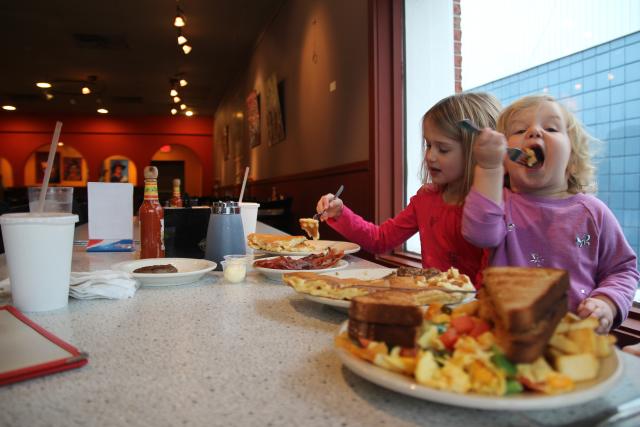 Bloomington does a lot of things well, but breakfast food might be at the top of the list. 
Village Deli (pictured) is a great place to go if you've got little ones. Their pancakes are massive and the price includes mix-ins like chocolate chips and strawberries.
If you prefer to have your breakfast with a pitcher of mimosas, check out the Runcible Spoon. It's a cozy old house with a garden-like patio and great breakfast classics.
Fancy brunchers will like the unique creations at Feast. The avocado toast with a poached egg will make all of your Instagram friends jealous.
Diner-hunters will love the casual vibe and huge-portion breakfasts at The Cozy Table. Complete with pie in a glass case.
Check out the best brunches in Bloomington
OTHER INFO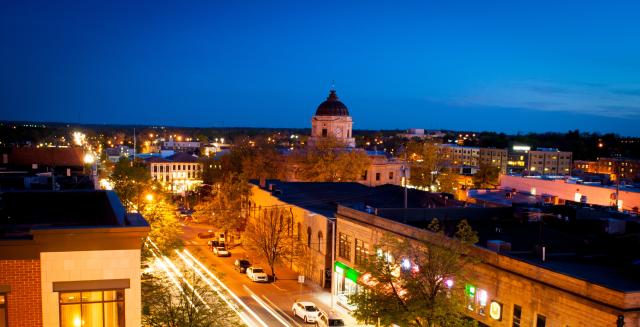 Most of the parking downtown Bloomington is metered. The meters take coins, credit cards, or you can download the Parkmobile App and pay through your phone.
There are 3 parking garages downtown that are free for the first 3 hours. Click here to see the locations, and read more about maps & transportation.
Route 37 to Bloomington is under construction as I-69 is being built. Please allow extra time for travel.
Both Uber and Lyft are available in Bloomington, as well as several local taxi services.
EXTEND YOUR STAY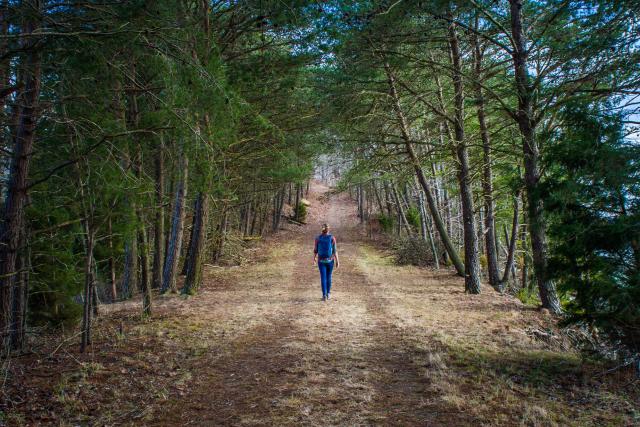 Bloomington has so much to offer. Stay a couple more days to hike the beautiful scenery, relax on the lake, visit the museums, or see a show. Our trip ideas will help you set up an itinerary for your ideal visit.