Happy 10th Anniversary, Gallery Walk!
Categories: Arts & Culture
If you only make it to Bloomington for one Gallery Walk event this year, this is the one you need to attend. The Downtown Bloomington Gallery Walk is celebrating its 10th anniversary, and they're pulling out all the stops to celebrate during the June Gallery Walk event on June 7!
In 2002, four downtown galleries including John Waldron Arts Center, By Hand, The Gallery, and Fossil Rain all held holiday open houses on the same evening. With an exceptional turnout of patrons going from opening to opening, the galleries decided to begin hosting simultaneous events on the first Friday of every other month, and the Downtown Bloomington Gallery Walk was born.
Ten years later, Gallery Walk has grown to include eleven galleries and has become a staple of the Bloomington arts scene. Join this year's participating galleries on June 7 from 5 - 8 pm to celebrate this momentous occasion! As always, all eleven Gallery Walk galleries will be exhibiting new work, including: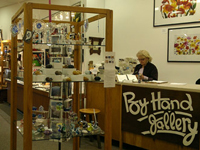 This very special 10th Anniversary Celebration of Bloomington's Downtown Gallery Walk will feature live music along the route, food from local Bloomington area food trucks, fun photobooths, refreshments, door prizes and more!
Gallery Walk is also launching a newly redesigned website to keep you up to date with all the upcoming Gallery Walk happenings - look for the new site to be up and running by June 7, as well. 
The eleven participating galleries represent a wide variety of works and artists, so there's usually something to fit just about every taste. We'll see you there!